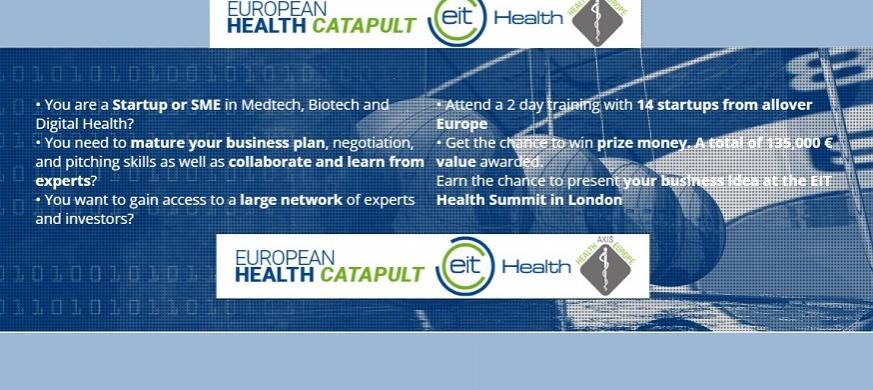 Apply now for EIT Health's European Health Catapult Competition
The new European Health Catapult Competition has been launched. Startups and SMEs in Medtech, Biotech and Digital health can now apply through the webpage.
The Competition gives you the chance to mature your business plan, negotiation, and pitching skills as well as collaborate and learn from experts, to gain access to a large network of experts and investors, to attend a 2 day training with 14 startups from allover Europe and benefit from the total of 135,000 € value awarded.
Earn the chance to present your business idea at the EIT Health Summit in London.
Application deadline: 30 April 2017
SELECTION CRITERIA
Uniqueness and innovativeness  of approach
Clearly identified product or service
Market potential
Major market risks and technical risks identified and evaluated
Feasibility of the deployment plan
Qualified team with the capacity to bring the innovation to market
Impact on societal challenge

Apply on the European Health Catapult Website.
---
Catch up with the latest news from the EIT Community in the Newsroom.
Subscribe to the EIT Newsletter to get the best of the EIT Community's news in your inbox once each month.
Do you use social media? Follow us and get updates in your news feed.
EIT Community:
Subject Audience:
Main Photo: Apply now for EIT Health's European Health Catapult Competition