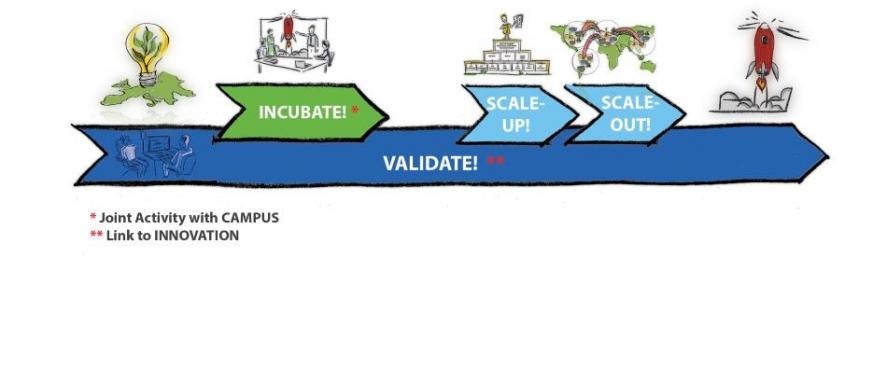 EIT Health's GoGlobal opens world of possibilities for innovative healthcare entrepreneurs
The majority of Europe's medtech companies are smaller firms, with staffs of 50 or less, and they face daunting barriers to growth, especially when they try to expand beyond their home country's borders.
GoGlobal, an EIT Health Accelerator programme, gives these firms the training and other support they need to enter the international market.
'We will now start our journey out in the world with safer steps!' said Linn Hägg, VP Sales and Marketing of MyOroface, after completing GoGlobal last year. She said the programme 'has given us invaluable knowledge of how the medtech industry in different countries works – what things we should avoid and what time perspectives we should calculate with.'
GoGlobal is taking applications until 31 March for companies seeking support in 2017. The programme is one of several developed by EIT Health Accelerator to help healthcare innovators 1) incubate or start their companies, 2) validate their business models and 3) scale up their businesses.These programmes are now accepting applications, as you can see online here.
The GoGlobal programme is supported through the efforts of EIT Health Partners Stockholm Innovation and Growth (STING) and Medical Valley. This programme is ideal for smaller medtech companies that have achieved some domestic success and are looking to expand into the international market. Participants can receive cash support, with grants of up to €10 000, but the real value of the programme is in the knowledge and connections it offers.
Within GoGlobal's two complementary programmes, entrepreneurs can address several questions related to starting an internationalisation strategy for their business: Where do we start? Why do we start there? How shall we do this? And what resources are required? There is also instruction in specific markets, including regulatory issues, unique hurdles in an individual market, what partners are needed and how they can be found in the region.
With the EIT Health GoGlobal programme, you will get the opportunity to learn directly from experienced companies who have already answered these questions. You can also participate in workshops in Brazil, China or the United States if these are the markets you want to enter first.  
'It is completely unique to be invited into a room where other experienced players share their knowledge, without any filters or restrictions. Here, everyone is sharing, and it's invaluable,' said Mattias Guldstrand, CEO of Solutions for Tomorrow and a participant in last year's GoGlobal programme.
The type of enterprise that GoGlobal is designed to support is a startup or young company that is already selling within their home market and has the ambition to expand on the international market within the next 12 months. Applicants should be ready to prove that their product works and that customers are willing to pay for it. The products that applicants are selling should fit within the overall EIT Health thematic scope of promoting healthy living, active ageing and improved health care. Any suitable company in the geography covered by the EIT Health Co-Location Centres (CLCs) can apply, but the company has to be recommended as a participant by the CLCs. There are no other requirements regarding connections with EIT Health.
GoGlobal is also serving to help companies from outside Europe, in the United States, China and Brazil through the inbound GoGlobal programme. Find out more by writing: accelerator-calls@eithealth.eu.
Those who fit this profile and qualify for the programme can expect valuable benefits.
'The Global MedTech course is probably one of the most useful courses I've ever been on,' said Mike Redford, CEO of AddMovement, who participated in that course and other GoGlobal activities last year. 'Very rarely do I sit after a course just buzzing about the knowledge I've gained from a session of the course, and also the contacts I've made as well.'
Find out more about GoGlobal, and other EIT Health Accelerator programmes designed to help growing enterprises, by checking the Accelerator's web pages or by downloading the Accelerator's Invitation for Programme Participation 2017. You can also request more information by writing to: accelerator-calls@eithealth.eu.
---
Catch up with the latest news from the EIT Community in the Newsroom.
Subscribe to the EIT Newsletter to get the best of the EIT Community's news in your inbox once each month.
Do you use social media? Follow us and get updates in your news feed.
EIT Community:
Main Photo: EIT Health GoGlobal Accelerator Programme