EIT Innovation Community Doctoral programmes
EIT Climate-KIC PhD Education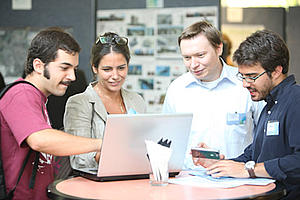 When academia and business come together, you can truly make a difference and initiate concrete action. This is why all EIT Climate-KIC's PhD candidates work on solutions that either have a clear path to climate innovation or directly support one or more of EIT Climate-KIC's main climate change challenges.Students will participate in the Journey, an intensive climate innovation summer school and will:
Discover how the latest climate change science is being transformed into new products and service,
Explore the potential for commercialising their research or launching a start-up business venture with support from EIT Climate-KIC business coaches and our Greenhouse,
Access mobility to enhance their research through collaboration with EIT Climate-KIC partners and the wider world,
Be an integral part of the EIT Climate-KIC community.
For more information, please visit the EIT Climate-KIC Education website!
---
EIT Digital Doctoral School
The EIT Digital Doctoral School educates the technical leaders and entrepreneurs needed in Europe.
The EIT Digital Doctoral School provides, as one of the few European academic institutions, industry embedded, market focused industrial doctorates. The Industrial Doctorates bridge the present to the future to lead the digital transformation.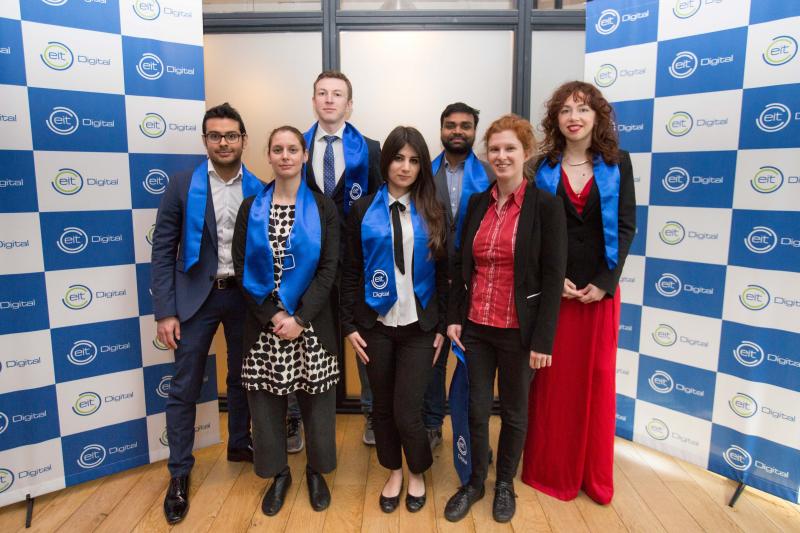 Within an Industrial Doctorate, PhD students work under academic and industry supervision on research assignments from industry and benefit from continuous interaction with industry. The research programme students will be working on, will provide concrete results that can be tested by industry itself, and in turn provides feedback to the continuation of the research programme.
Besides the direct involvement of one industrial partner, the students are immersed in the broad EIT Digital ecosystem of industries.
All thesis fit in one of the EIT Digital Action lines and have an integrated Business Development Experience (BDE) to assure that PhD candidates attain alongside scientific excellence also innovation and entrepreneurial excellence.
Added Value
Creating awareness of the role of business in technology realisation;
Offering students practical training and experience in a business context;
Providing students with the experience of starting up new ventures or new business activities.
Working on a research assignment directly from the industry under academic and industrial supervisior.
Structure
Hands-on Innovation and Entrepreneurship Education consisting of two phases; Business Competence phase followed by a Business Development Experience
Mobility; six months of geographical mobility and six months of organisational mobility
Thematic alignment of the I&E thesis to the Innovation Areas of EIT Digital
The specific implementation of the EIT Digital Doctoral School on ICT Innovation takes the form of "Doctoral Training Centres" (DTC). A DTC gathers a critical mass of PhD students around one or two thematic action lines to address scientific challenges backed by a strong participation with industrial partners.
In 2017, one new Doctoral School Programme was awarded EIT Label: Digital Innovation and Transformation
For more information, please visit the EIT Digital Doctoral School website!
---
EIT InnoEnergy PhD School
Join the sustainable energy revolution and boost your personal and career prospects. Combine your current PhD studies with customised training in innovation and entrepreneurship. Positions throughout Europe. Mobility support included. The EIT InnoEnergy PhD School is tailored for students who have technical excellence together with a drive for Business and Entrepreneurship (B&E). Students are taken into the PhD programme of one of the universities in the EIT InnoEnergy consortium, or into a double-degree or joint-degree arrangement with a pair of them. The EIT InnoEnergy PhD School provides "added value" education and activities within B&E and mobility support within a world class alliance of top European universities, research institutions and companies.
The PhD School is organised in several tracks, each one with a specialty in one of the Colocation Centres of EIT InnoEnergy. Each track covers a full PhD education, complemented with industrial internships/experiences and an insight into the entrepreneurial aspects of modern and future energy technology.
For more information, please visit the EIT InnoEnergy PhD School website!
---
EIT Raw Materials
PhD Education
EIT RawMaterials' PhD Education strand provides students with an outstanding foundation for their future career. Programmes enable students to strengthen their technical expertise while fostering the entrepreneurial and innovation skills, knowledge and attitudes needed to ensure a sustainable future for the raw materials sector. Strong links to industry, international mobility and a range of summer and winter schools add further value to the innovative programmes on offer.
The EIT RawMaterials Academy PhD portfolio currently includes two EIT-labelled programmes:
IDS-FunMat-INNO – International Doctoral School in Functional Materials.
NEAT Materials
For more information on all of our PhD programmes and related courses, including those with the EIT label, please visit the EIT RawMaterials Academy website.
---
EIT Health PhD Education
In 2018, the EIT awarded the EIT Label to one EIT Health Doctoral programme.
T
his collaborative PhD school focuses on antibiotics and antibiotic resistance. Students are educated in a cross-disciplinary environment to accelerate progress in healthcare, through international mobility and close interaction and co-creation with public and private partners.
Research, Entrepreneurship Combining Innovation with PhD Education (RECIPE)
For more information, visit the EIT Health Campus website