What makes an innovation community?
Each EIT Innovation Community has been set up as a legal entity and has appointed a CEO to run its operations – a first for an EU initiative. The EIT has provided each Innovation Community with a large degree of autonomy to define its legal status, internal organisation and working methods.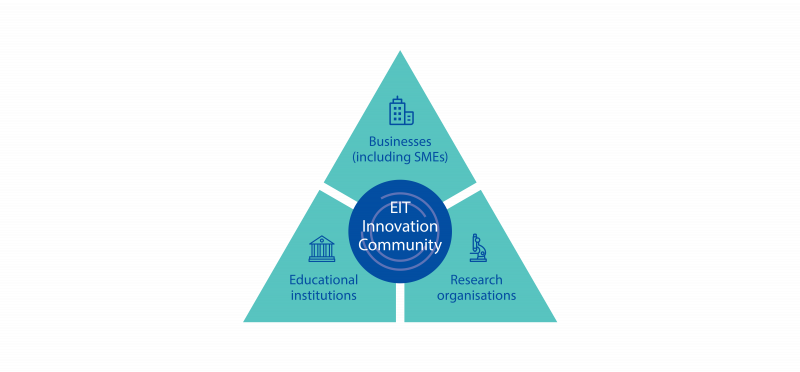 As new types of partnerships within the European innovation landscape, Innovation Communities are characterised by the following features:
High degree of integration: each

Innovation Community

 is organised around an independent legal entity, gathering world-class

Innovation Community

 partners from all the innovation dimensions. The specificity of the

Innovation Communities

is to integrate, for the first time at EU level, education and entrepreneurship with research and innovation. The EIT does not address education, research and innovation independently but instead simultaneously, as constitutive elements of a single innovation chain, to deliver incremental and disruptive innovation.
Long-term perspective: each

Innovation Community

 is set up for a minimum of seven years to contribute to overcoming fragmentation via world-class, long-term, integrated partnerships. This long-term perspective enables partners to commit to a strategic initiative for a longer time than in traditional innovation policy initiatives. It also ensures that the

Innovation Community

 is able to focus on short-, mid- and long-term objectives, remaining agile enough to adapt to emerging needs from the field in which they operate.
Efficient governance: strong leadership is a pre-requisite; each

Innovation Community

 is driven by a CEO and

Innovation Community

 partners are represented by single legal entities for more streamlined decision-making.

Innovation Communities

must produce annual business plans, including an ambitious portfolio of activities from education to business creation, with clear targets and deliverables, looking for both market and societal impact.
The innovation hub model: each

Innovation Community

 consists of five or six world-class innovation hubs, building and leveraging on existing European capacities. An innovation hub  brings together diverse teams of individuals from across the Knowledge Triangle together in one physical place (usually within partners' universities or companies), acting as a hub for many

Innovation Community

 activities, and combining competences and skills developed in different areas of specialisation at a pan-European level.

Innovation Community

 culture: Europe needs to embrace a true entrepreneurial culture, which is essential for capturing the value of research and innovation, for setting-up new ventures and actual market deployment of innovations in potential high-growth sectors.

Innovation Communities

are doing just this by integrating education and entrepreneurship with research and innovation and operating according to business logic and a results-oriented approach.