EIT Regional Innovation Scheme (RIS)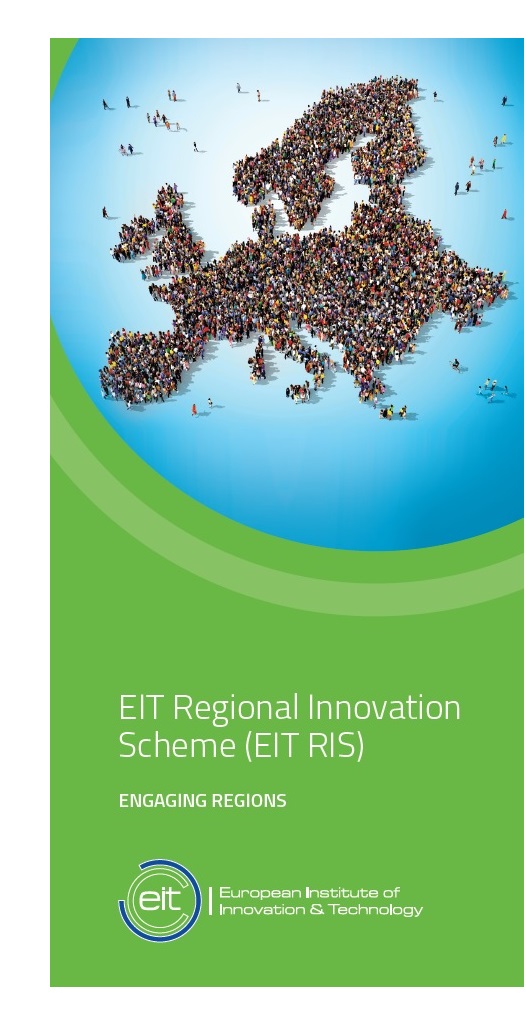 The EIT Regional Innovation Scheme (EIT RIS) is a structured outreach scheme to support the integration of the Knowledge Triangle and increase the innovation capacity in areas and regions in Europe not directly benefiting from the EIT and its KICs. It is based on a two-way engagement between KICs and selected partnerships from the wider European innovation community and is based on the following key principle. 
EIT RIS - Key Principles
Coherent and structured outreach scheme 
The EIT RIS is a structured outreach scheme which forms an integral part of the KIC's overall strategy. It has clearly defined strategic objectives translated into targeted activities and resulting in concrete outcomes. 
The EIT RIS is targeted at excellent partnerships representing the three sides of the Knowledge Triangle - leading higher education institutions, research organisations and businesses - as well as other stakeholders essential in spurring regional innovation, such as regional policy makers and public entities. With a view to fully embrace opportunities for enhancing innovation capacity, the EIT RIS implemented by the KICs aims at capitalising on the untapped potential offered by the diversity of regions in Europe. If harnessed well, it will allow the EIT and its KICs to extend their reach to new geographical areas and to reach out to excellent partnerships of the Knowledge Triangle. 
EIT RIS partnerships should demonstrate a clear thematic alignment with EIT themes and KIC specific focus areas. With a view to ensure strategic impact at larger scale, they explicitly refer to relevant regional innovation plans, including the Smart Specialisation Strategies (RIS3) designed to boost regional innovation in order to achieve economic growth and prosperity by enabling regions to focus on their strengths. 
Voluntary and autonomous implementation by KICs
KICs implement the EIT RIS on a voluntary and autonomous basis. Implementation will be driven primarily by the co-location centres as hubs of the Knowledge Triangle integration. 
Openness and transparency
EIT RIS partnerships will be selected by the KICs through open and transparent processes. Participation in the EIT RIS does not imply automatically a potential future partnership with a KIC, however, it does not impede it either. Strategic decisions on the widening (and/or deepening) of their partnership remain solely at the discretion of the KICs. 
Activities 
Activities undertaken as part of the EIT RIS ensure the flow of both knowledge and people between KICs and selected partnerships with a view to enhance the regional innovation capacity by fostering the integration of the Knowledge Triangle. EIT RIS activities are an integral part of the KICs' operations. They are designed by KICs in a fit-for-purpose way taking into account their own specificities, overall strategy and portfolio in order to optimise the potential benefits and impact for both the participants and the KICs themselves. 
The EIT RIS may include structured mobility actions to ensure that talent – students, researchers, teaching staff and entrepreneurs of any age and gender and at all career levels and across disciplines – beyond the KICs have the opportunity to get involved in and learn from the KIC activities. 
Benefits 
Selected EIT RIS partnerships and their regions benefit from the exchange of knowledge and good practice capitalising on their strengths, accelerating their innovation output, boosting regional innovation, and thus contributing to economic growth and prosperity. As main innovation actors in the regions, their participation in the EIT RIS will strengthen the regional innovation eco-system and output. 
Based on the principle that people are and/or act as carriers of knowledge, participants from diverse backgrounds will be able to apply the knowledge, expertise and entrepreneurial mind-set gained through this stimulus scheme in the KICs. Upon return they will benefit not only their institutions but also the way in which innovation is approached in their areas of origin. Moreover, they may act as multipliers by sharing the insights gained and the tangible benefits of the scheme with the selected partnership and beyond. 
By collaborating with excellent partnerships from across Europe's regions, KICs benefit from an influx of talent and ideas which add value to their activities and amplify their impact in spurring innovation. Selected partnerships may act as test beds for the EIT and its KICs with a view to explore how Knowledge Triangle governance and activities could be replicated in and how experience and emerging good practices can be transferred successfully to a multitude of environments. 
Selected EIT RIS partnerships will primarily use "other sources" of funding, such as national and regional funding, including EU Structural Fund monies and own resources to participate in the EIT RIS. 

To ensure the participation of individuals from diverse backgrounds the EIT may finance structured mobility actions. 
Synergies and Complementarities 
The EIT RIS will create synergies and complementarities with other EU, national, regional innovation initiatives and funding. There are opportunities for mutually reinforcing interaction with the EU's Cohesion Policy by addressing the links between the local and global aspects of innovation. KIC Co-location Centres are well positioned to capitalise on various funding schemes from their respective regions. The Co-location Centres offer platforms for cross-border collaboration playing a major role in strengthening the local-global connectivity of the KIC as a whole, including through close co-operation with regional authorities, in particular those involved in designing and delivering the Regional Innovation Strategies for Smart Specialisation (RIS3). 
Relation between the EIT RIS and Smart Specialisation Strategies (RIS3) 
The EIT RIS has been conceptualised in a way that allows for synergies and efficiency gains for regions that have been designing Smart Specialisation Strategies (RIS3) and are looking for a better integration of the Knowledge Triangle as a driver on enhanced innovation capacity at regional level. The identification of relevant funding instruments, in particular the use of EU Structural Funds for participating in the EIT RIS is strongly encouraged and supported by policy makers in order to strengthen synergies and complementarities at all governance levels.