Connect, Collaborate, Innovate with fellow entrepreneurs and like-minded fellow alumni at the EIT Alumni CONNECT 2020!
Image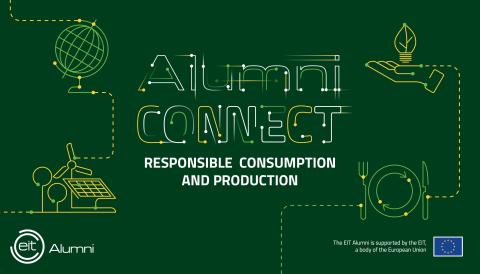 EIT Alumni CONNECT
 is the annual meetup of the wider community. Over 120 participants including Alumni from the EIT's Innovation Communities came together on 
28 and 29 November
 to connect, build partnerships, co-create on projects and work together to build and develop the EIT Alumni Community.
2020 marked the sixth installment of the event. Taking place on-line for the first time, EIT Alumni CONNECT '20 was once again bringing together alumni from EIT Health, EIT Digital, EIT InnoEnergy, EIT Climate-KIC, and EIT RawMaterials.
The theme was Responsible Consumption and Production and how EIT Alumni can address it. It was about doing more and better with less. It was also about decoupling economic growth from environmental degradation, increasing resource efficiency and promoting sustainable lifestyles. Given the diverse nature of our community and expertise in different fields, we believe that this was a theme which all five communities of the EIT Alumni network could approach in their own way, allowing to address this theme in a unique and multi-disciplinary manner.
Have a look at the 2020 EIT Alumni CONNECT wrap up video:
Alongside interactive networking session, a series of workshops was offer to our members unique insights from external European organisations and from members of the Alumni Communities: The CommUnity by InnoEnergy, EIT Health Alumni, EIT Digital Alumni, EIT RawMaterials Alumni and EIT Climate-KIC Alumni. Whether participants wanted to sharpen their current skills, explore opportunities across sectors or meet like-minded professionals, their were able find what they want - all on-line.
In addition participants were able to: 
Find potential partners for future collaboration opportunities.
Take an active part in a variety of thought-provoking and challenging dialogues.
Gain valuable advice and insights from our keynote speakers.
Meet the EIT Alumni Board and representatives of other Alumni Communities.
The internal registration for participating EIT Alumni CONNECT 2020 was closed on 31 October 2020.
Missed the event? The EIT Alumni CONNECT 2020 has been recorded, and the videos are available on the EIT's YouTube Channel, click below to relive the event:
---
Meet our speakers
Panel discussion Responsible Consumption and Production - Industry Perspective
What are the opportunities and challenges of embedding environmental conscious practices and circular economy principles in industry? What role does education play in this? What does this mean for the future of entrepreneurship? And what do these things look like in practice? In order to have businesses that truly integrate responsible consumption and production practices, these questions must be addressed.
Image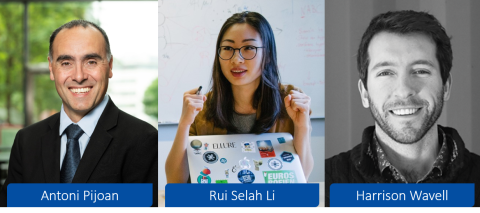 Antonji Pijoan
has more than 20 years of international experience in Spain, France, UK, Germany and the USA, working in consultancy and project management. After several years at Inasment (
Tecnalia
), he joined
EIT Manufacturing
with its creation in 2019. On May 2020 he took over the role of Managing Director of CLC West. He has previously participated in different governing bodies such as
Nobatek
(RTO in Southern France) and
EIT InnoEnergy
.
Rui Selah Li is the CEO of ELLURE AB, a Swedish start-up aiming to lead the way to a new standard in the beauty industry, that celebrate individuality without creating excessive waste. She is an alumni of the EIT Digital Master School and 2020 EIT WOMAN Award nominee.
Harrison Wavell is the Schools & Colleges programme Manager at the Ellen MacArthur Foundation, based on the Isle of Wigh. Harrison designs impactful circular economy curricula for schools, curriculum bodies, and NGOs around the world looking to spread the concept of the circular economy. Prior to working at the Ellen MacArthur Foundation, Harrison was a teacher of both primary and secondary level English, Creative Writing, Physical Education, and a variety of outdoor education activities.
---
Panel discussion Responsible Consumption and production - Consumer Perspective
What is the role of local initiatives and citizens to create the shift into responsible and meaningful consumption patterns? How is a slow travel initiative changing the way we travel? How is a community of designers and makers changing the way we buy? These are some of the questions we will seek to answer with our inspiring panel of change-makers. The topic will be explored from the perspective of current culture-shifting grassroots movements promoting slow travel, sustainable development goals, regenerative design, to name a few.
Image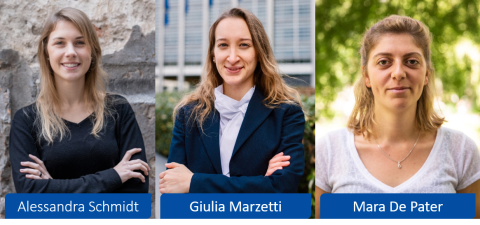 Alessandra Schmidt
is a Brazilian social entrepreneur with more than 10 years of experience in the field. She consults on development initiatives, circular economy, supporting pathways for social innovation and regenerative ecosystems. Hands-on and mission driven, a passionate learner, especially whenever popular culture is involved. Alessandra works in
Fab Lab Barcelona
at the Institute for Advanced Architecture of Catalonia coordinating EU research.
Giulia Marzetti is a female in engineering and an engineer in government. She has worked internationally in Europe, Australia, US, UK, India and Bangladesh as a consultant and project manager for sustainable transport and circular industry multimillion projects. She is a regular youth speaker, podcaster and delegate at high level conferences and events such as the UNECE,  Bill & Melinda Gates Foundation "Goalkeepers", Obama Foundation Town Hall and more. Giulia is also an active member of Women @EIT.
Mara De Pater is a climate activist that believes in the power of consumer action to reform policies and industries. She works for CollAction as project manager of the Green Wave, a project that aims at growing a global movement of people making conscious choices and taking collective actions to transform industries and demand green policies. Previously, she has been involved in setting up a climate project such as Sail to the COP.
---
EIT CONNECT 2020 Organising Team
Tiago Mendes, alumnus of EIT InnoEnergy and EIT Alumni Board member
Image
Who am I?
I'm an EIT InnoEnergy alumnus and the current representative for the EIT InnoEnergy CommUnity at the EIT Alumni Board. I'm also the co-founder of Puzzle Innovation, a collective of experts dedicated to supporting sustainable progress of individuals and organisations through leadership, co-creation and community building.
Why do I want to organise CONNECT 2020?
The EIT CONNECT has always been a wonderful opportunity to see old friends and make new ones from different EIT Innovation Communities, while sharing and learning with each other about sustainability related topics that I'm usually not so exposed to. This year, it feels particularly important that, despite all the challenges we're facing, we take this opportunity to be together (virtually) and I'm happy to dedicate my time and energy to support the organising team in making it happen!
---
Image
Aicha Kombate, alumna of EIT Digital 
Who am I?
I am an EIT Digital alumna, graduated in 2015 from both Trento University and Nice Sophia-Antipolis University with a major in Internet Technologies and Architecture. I am currently a Software Quality Assurance Engineer at Dailymotion, in Valbonne (South of France).
Why do I want to organise CONNECT 2020?
I love organising and taking part in EIT gatherings and events. I've had the amazing chance to attend the first EIT Connect held in Budapest in November 2013 and to organize the first EIT Digital meetup in the South of France in May 2019. After all these years of being a participant, I wanted to actively contribute to the future of the community and be involved in shaping and building great, impactful and memorable events for all the alumni of the EIT family. And one of the ways of doing so is to be part of the CONNECT 2020 organising team so here I am!
---
Image

Mohamed Abdelmomen, alumnus of EIT RawMaterials
Who am I?
I am Mohamed Abdelmomen, Mechanical R&D Engineer at ABB in Estonia. I joined the EIT Alumni Community through the EIT RawMaterials RACE 2019, which was a life changing experience. I graduated from Mechatronics MSc, and Mechanical Engineering BSc from Estonia and Egypt respectively.
Why do I want to organise CONNECT 2020?
I want to organise CONNECT 2020, so I can get involved more with the EIT family, know more about the EIT Community, form more connections and utilise my skills in organising events by trying to do so online.
---
Image
Silvia Fernández González, alumna of EIT Climate-KIC
Who am I?
I define myself as a curious and lifelong learner. I am alumna of EIT Climate-KIC Alumni and I work as an Educator developing community-based programmes towards sustainable development in diverse non-governmental organisations and companies at local and international level. 
Why do I want to organise CONNECT 2020? 
I see this experience as a powerful opportunity to build a community where we grow common solutions and collaborations towards system transformation. I am looking forward to sharing our competences and being involved in the different organising activities while enriching from diversity. 
---
Image

Jacopo Sala, alumnus of EIT InnoEnergy
Who am I?
I am Jacopo Sala, from Italy and PhD student in solar PV. I am currently a CommUnity by InnoEnergy Manager for Belgium and advisor for the CommUnity Post.
Why do I want to organise CONNECT 2020?
I wanted to join the organisation of the EIT Connect 2020 to contribute myself to create the right space to establish connections among like minded people beyond the energy sector to tackle today's and tomorrow's challenges in sustainability.
---
Image

Ellie Stephenson, former EIT RawMaterials Alumni Manager
Who am I?
My name is Ellie, formerly known as the EIT RawMaterials Alumni Manager. Although I'm now working on new projects, EIT Alumni will always be close to my heart.
Why do I want to organise CONNECT 2020?
That's why I'm really looking forward to playing an active role in CONNECT 2020 and continuing to help the members of our amazing community grow and learn from each other.
---
Image

Husam Rajab, alumnus of EIT Health
Who am I?
I am a communication and electrical engineer with a passion for technology, currently completing my PhD at Budapest University of Technology and Economics with research focused on IoT and 5G technologies. My main areas of expertise include technical support, logistics coordination, network engineering, social networking and marketing, leadership, advocacy, corporate and digital communication, events management, media relations, and top-line crisis communication.
Why do I want to organise CONNECT 2020?
It will be a great experience to support the oranisation of CONNECT 2020, work with the EIT Alumni Community and create an interesting and inspiring event for my fellow EIT Alumni.