Meet the EIT Alumni Board
​​President - Falko Döring (EIT InnoEnergy CommUnity Manager)

Vice President  - Esmee Kooijman (Secretary of the 

EIT Climate KIC Alumni Board)

Treasurer - 

Antonio

Mart

í

nez

Millana (

EIT Health Alumni

)

Community Officer - Francesco Bonadiman

 (President of the EIT Digital Alumni Board)

EIT Representative - Laurent Roux

 (EIT, Impact Officer - Entrepreneurship and Business Creation) 
What's the EIT Alumni Community Board all about?
In April 2016, EIT Interim Director Martin Kern appointed the first EIT Alumni Board. With a strong mandate to represent the entire EIT Alumni Community four representatives had been nominated by the alumni associations and communities of the EIT Knowledge and Innovation Communities. An EIT Observer will also sit on the EIT Alumni Community Board, supporting and providing guidance to the Board.
At the founding meeting of the Board, Martin Kern stressed how important EIT Alumni are to the whole EIT Community, noting that the new Board has a "powerful platform" to drive collaboration initiatives, to harness the massive potential of all EIT Alumni, and to provide effective representation for the entire community. There is strong consensus within the EIT Alumni Community Board that there is much to gain from establishing the Board and further developing the Alumni Community to complement activities existing KIC Alumni associations and communities are pursuing. 
In April 2017, a second group of alumni took the reigns. They will steer the alumni community for the period April 2017 - December 2018. 
It is foreseen that the EIT Alumni Community Board will expand as the EIT Community grows to include alumni from the newly designated innovation communites.
---
Previous EIT Alumni Boards
EIT Alumni Board 2016 - 2017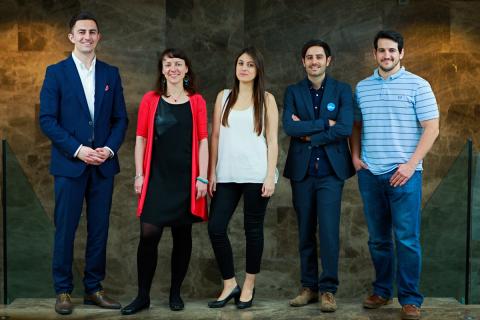 ​​President - Estefanía Tapias (EIT Climate-KIC Alumni Association President)

Vice President & Communications Officer - Borce Stojkovski (

EIT Digital Alumni)

Treasurer - 

Antonio

Mart

í

nez

Millana (

EIT Health Alumni

)

Community Officer - 

Claudio Geyken (EIT InnoEnergy, Community Officer)

EIT Observer - 

Nadja Dokter (EIT, Head of Strategy and Impact Section) 
Have a great idea for developing the Alumni Community? Want to get in touch with the Board? 
Send us a message at eit-alumni@eit.europa.eu 
Or contact us via the EIT Alumni social media channels