EIT Climate-KIC
Drivers of climate innovation in Europe and beyond
Launched in 2010, EIT Climate-KIC is one of the three original Innovation Communities set up by the EIT.
Mission, Vision and Values
EIT Climate-KIC's mission is to bring together, inspire and empower a dynamic community to build a zero carbon economy and climate resilient society
Our vision is to enable Europe to lead the global transformation towards sustainability.
Our Innovation Hubs are based across Europe and led by world-class universities and companies. Our regional innovation communities, which are led by local or regional governments, support the testing, implementation and scaling up of innovation.
EIT Climate-KIC has an integrated community of 190 partners in six geographies:
Mediterranean: France, Italy, Spain
North-Eastern: Germany & Poland
Benelux: the Netherlands & Belgium
Alpine & Hungary: Austria, Switzerland,
Nordic: Denmark, Sweden & Finland

UK & Ireland
Find out more about our partners, our business strategy and how we're organised.

Connecting research and technology with business
EIT Climate-KIC links research, technology and business to find ways of mitigating or adapting to climate change and accelerating the solutions to market. Our business model has three areas of expertise.
In innovation we identify and develop the market potential of emerging technologies, creating new products, services and jobs in Europe with a global impact on climate change.
In education we recruit, nurture and develop entrepreneurs to become agents of change. Our courses combine climate change science and entrepreneurship with a practical programme of learning-by-doing featuring real-life challenges and innovation projects.
In entrepreneurship we open up the market for small businesses and start-ups working in the area of climate innovation, providing the opportunities and practical tools to turn ideas into commercial success.
Educational programmes
We offer added value to aster's and PhD degree programmes at the best academic institutions across Europe as well as an annual summer school. Our pre-incubation programme, the Greenhouse, helps you explore your business ideas.
Themes
We address climate change mitigation and adaptation under four themes:
Success stories
Innovative start-ups supported: 76
Knowledge transfers and adoptions: 127
Products and services supported: 71
Graduates from Master's School in 2015: 96
Graduates from PhD School in 2015: 21
Educational courses offered: five global courses, six short courses, seven Innovation Building Blocks, three Innovator Catalysts
Where are we?
We operate across 18 locations from 13 European centres, including the major cities of Brussels, London, Paris and Berlin.
Our Innovation Hubs develop local infrastructure into innovation ecosystems and link into a network of implementation sites across Europe. EIT Climate-KIC also includes a grouping of major European regions covering western, eastern and southern Europe.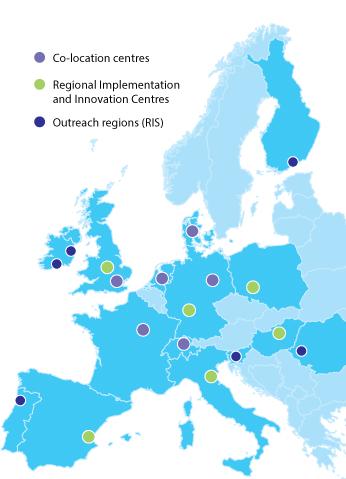 Our headquarters in London, UK, supports and coordinates EIT Climate-KIC's national and regional representations.
Located at Europe's leading research and educational institutions, our national centres manage EIT Climate-KIC's ambitious innovation, education and entrepreneurship agenda.
Our office in Brussels helps coordinate our activities with other EU initiatives and supports our regional representations.
National Centres
Regional centres
The regions that participate in EIT Climate-KIC as part of the EIT's Regional Innovation Scheme (RIS) are Cork / Dublin (Ireland), Helsinki / Uusimaa (Finland), North Portugal (with Lisbon),

Slovenia and Timis (Romania).