EIT at a glance
Explore the EIT Community Infographics
Today we face many societal challenges (global warming, youth unemployment, an ageing population and more), but finding solutions to these challenges presents us with great opportunities for innovation and entrepreneurship. Europe is perfectly placed to do this, with a wealth of top universities, strong companies, and stable and democratic institutions, along with a pool of highly educated and skilled individuals. The trick is finding a better way to get them to inspire each other, work closely together, learn, innovate and prosper – and this is precisely  where the EIT comes in! It's about people-driven innovation.
Catch up with the latest news from the EIT Community in the Newsroom.
Subscribe to the EIT Newsletter to get the best of the EIT Community's news in your inbox once each month.
What does the EIT do?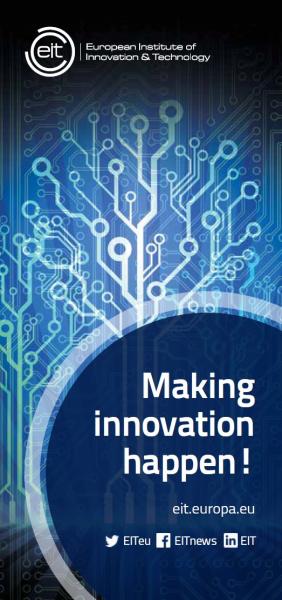 Created in 2008, the European Institute of Innovation and Technology (EIT) is a unique EU initiative that spurs innovation and entrepreneurship across Europe with one simple idea: through diversity there is strength. Download the EIT leaflet here.
We bring together leading universities, research labs and companies to form dynamic pan-European partnerships. These unique partnerships, called Knowledge and Innovation Communities (Innovation Communities), develop innovative products and services, start new companies, and train a new generation of entrepreneurs. They bring ideas to the market, turn students into entrepreneurs and, most importantly, they innovate. The EIT Community puts entrepreneurs and innovators at the heart of our efforts. 
'If someone is interested in the future of Europe, one needs to see ... the EIT. This is exactly the future of Europe.'  
Former European Commission Vice-President, Jyrki Katainen
The EIT's support helps innovators and entrepreneurs across Europe to turn their ideas into products and services for the market. This is crucial to fulfilling the mission of the EIT: delivering the jobs and sustainable economic growth opportunities that Europe is seeking. The EIT is playing a vital role in helping to increase economic growth and create jobs. 
The EIT is an integral part of Horizon 2020, the EU's Framework Programme for Research and Innovation. Horizon 2020 is a key pillar of the Innovation Union – a Europe 2020 flagship initiative that aims to enhance Europe's global competitiveness.
What is an EIT 'Knowledge and Innovation Community' (Innovation Community)?
Innovation Communities bring together businesses (industry and SMEs), research centres and universities as partners, creating a favourable environment for creative thought and innovation to flourish, allowing innovative products and services to be developed in every area imaginable, including climate change, healthy living and active ageing, new companies to be started, and a new generation of entrepreneurs to be trained. They carry out a whole range of activities that cover the entire innovation chain – including training and education programmes, reinforcing the journey from research to the market, innovation projects as well as business incubators and accelerators. Innovation Communities have been conceived so that they are able to react in an effective and flexible way to new challenges and changing environments.
There are currently six Innovation Communities and each focuses on a different societal challenge: 
---
2010
---
2014
---
2016
---
Read more about the Innovation Communities here. As part of an Innovation Community, access new partners, facilities, disciplines, industries and cultures through close collaboration with business, education and research.
How can I get involved?
Check out our 'Activities' and 'Collaborate' pages. Benefit from being part of a European innovation community!
Legal background
The EIT is a body of the European Union based in Budapest, Hungary. It was established by 
Regulation (EC) No 294/2008
of the European Parliament and of the Council of 11 March 2008 and became operational in 2010 at the
EIT Headquarters
. The EIT currently employs approximately 60 members of staff and its Interim Director 
since 1 August 2014
 is
Martin Kern
.