Vision, mission and values
The European Institute of Innovation and Technology (EIT) is an independent EU body. We enhance Europe's ability to innovate by nurturing entrepreneurial talent and supporting new ideas.
Our vision
'...is to become the leading European initiative that empowers innovators and entrepreneurs to develop world-class solutions to societal challenges and creates growth and skilled jobs.'
Our mission is to:
Contribute to the competitiveness of Europe, its sustainable economic growth and job creation by promoting and strengthening synergies and cooperation among businesses, education institutions and research organisations.
Create favourable environments for creative thought, to enable world-class innovation and entrepreneurship to thrive in Europe.
The EIT Community Values
The EIT Community values describe our philosophy as to how business should be conducted by our organisations. These values reflect our joint vision and mission statements, and should be used as a guide for all our communication, as well as the way we work and make decisions.
Inspiring
We inspire entrepreneurs and innovators to create solutions for the future by sharing knowledge and experiences.
Passionate
We are passionate about bringing Europe's innovators together to create a better and more sustainable future – both economically and socially.
Engaging
We are committed, innovative and results-oriented when we engage with our stakeholders – we accelerate processes and work with our stakeholders to make ideas a reality.
Open
As an engine for a brighter future, we cultivate openness, transparency and interaction together with the stakeholders that we serve. We support the development of future innovations, and believe in sharing knowledge and co-creating with our stakeholders.
Excellent
We strive to achieve excellence in our work through our professional, efficient and results-orientated approach.
Dynamic
To help future innovators and entrepreneurs live up to their potential, we meet them with enthusiasm, creativity and energy – presenting the EIT Community as dynamic, energetic and flexible
Innovation through integration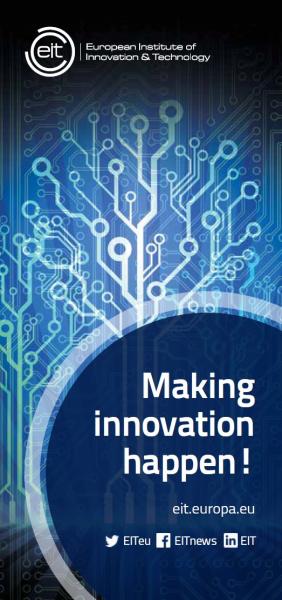 To boost Europe's innovation capacity, action is needed to overcome the fragmented European innovation landscape; and this is where the EIT comes in. We have a pioneering role in increasing European sustainable growth and competitiveness by reinforcing Europe's innovation capacity in a dynamic global context. The EIT brings together the 'knowledge triangle' of business, education and research to form dynamic cross-border partnerships - Innovation Communities.
The Innovation Communities:
Develop innovative products and services;
Start new companies; and
Train a new generation of entrepreneurs.
Download here the EIT leaflet.