EIT Raw Materials
Developing Raw Materials into a major strength for Europe
Europe is home to world leaders in manufacturing, game-changing innovative technologies and an entrepreneurial infrastructure that can boost the transition to a resource-efficient and sustainable society. A sustainable supply of raw m aterials is vital for both this transition and for Europe's industrial activity. 
EIT RawMaterials was designated as an EIT Knowledge and Innovation Community (Innovation Community) by the EIT Governing Board on 09 December 2014.
EIT RawMaterials is the largest consortium in the raw materials sector worldwide. Its vision is to develop raw materials into a major strength for Europe. Its mission is to boost competitiveness, growth and attractiveness of the European raw materials sector via radical innovation, new educational approaches and guided entrepreneurship.
EIT RawMaterials unites more than 120 partners from leading industries, universities and research institutions from more than 20 EU countries. Partners of EIT RawMaterials are active across the entire raw materials value chain; from exploration, mining and mineral processing to substitution, recycling and circular economy. They collaborate on finding new, innovative solutions to secure supply and improve the raw materials sector in Europe. 
Goals and Impact 
EIT RawMaterials will generate a significant effect on European industrial competitiveness and innovation capacity as well as empowering students, entrepreneurs and education partners driving towards the circular economy. This will result in the introduction of innovative and sustainable products, processes and services, as well as talented people that will deliver increased economic, environmental and social sustainability to European society.
EIT RawMaterials improves innovation in the raw materials sector by sharing knowledge, facilitating matchmaking activities, developing innovative technologies and supporting business creation.
EIT RawMaterials and the UN Sustainable Development Goals
Raw materials are critically important for implementing the 2030 Agenda for Sustainable Development
Raw materials are essential to secure:
A transition to green energy technologies
Growth and sustainable consumption
Access to clean and efficient consumer technologies
The EU is strongly committed to implementing these agreements (according to a new proposal for a new Consensus on Development of Our World, our Dignity, our Future), and metals, minerals and materials are of particular importance in this context.
Sustainable management of natural resources and the shift to a green economy are examples of this and have been taken up by EIT RawMaterials.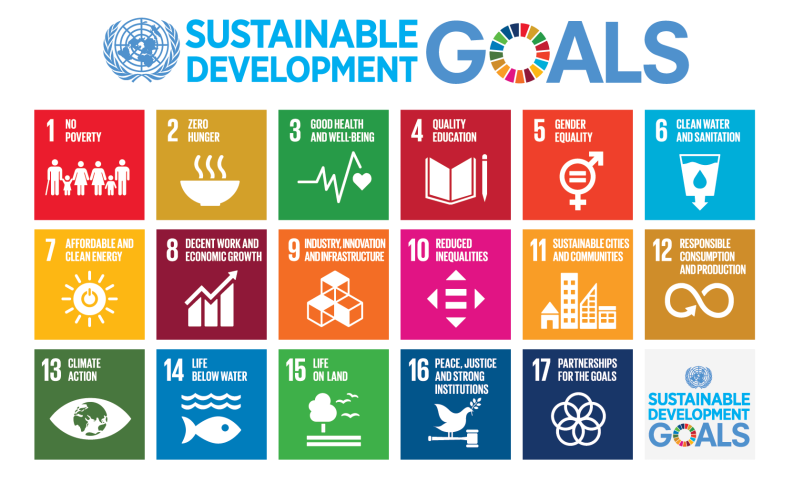 Innovation Themes
• Exploration and raw materials resource assessment: EIT RawMaterials facilitates sustainable, efficient and successful exploration for the future, including new exploration technologies, innovative research and advances in education.
• Mining in challenging environments: EIT RawMaterials provides opportunities through the development of innovative, smart and efficient technologies, specialist higher education with an added focus on entrepreneurship, and integration of the entire raw material value chain.
• Increased resource efficiency in mineral and metallurgical processes: EIT RawMaterials supports the improvement and creation of innovative processing methods and technologies that will catalyse new business opportunities for the processing of both primary and secondary resources. 
• Substitution of critical and toxic materials in products and substitutions for optimised performance: The EIT RawMaterials partnership drives innovation and business creation offering solutions and added value, particularly in the fields of sustainable mobility, energy, machinery, and ICT. 
• Recycling and materials chain optimisation of end-of-life products: EIT RawMaterials supports innovation and education projects, as well as new businesses that scale up and introduce new technological solutions to the market. 
• Design of products and services for the circular economy: The challenge for EIT RawMaterials is to fully utilise the potential of industrial symbiosis by applying a systemic perspective and revitalising human capital in the raw materials sector through designing solutions and closing material loops.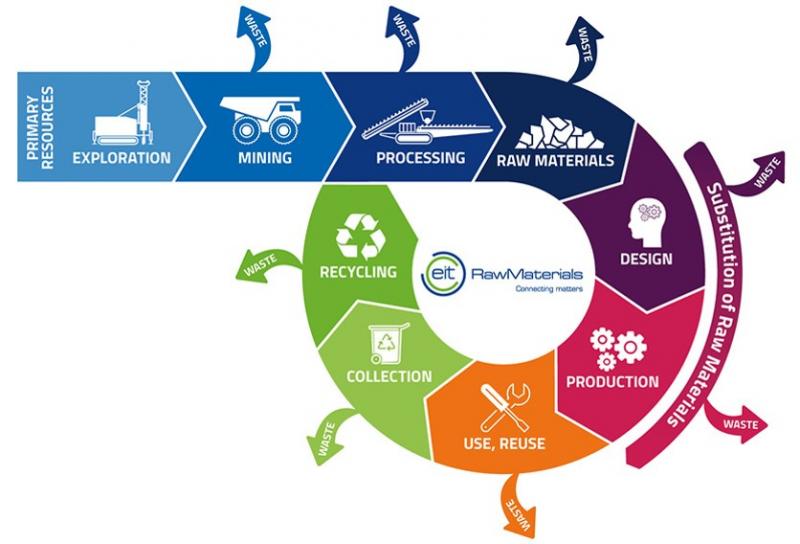 Education – RawMaterials Academy
The RawMaterials Academy is the overarching brand of all the education activities of the EIT RawMaterials. Activities across the entire ecosystem of learners – PhD students, masters' students, industrial partners, professionals within the raw materials sector, and wider society – foster new ways of learning and teaching by connecting academia, industry and research organisations. 
The aims of the RawMaterials Academy are:
• To introduce society as a whole to the importance and relevance of raw materials and excite interest in topics related to raw materials
• To train current and future stakeholders to the technical standards required by the raw materials industry today – contextually across the entire raw materials value chain
• To foster the entrepreneurial and innovation skills, knowledge and attitudes needed for the entrepreneurs and intrapreneurs of tomorrow
To this end, the RawMaterials Academy offers education programmes through four strands:
• Master's Education
• PhD Education
• Lifelong Learning
• Wider Society Learning
Business Creation and Support
Business Creation and Support activities of EIT RawMaterials are designed to:
• Create and develop new game changing businesses across Europe
• Fast track start-ups and support the commercialisation of business ideas
• Encourage exchange and networking across different disciplines and businesses
• Create new entrepreneurial education approaches
• Provide funding to boost innovation from ideas to commercialisation
Business Creation and Support activities aimed at transforming innovative ideas and projects into new business for existing companies (large and small) as well as through the creation of start-ups and spin-offs. The activities are composed of three major strands:
• Business Idea Competition – aims to help idea holders and research teams turn ideas into business models.
• Start-up and SME Boosters – supports promising start-ups and SMEs at regional Innovation Hubs (Co-Location Centres) in validating their business models  
• Funding Instruments – activities aimed at helping high-potential entrepreneurs find the required financial and non-financial support to bring innovative concepts to the market.
EIT RawMaterials Innovation Hubs 
There are six regional Innovation Hubs in Belgium, Finland, France, Italy, Poland and Sweden, that represent different regional ecosystems connecting industry, research and education. There are also two EIT RawMaterials Regional Centres in Freiberg, Germany, Leoben, Austria and two Regional Hubs (RIS Hubs) in Košice, Slovak Republic and Regional Center Adria in Ljubljana, Slovenia.
• Innovation Hub (CLC) Baltic Sea - Espoo, Finland
• Innovation Hub (CLC) Central - Metz, France
• Innovation Hub (CLC) East - Wroclaw, Poland
• Innovation Hub (CLC) North - Luleå, Sweden
• Innovation Hub (CLC) South - Rome, Italy
• Innovation Hub (CLC) West - Leuven, Belgium
• Regional Centre Freiberg – Freiberg, Germany
• Regional Centre Leoben – Leoben, Austria
• Hub – Regional Centre Košice – Košice, Slovak Republic
• Hub – Regional Centre Adria – Ljubljana, Slovenia


Contact details
• Address: EIT RawMaterials GmbH, Europa Center, Tauentzienstr. 11, 10789 Berlin, Germany
• Website: eitrawmaterials.eu
• E-Mail: info@eitrawmaterials.eu
• Media: communications@eitrawmaterials.eu