EIT Awards 2017 Nominees Brochure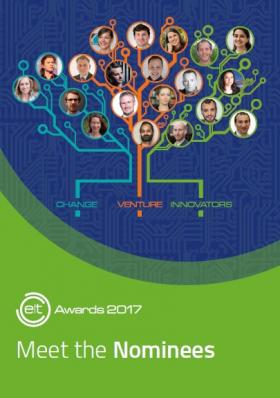 Learn about the EIT Awards 2017 nominees.
International recognition of the EIT Community's work is growing each year. Two of the 2015 EIT Awards nominees were named on the Forbes 2016 '30 Under 30 Europe' list, while an incredible 18 members of the EIT Community were named on the list this year. In addition, two of the EIT Community's women entrepreneurs were nominated for the EU Prize for Women Innovators 2017, one of whom went on to win the Rising Innovator Prize. Also this year, two of our 2016 EIT Awards winners have seen continued success, with one winning the MBR Global Water Award in Dubai, and the other winning the Capgemini InnovatorsRace50 in the Consumers & Well-Being category. There has never been a better time to be part of Europe's largest innovation community. In the following pages, you will learn about this year's nominees and the ideas, projects and products that have led to their consideration for the 2017 EIT Awards.
The range of innovations that our nominees bring to the EIT Awards continues to astound. In the EIT CHANGE Award category, they include a tactile belt to help visually impaired people navigate the world; software to plan greener buildings by assessing their lifecycle; a process to produce biofuel from waste wood; and a process to produce ink from waste coffee grounds.
The EIT Venture Award nominees have developed software to identify and analyse the climate change risk faced by companies; production technology to substitute clay minerals for toxic chemicals in building materials; software to flag security issues for app users; a thin coating for heat exchangers to prevent scaling and fouling; a process to recycle contaminated scrap metal; cyber-security for critical infrastructure; a system that uses big data to heal patients in a smarter way; plasma medicine to treat chronic wound patients and kill multiresistant bacteria; electricity solutions for those living without energy access; and solutions for independent and sustainable living.
The EIT Innovators Award highlights and rewards teams supported by our Innovation Communities. The nominees for this award have created innovations that include e-health tools to predict the risk of dementia; advanced sensors for food cooling; a system to provide gate-to-gate internet connectivity for air travellers; a drop-in solution for silicon wafers; a CAD tool for proactive cybersecurity management; and a blood test for early detection of aggressive prostate cancer. The EIT's newest Innovation Community, EIT Food, is already seeing important activity. We are pleased to introduce this Community by highlighting two great innovators.  
EIT Community:
Subject Audience: