Europe's entrepreneurs shape the future of innovation at INNOVEIT 2017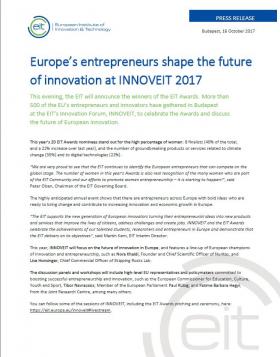 This evening, the EIT will announce the winners of the EIT Awards.
More than 500 of the EU's entrepreneurs and innovators have gathered in Budapest at the EIT's Innovation Forum, INNOVEIT, to celebrate the EIT Awards and discuss the future of European innovation.
This year's 20 EIT Awards nominees stand out for the high percentage of women: eight finalists (40% of the total, and a 22% increase over last year), and the number of groundbreaking products or services related to climate change (35%) and to digital technologies (22%).
EIT Community:
Subject Audience: