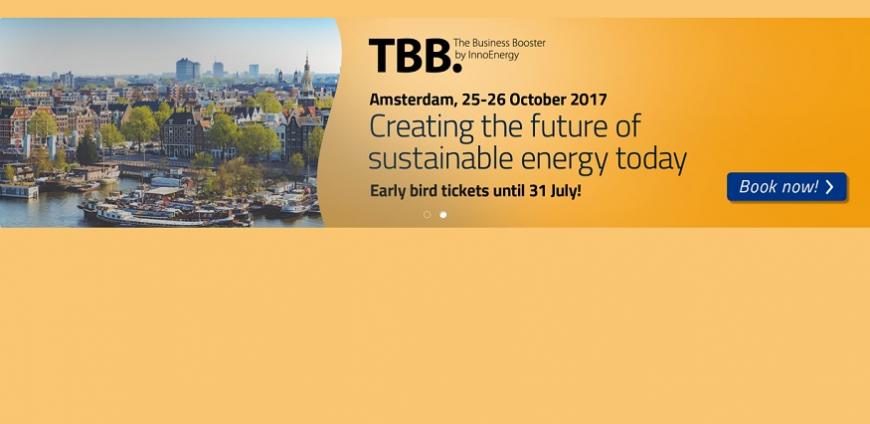 TBB.2017: Accelerating clean energy innovation - EIT InnoEnergy
Innovation is crucial for companies that want to stay ahead of competition
Accelerating clean energy innovation is a key factor to succeed the energy transition and as such the European Commission has put it at the center of its winter package . Now that the energy system has reached a tipping point where the cost of renewables is already competitive,  what will be key is how we succeed in speeding up the pace of adoption of the energy innovations, how we do succeed in involving all society to transit to a more decentralised and open system.
Participate to TBB and:
Enhance your company's product portfolio and technology roadmaps with breakthrough innovations in the field of sustainable energy.
Take advantage of great networking opportunities with pan-European innovation executives and start-ups.
Be inspired by our speakers: visionaries and influencers in the world of energy.
Be part of an exclusive community of innovators and game-changers in sustainable energy.
About TBB.
TBB. is a two-day international networking event that connects leading industries and bright minds from business start-ups, leading energy companies and SME's to enable tomorrow's sustainable energy solutions today.
You will discover the latest market trends, innovative technologies and business models that are changing the way that we deal with energy. 
You will be exposed to over 150 groundbreaking innovations to enhance your company's technology roadmaps and access to new markets. 
Optimise your company's R&D investment and minimise risk, by collaborating with our exhibitors, early-stage companies and projects that have been through EIT InnoEnergy's demanding process, reinforcing their potential and chances of commercial success. 
---
Catch up with the latest news from the EIT Community in the Newsroom.
Subscribe to the EIT Newsletter to get the best of the EIT Community's news in your inbox once each month.
Do you use social media? Follow us and get updates in your news feed.
Organised by:
EIT InnoEnergy
EIT Community:
Subject Audience: