EIC & EIT: The new winning combination for Europe's innovators - Watch the recording
Image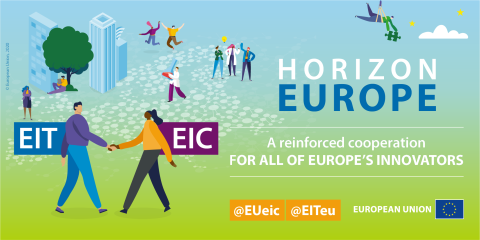 Join the European Innovation Council (EIC) and the European Institute of Innovation & Technology (EIT) on 08 January for an online press briefing and learn more on how their strengthened collaboration will benefit Europe's innovators.
The event will be marked by the signature of a Memorandum of Understanding between the two EU bodies, highlighting how their cooperation will provide high-level support and services to European innovators, innovative SMEs and startups, higher education institutions and research organisations under Horizon Europe.
Who? Speakers include Mariya Gabriel, Commissioner for Innovation, Research, Culture, Education and Youth; Signe Ratso, Deputy Director-General for Research and Innovation, European Commission; Viviane Hoffman, Deputy Director-General for Education, Youth, Culture and Sport, European Commission; Mark Ferguson, Chair of the EIC Advisory Board; Gioia Ghezzi, Chair of the EIT Governing Board and Taavi Madiberk, CEO Skeleton Technologies.
When? Friday 08 January at 10:00 to 10:50 (CET)
Where? Online  - the event will be streamed on this page. Join us on Friday at the link below:
Agenda
10:00 - 10:05 

Introduction

by Johannes Bahrke, European Commission Spokesperson for Research, Innovation and Digital Economy

10:05 - 10:10

Opening remarks

by Mariya Gabriel, Commissioner for Innovation, Research, Culture, Education and Youth

10:10 - 10:16

Short interventions

by Signe Ratso, Deputy Director-General for Research and Innovation, European Commission, and Viviane Hoffman, Deputy Director-General for Education, Youth, Culture and Sport, European Commission

10:16 - 10:22

Importance of EIC-EIT collaboration

by Mark Ferguson, Chair of the EIC Advisory Board, and Gioia Ghezzi, Chair of the EIT Governing Board

10:22 - 10:27

How the EIT and the EIC have helped European companies

Taavi Madiberk, CEO Skeleton Technologies, supported by EIT InnoEnergy and EIC pilot Accelerator

10:27 - 10:30

Signature of the Memorandum of Understanding

Mark Ferguson, Chair of the EIC Advisory Board
Gioia Ghezzi, Chair of the EIT Governing Board
Jean-David Malo, Director EIC Taskforce
Martin Kern, Director EIT

10:30 - 10:50

Q&A with press

moderated by Johannes Bahrke, European Commission Spokesperson for Research, Innovation and Digital Economy