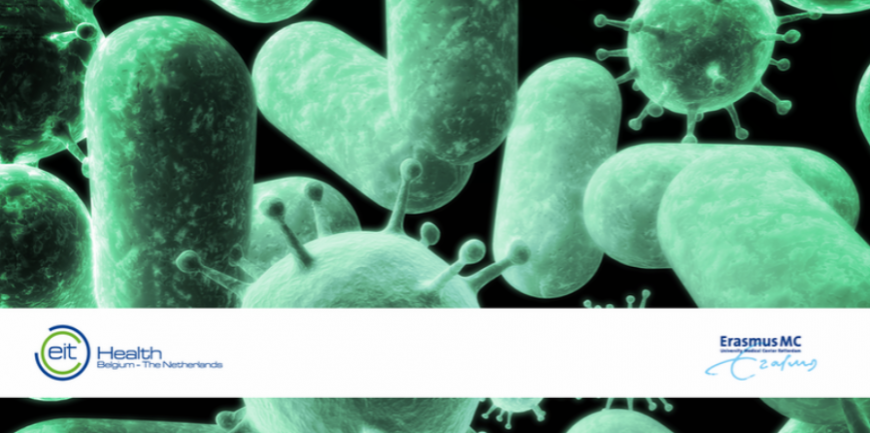 An event organised by EIT Health and Erasmus Medical Center will offer participants insights into the potentials of the new field of oncolytic viro-immuno therapy (OVIT), in the hopes of encouraging new innovations in this approach to treating certain types of cancer.
Every day eight people in The Netherlands die because of pancreatic cancer. All over the world more than 300 000 new cases are diagnosed annually. This needs to change! How? What about attacking the malignant tumour cells with viruses and activating healthy cells to beat the cancer?
By not focusing any longer only on the disease but on the strength of the patients and their ability to use their own body against the malignant tumour, the idea is that the patient will be cured. The therapy activates the own healthy cells of the patient to conquer the malignant tumour cells with the help of viruses. This can be achieved with the help of virotherapy in combination with immunotherapy: a completely new, innovative approach that looks highly promising for the treatment of pancreatic cancer and other tumours that are difficult to treat. This is what we call: oncolytic viro-immuno therapy (OVIT).
To make this new kind of treatment possible, Professor Casper van Eijck cooperates closely with a multidisciplinary team that includes virologists, immunologists, oncologists and neurosurgeons from Erasmus MC, LUMC and UMC Utrecht. On the 14th of December professor Casper van Eijck and professor Ron Fouchier from the Department of Viroscience of Erasmus MC will give you all the insights you need to know about this new kind of treatment. Of course, more people need to have access to this highly innovative treatment. So how to accelerate the outcomes of this research?
Programme

10.00 – 10.30 – Coffee & Tea
Disruptive Innovations in Healthcare
10.30 – 10.40 – Welcome – Astrid Joosten
10.40 – 10.45 – Introduction & Welcome EIT Health
Research & Impact: Treating pancreatic cancer with oncolytic viruses
10.45 – 11.10 – Prof.dr. Casper van Eijck, Rotterdammer van het Jaar, Erasmus MC
11.10 – 11.35 – Prof.dr. Ron Fouchier, Department Viroscience, Erasmus MC
Acceleration from an Entrepreneurial perspective
11.35 – 11.50 – Ronald Brus, MyTomorrows- TBC
11.50 – 12.05 - Simon Hamer, FitForMe
Call to Action – discussion
12.05 – 12.30 – Panel discussion
Wrap up
12.30 – Astrid Joosten
Please feel very much invited for the Christmas lunch!
Or write for more information here: info@eithealth.nl
---
Keep up-to-date with the latest news from the EIT Community.
Subscribe to the EIT Newsletter to get the best of the EIT Community's news in your inbox once each month.
Do you use social media? Follow us and get updates in your news feed.
Life Sciences & Health Hub Marconistraat 16 3029 AK Rotterdam Netherlands