Nordic Ideation Day I 2018
Image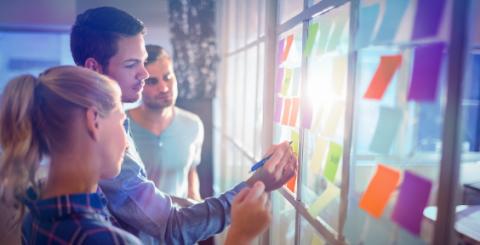 On 31 January 2018 EIT Climate-KIC Nordic will host the first Ideation Day of the year in our partner city of Helsinki, Finland. The Nordic EIT Climate-KIC community is invited to submit their most innovative ideas. 
The purpose of Ideation Day is to develop and nurture the EIT Climate-KIC community, which is crucial to facilitating collaboration on innovative projects with significant potential climate impact. 
Ideation Day provides an arena for participants to:
Test their project and consortia ideas for climate innovation in a stimulating environment
Meet new colleagues, work together and discuss ideas to begin forming consortia
Pitch their ideas in front of a jury
Potentially move their project forward with financial support
Become part of a more informed and closely connected EIT Climate-KIC community
Sustainable Land Use: Forest Based Bio-Economy Track
EIT Climate-KIC Nordic will host a track dedicated to forest based bio-economy project proposals related to the priorities of the EIT Climate-KIC theme Sustainable Land Use (SLU). We are looking for innovative ideas within forestry and the wider use of raw materials, among others, wood in construction, and a focus on long-term substitution of materials such as concrete and fossil fuels. The aim is to achieve significant reductions in greenhouse gas emissions and increased social and economic value.
Please reach out to Business Developer Anne Zaff if you have questions regarding this track. 
All project proposals, regardless of track, are to be submitted through the same link. 
Conditions for Participation
Assessment Criteria
Each project awarded must be led by a EIT Climate-KIC partner.  Non EIT Climate-KIC partners must agree on a funding split with a EIT Climate-KIC partner in order to secure funding. 
Assessment of project ideas will be based on the following priorities: 
Cross-community collaboration in project team 
Feasibility of implementation
Potential climate impact
Demand identification
Conditions for funding
Only participants employed by EIT Climate-KIC partners are eligible to receive awards. Potential consortia can consist of both EIT Climate-KIC partners and non-EIT Climate-KIC partners.
In order for awards granted at the Ideation Day to become approved as projects, the project lead must after the event complete a EIT Climate-KIC Task Setup Sheet (TSS) and subsequently enter the relevant data into our project system CAPplan. Upon a review of that information,  a Task Confirmation will be issued, which forms the legally binding contract for the project.
Awards ranging from €5,000 up to a maximum of €20,000 will be granted at the Ideation Day. 
Activities based on the ideas awarded need to be carried out before 1 June 2018, pre-financed by the EIT Climate-KIC Partner and reported to EIT Climate-KIC by 2 July 2018 in order to be reimbursed. This aligns with standard EIT Climate-KIC procedure.
Activities for reimbursement are services from third parties related to the project, travel for team members, exhibitions, PR, consumables, coaching, software, labour, and so on. Do not hesitate to contact Henrik Søndergaard if you have additional questions. 
Reporting of results
A short final report of the project's achievements will be requested by the EIT Climate-KIC Nordic office by 2 July 2018.
Tentative Agenda
Tentative Agenda 
09:00 – 17:00
Venue: Aalto Design Factory, Espoo, Finland 
09:00 – 09:15
Joint welcome and general introduction to the day by Susanne Pedersen
9:15 – 10:15
Introduction to thematic poster session by Lærke Ullerup.  Preparing for pitch (including 1-minute teaser from each of the selected project promoters)
10:15 – 10:45
Posterwalk and feedback
11:00 – 12:45
Networking and pitch preparation                             
Guidance from CKIC to both individual projects and matchmaking in collaborative projects
11:30 – 12:45
Lunch buffet opens – working lunch and network
12:45 – 14:30
Split into two tracks with separate pitch sessions: SLU and Main
Introduction to pitching session by Lærke Ullerup (Main) and XXX (SLU)                                                 
Pitching of projects                                                                
Using posters as media                                                                           
Three-minute pitch                                                                       
Two-minute Q&A
14:30 – 15:30
Audience voting and mingling facilitated by Lærke Ullerup – in plenum
15:30 – 16:15
Awards – presented by Susanne Pedersen – in plenum
16:15 – 17:00
Drinks and networking
Last updated 28 November 2017
Submit your idea 
Participants are encouraged to submit project ideas in advance, by 14 January 23:59 CET at the latest.  Ideas are submitted through this form and will be shared with the other participants prior to Ideation Day. Please do not hesitate to discuss any idea proposals with Nordic Innovation Pipeline Manager Henrik Søndergaard prior to submitting it. 
Preselection of projects 
EIT Climate-KIC Nordic will make a selection of the submitted projects considered to be most relevant and having the best potential for community development to participate in the Ideation Day. Owners of selected projects will be notified by 17 January and asked to design a poster illustrating their project no later than 24 January 2018.  
Register for Ideation Day
Sign up for Ideation Day here before 23 January 2018 12:00. 
Please note that signing up for and submitting ideas to the Ideation Day is not the same process. 
For questions related to Ideation Day please get in touch with Nordic Innovation Pipeline Manager Henrik Nørby Søndergaard. 
---
Catch up with the latest news from the EIT Community in the Newsroom.
Subscribe to the EIT Newsletter to get the best of the EIT Community's news in your inbox once each month.
Do you use social media? Follow us and get updates in your news feed.