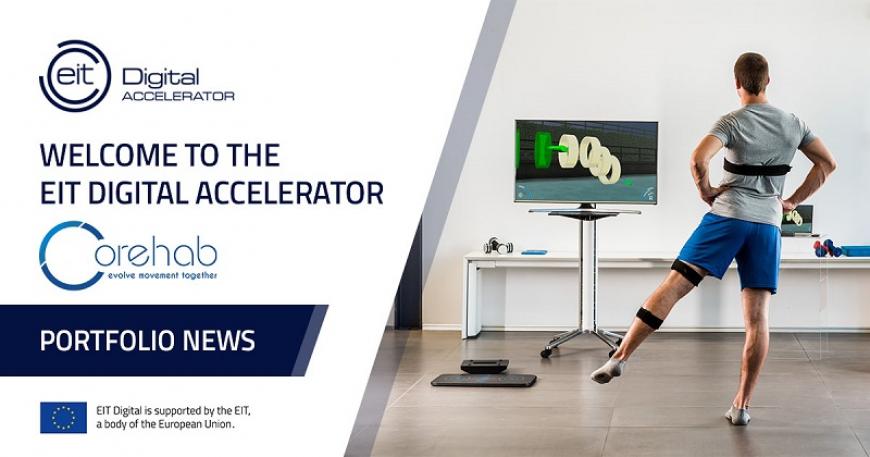 Italian company CoRehab, a leading innovator in rehabilitation therapy, joins EIT Digital Accelerator to boost international expansion and conquer new European markets.
Exercising is a crucial part of the rehabilitation process of patients with neurological, orthopaedic and sports problems. Currently, professionals have limited support to monitor patients and motivate them to do the necessary exercises in the clinic and especially at home.
Innovative medical solutions
In order to enable doctors serve their patients better, Italian company CoRehab developed Riablo and Kari, medical solutions based on wearable sensors and interactive software that allow professionals to measure patient's activities and monitor progress through a cloud service, everywhere and at any time. Riablo and Kari improve compliance in exercises through fun and motivation, maximising the chance of rehabilitation success.
CoRehab's use cases:
Stroke and Parkinson patients: balance and functional exercises for upper and lower limbs with Riablo;
Hip and knee replacement: exercises for mobility, strength and gait training with Kari;
Fall risk prevention: validated and easy to use assessment for the clinic and exercises to improve strength, balance and mobility;
Lower back problems: specific programmes for home training with Kari;
Spinal cord injuries: in clinic training with Riablo to improve compliance and motivation;
Sport injuries for lower limbs.
Creating new international links
Earlier CoRehab had already been part of the EIT Digital ecosystem and in 2013 it also received the EIT Venture Award as Europe's most innovative start-up. In 2015, EIT Digital Accelerator shifted its focus from early-stage start-ups to growth stage scale-ups. Since then, CoRehab has followed an independent path of product and business model consolidation, creating the conditions to re-kindle collaboration with EIT Digital at the turn of the decade.
To date, CoRehab has over 300 products on the market, with 200 000+ exercises performed and 15 000+ assessments made with its products. CoRehab has already concluded numerous trade agreements with national partners throughout Europe and beyond. Their collaboration with EIT Digital will allow to create new international links and extend the network of distributors.
This collaboration comes at the right time: product and business model are validated, international distributors are growing and we need help to attract new institutional and iconic customers that only EIT Digital can give us

Marta Galeotti, Sales & Marketing Manager at CoRehab
It's a pleasure to welcome CoRehab, now a true scale-up, to the EIT Digital Accelerator's growth support programme. Our pan-European team will be working together with CoRehab to help them fulfil their international ambitions.

Andrea Conti, Senior Business Developer at EIT Digital Accelerator