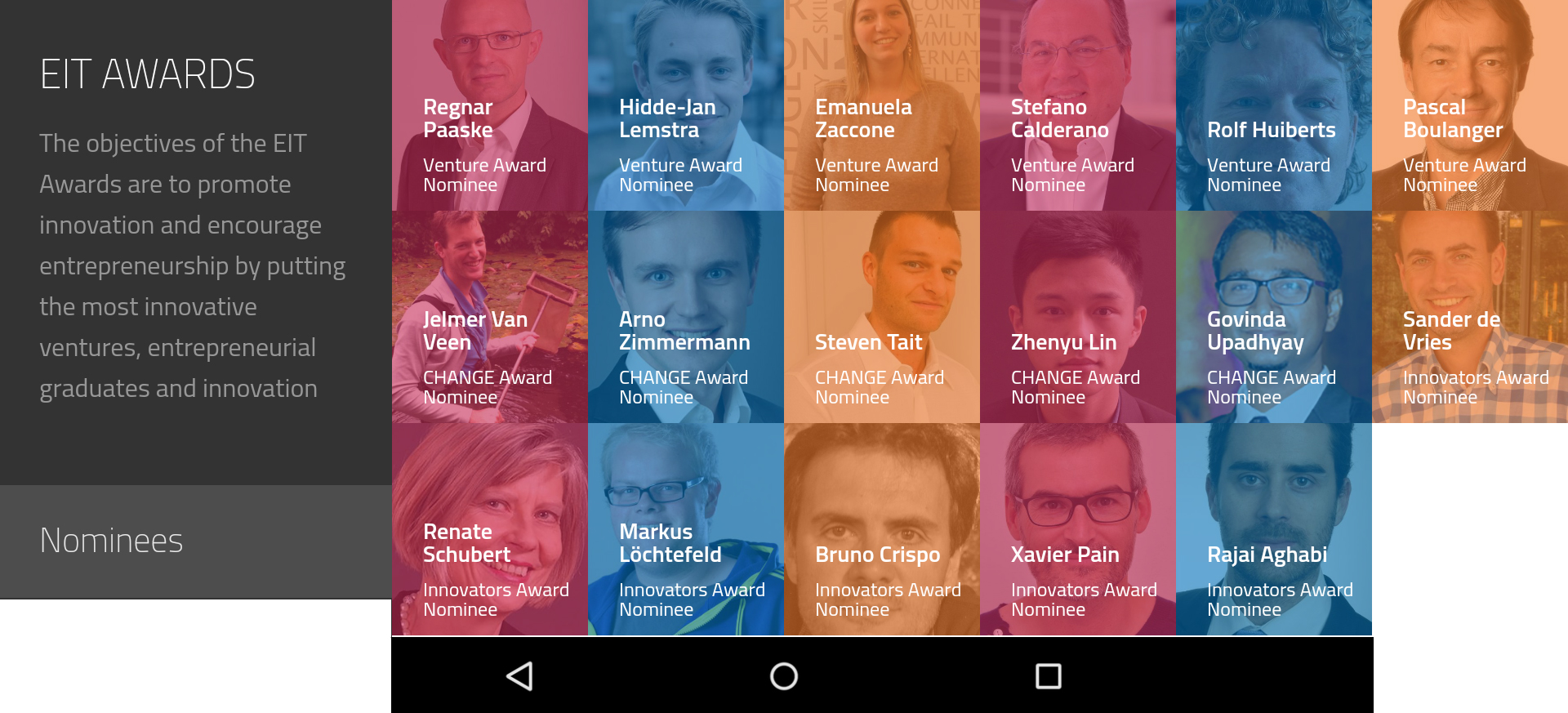 The European Institute of Innovation & Technology (EIT)'s Knowledge and Innovation Communities have nominated Europe's 17 most promising innovations and change leaders for the 2015 EIT Awards. The winners will be announced at INNOVEIT 2015 in Budapest, Hungary, on 06 May.
The EIT Awards promote the most promising European innovations. The awards put the spotlight on innovators and entrepreneurs involved in the EIT's Knowledge and Innovation Communities, known as KICs.
"It's both exciting and promising to see Europe's innovative talent turn their entrepreneurial ideas into action," says Peter Olesen, Chairman of the EIT Governing Board. "The EIT Awards recognise new ideas that lead to new products and services and that improve our lives, societies and economies. Celebrating these achievements is important not only for their further development, but also for boosting innovation in Europe and securing global competitiveness."
For the EIT Venture award, which puts the spotlight on entrepreneurial start‐ups emerging from the EIT KICs, the following companies have been nominated: Nordic Power Convertors (Regnar Paaske, Denmark), Reduse (Hidde-­‐Jan Lemstra, United Kingdom), TOK.TV (Emanuela Zaccone, United States/Italy), JUSP (Stefano Calderano, Italy), Sensus Energy (Rolf Huiberts, the Netherlands) and Nawa Technologies (Pascal Boulanger, France)
The following projects have been nominated for the EIT CH.A.N.G.E Awards, which showcase change leaders graduating from EIT education and training programmes: AQGRI+ (Jelmer van Veen, the Netherlands), Coolar Fridge (Arno Zimmerman, Germany), FavourExchange (Steven Tait, Italy), Sensory Media (Zhenyu Lin, United Kingdom) and LEDSafari (Govinda Upadhyyay, Switzerland).
This year's edition introduces the EIT Innovators Award as a new category. This award recognises innovation teams that have developed an innovative product, service or process in an exemplary manner with a high potential impact on society and economy. The nominees in this category are: Biogas ETC (Sander de Vries, the Netherlands), Off4firms (Renate Schubert, Switzerland/the Netherlands), DA4RBI (Markus Loechtefeld, Germany), MobileShield (Bruno Crispo, Italy), Plesmo (Xavier Pain, France) and Neptune (Rajat Aghabi, Spain).
Click here to download this Press Release: DE, EN, ES, FR, HU, IT
More Information
Media Contact: Magdalena Gryszko
T: +36 1 481 9333
E: press@eit.europa.eu
More information about the nominated entrepreneurs and their ventures is available at:
Registration for the event, including MEDIA registration is open at:
Press pictures are available at: