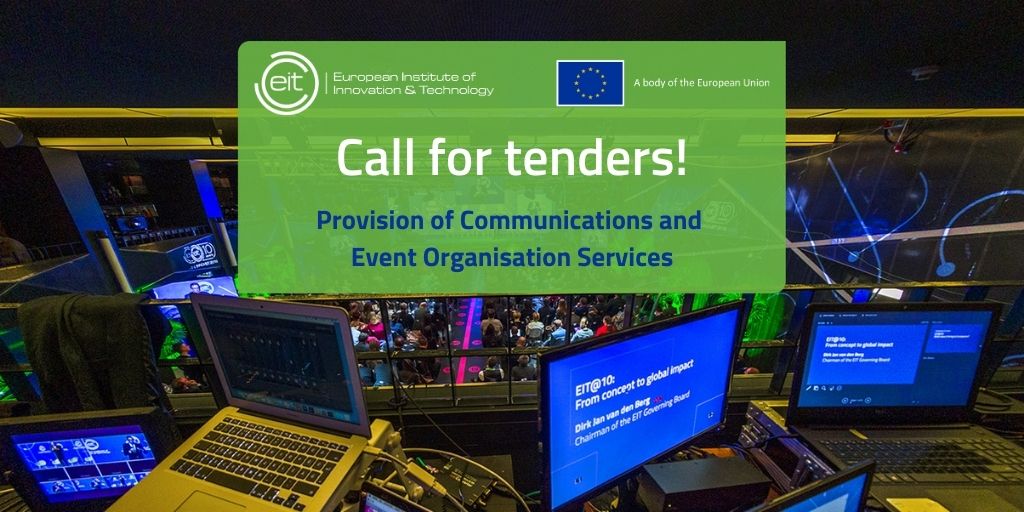 The EIT wishes to conclude a Framework Contract for the provision of Communications and Event Organisation Services.
The 'Provision of Communications and Events Organisations Services' Framework Contract will cater for the support of well-defined activities that include communications services and/or event organisation. These activities may be linked to any of the topics and themes addressed by the EIT and will be implemented towards a defined target audience over a certain period, within a dedicated budget to achieve a set objective. The provision of services under this framework contract will support the EIT in raising the visibility of the wide range of activities it provides along the innovation pipeline: from entrepreneurial education to business creation and acceleration to innovation-driven research across Europe and beyond.
Communication services: these tasks cover the design, preparation, implementation, monitoring and evaluation of integrated information and communication activities of the contracting authority in the field of their respective EU policies and programmes. The contracting authority may ask the contractor to provide the whole range of activities that make up an information and communication campaign activities or a single activity.
Events, conferences and training sessions: these tasks cover support to the EIT in the organisation of physical and digital events, such as conferences, workshops, networking sessions, info days, exhibitions, press trips, press conferences and training sessions. Events may take place online, face to face or as a hybrid of both and this includes video conferences, webinars, small-scale and large digital conferences, workshops, networking sessions and other types of remote conferencing.
Timeline
Publication date: 22/03/2021
Question deadline: 30/04/2021
Answer deadline: 04/05/2021
Time limit for receipt of tenders: 10/05/2021
Conditions for opening tenders: 11/05/2021
For full information and to download all documents relating to this procurement opportunity, please visit eTendering or our procurement page.
Application deadline: 10 May 2021
Questions should be directed to EIT Procurement at EIT-PROCUREMENT@eit.europa.eu.