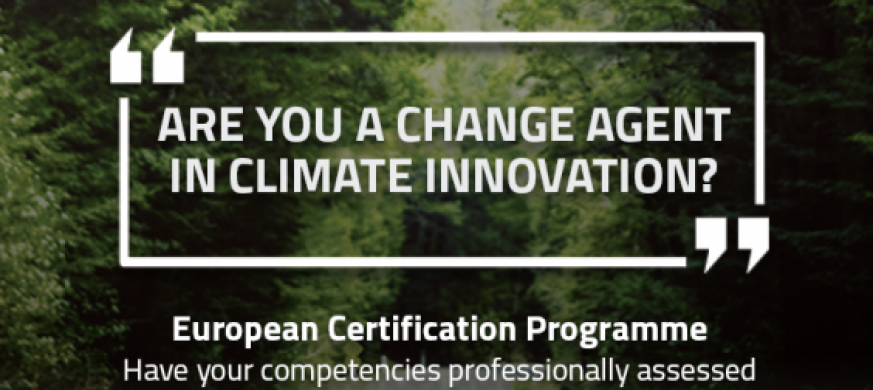 Are you a change agent in climate innovation? EIT Climate-KIC can help.
Join the Pilot in "Promoting Sustainable Innovation" by May 7, 2017 and be assessed for free!
Certified Professional is EIT Climate-KIC's innovative programme to certify future-oriented job competencies in innovation and sustainability. The certificate is set to invigorate the European job market and ultimately facilitate our society's move towards a more sustainable future.
The European policy agendas have identified transversal skills and competencies as key to foster sustainable change in the European job market. Against this background, Certified Professional introduces a pan-European standard for key competencies for the postgraduate job market focussing on sustainable change.
Candidates can position themselves as tackling climate change challenges on multiple societal layers. The certification:
"Accelerating Transitions" emphasises competencies for visioning, leading, and facilitating systemic change towards a low carbon society.
"Promoting Innovation" addresses competencies to address challenges, defining opportunities, creating and demonstrating novel solutions with a value proposition for the society.
"Driving Entrepreneurship" focuses on essential entrepreneurship competencies to identify opportunities, create and implement novel business solutions in an ethical way.
Competencies for Societal Climate Change Innovation 
To succeed in innovation processes, transversal competencies are needed that transcend mere scientific knowledge: managing context for creativity, guiding co-creation processes and leading innovation among others are key to working in a trans-disciplinary way on generating new ideas. These skills will enable societal actors and employees to exploit innovations at the interface with other disciplines and industries.
Certification will:
• Provide evidence of qualifications relevant for jobs in transition, innovation and entrepreneurship

• Create a community of professionals committed to drive climate change innovation

• Increase transparency and flexibility of the

• European job market by setting a common standard

• Drive the development towards a low-carbon future
We are now inviting you to join the Pilot Phase for Certified Professional in Promoting Sustainable Innovation. Test your professional achievements against a standard developed by a board of leading scholars and practitioners in the field of innovation.
This is your opportunity to:
• Receive a free appraisal of your job

competencies in innovation and sustainability

• Prove your commitment to climate change innovation

• Join a network of international innovation experts

• Help shape a standard of your profession
How to apply
To participate in the certification process, please submit your written dossier by 7 May 2017 
Certification procedure (online, approximately 1 day): Written Dossier – Interview – Appraisal by July 2017
---
Catch up with the latest news from the EIT Community in the Newsroom.
Subscribe to the EIT Newsletter to get the best of the EIT Community's news in your inbox once each month.
Do you use social media? Follow us and get updates in your news feed.
EIT Community:
Subject Audience:
Main Photo: EIT Climate-KIC Certified Professional