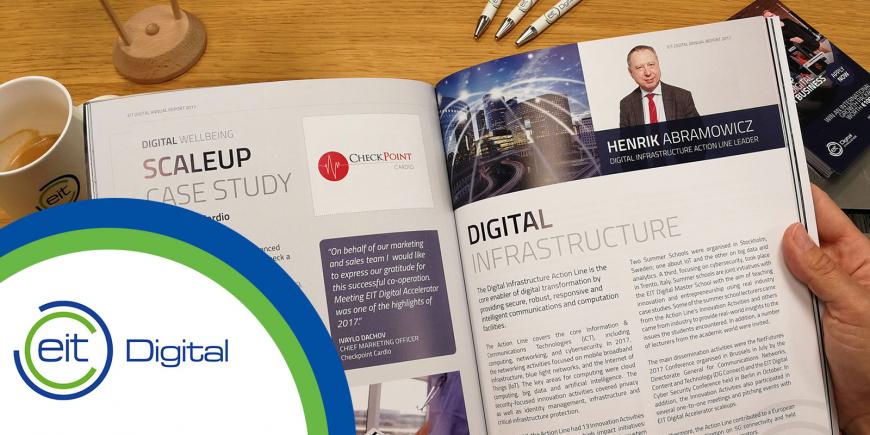 Delivering Transformation: EIT Digital releases Annual Report 2017
The report sets out EIT Digital's achievements across its pan-European ecosystem.
'Over the past few years our organisation has significantly grown in many aspects, such as our ecosystem, our partnerships, our student population, our venture portfolio and our budgets. This growth has led to an increase in results, both in terms of quantity and quality. This has made us a recognised player in the European landscape of digital innovation, transformation, and skills. Building on this, we will further expand our impact in the creation of economic and societal value, thereby helping Europe to play a prominent role in the digital world,' said Prof Willem Jonker, CEO of EIT Digital.
These are the 2017 highlights for EIT Digital:
Pan-European Ecosystem
Two new Nodes created in Budapest and Madrid
25 new partners added, of which 15 are industrial partners
A total of 156 partners, including educational and industrial organisations
Entrepreneurial Education
More than 1 350 students have been enrolled in one of the EIT Digital Master programmes (including 291 newly enrolled students)
156 PhD candidates have been studying in the Doctoral School in five countries (including 14 new students)
20 courses launched in the Professional School
Over 70 000 learners have taken EIT Digital's Massive Open Online Courses (MOOCs)
Innovation and Entrepreneurship
Nine new companies created as result of innovation activities
90 products and services commercially launched
More than 33 scale-ups supported by the EIT Digital Accelerator
More than EUR 90 million in total capital raised for scale-ups since the launch of the Accelerator
---
Catch up with the latest news from the EIT Community in the Newsroom.
Subscribe to the EIT Newsletter to get the best of the EIT Community's news in your inbox once each month.
Do you use social media? Follow us and get updates in your news feed.
EIT Community:
Subject Audience:
Main Photo: EIT Digital Annual Report