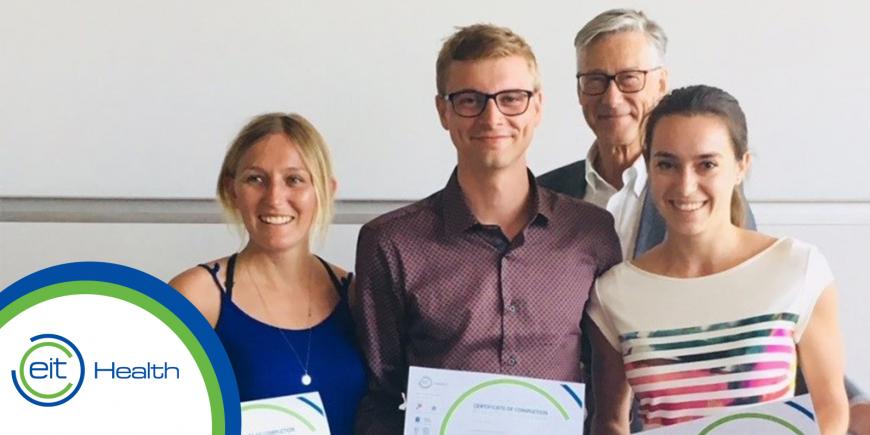 EIT Health MSc in Innovation and Health Care celebrates its first graduating class
The Copenhagen Business School celebrated the first cohort of students from the EIT Health MSc degree
The two-year EIT Health MSc in Innovation and Health Care (IHC) delivered its first cohort of graduates with powerful analytical and actionable skills in the unique context of healthcare organisations and companies.
On 8 June, the first class of the MSc Innovation in Health Care (IHC) programme celebrated their graduation in Copenhagen. Finn Valentin, Professor and Study Director for the MSc IHC opened the event and welcomed IHC students, faculty and industry partners that participated in the event. Martin Magelund Rasmussen, Director for HR at The Copenhagen Region presented an inspiring key note and IHC students presented their thesis and first year projects.
About the MSc in Innovation and Health Care (IHC):
Innovation in healthcare at a radical scale will be a necessary part of the solution to the structural, demographic, technological and financial challenges facing healthcare systems. The MSc in Innovation in Health Care is designed to provide the skills required to enable these innovations: powerful analytical and actionable skills in the unique context of healthcare organisations and companies. Students are trained to initiate, manage and implement innovations that will be necessary for the transformation that will take place at all levels of the healthcare systems, involving both its public and commercial parts and the important relationship between these two. Courses draw on industry experts, high quality academic faculty and real life cases.
Leaders in healthcare organisations and businesses stress the importance of educating this new type of professional innovation specialists in the intersection of business and healthcare. Ian Røpke, Programme Director, Copenhagen Municipality. said.: 'There is a strong need for this new degree in Innovation in healthcare. It is important to get healthcare innovation articulated and defined as a serious discipline in its own right. Currently innovations in healthcare are too often handled by enthusiasts lacking relevant specialised managerial skills. From this we get results that are a far cry from what could have been achieved with more professionalised staff.'
The IHC programme has been developed and is delivered jointly by the Copenhagen Business School and the University of Copenhagen (Faculty of Health and Medical Sciences). MSc IHC is accredited not only by the Danish Government but also by EIT Health.
To build an interdisciplinary learning environment, the EIT Health MSc in Business Administration and Innovation in Health Care welcomes applicants with bachelor degrees across a range of both business and health disciplines.
Applications for the 2019 EIT Health labeled masters will be open in December.
---
Catch up with the latest news from the EIT Community in the Newsroom.
Subscribe to the EIT Newsletter to get the best of the EIT Community's news in your inbox once each month.
Do you use social media? Follow us and get updates in your news feed.
EIT Community:
Subject Audience:
Main Photo: EIT Health graduating class