EIT Health Proof of Concept and Headstart funding
As part of its Accelerator activities, EIT Health provides "one-off" funding of up to 50.000 € for emerging companies and small and medium sized enterprises (SMEs) to develop new products and services for areas of interest to EIT Health and its members. The purpose of the funding is to accelerate market entry and create new economic activity.
Two strands of funding are available:
Proof of concept funding (POC) is suitable for individuals and organisations that have a well- developed prototype and are ready to launch a product. Applications will be accepted from organisations that are not yet incorporated as companies but we will expect that a company will be formed as a result of receiving funding
Headstart funding is open to established micro and small companies that might already be trading in their home market but wish to launch new products to explore new markets.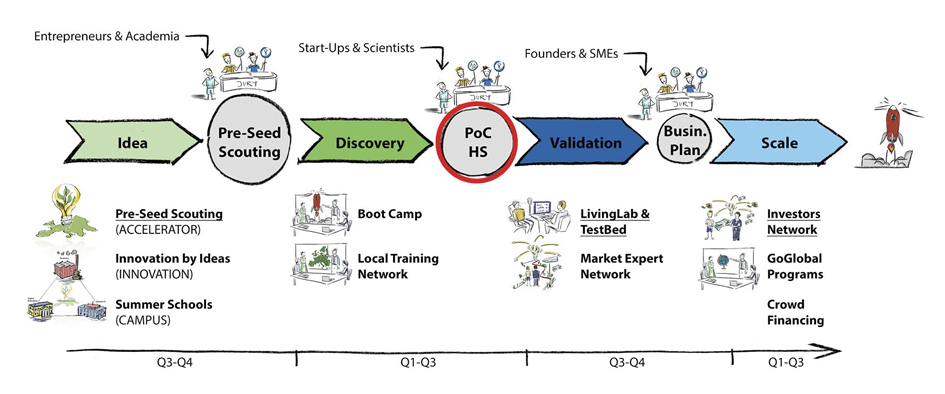 Successful proposals will be those that provide a compelling case for the use of the funding to accelerate the route to market and which deliver one or more of the following Key Performance Indicators:
Business ideas incubated and progressed to market
Start-ups or spin off companies created
Products or services launched
New markets accessed
Jobs created.
How do I apply?
Each Co-Location Centre (CLC) has a fund of 350.000 € available for POC and HS awards. The CLCs run separate application processes and applicants can only apply for funding from the CLC in which they are based / the company is registered. Please note that each CLC has the freedom to develop the POC/HS activity in a way which best meets the needs of companies in the CLC. Some do, for instance, only support either PoC or HS funding. Projects will therefore also be reviewed and decided at CLC Level. Links to the calls for proposals at each CLC can be found at:
Please contact your local Co-Location Centre as soon as possible to register your interest. Moreover, your CLCs will support you during project implementation. With the contact points at the CLC you will be agreeing on regular meetings and interaction. The CLC team will also help you to make use of other programmes in EIT Health.
Any general queries relating to Proof of Concept and Head Start funding should be directed to Paddie Murphy: paddie.murphy@wmhsn.org.
EIT Community:
Subject Audience:
Main Photo: EIT Health Proof of Concept and Headstart funding