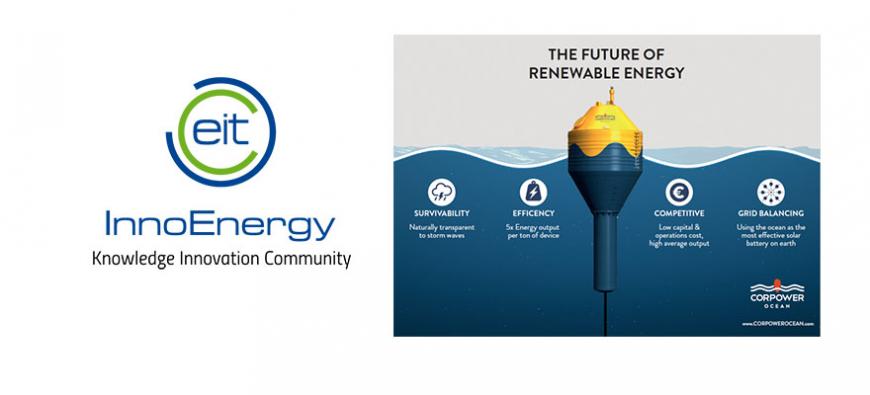 EIT InnoEnergy supported CorPower Ocean qualifies for Ireland's future wave energy projects
Simply Blue Energy (SBE) – an Irish marine energy project developer – has identified CorPower Ocean, Swedish start-up supported by EIT InnoEnergy, as one of the two most suitable companies for future wave energy commercial projects.
SBE was established in Ireland as a technology neutral wave farm developer, seeking to use the best available technology to develop offshore renewable energy farms and support Ireland's clean energy transition. After completing a review of wave energy technologies, narrowing down the number of potential suppliers from 200 to 50, and then to 10, SBE has finally identified CorPower Ocean, together with Columbia Power Technologies, as the best fits to their requirements.
The criteria on which the assessment was based include the companies' health, the readiness for future projects, the quality of the Research & Development, the soundness of the logistics and operational concept, the energetic performance and survivability of the technology as well as the economic performance of the projects. More information on SBE's selection process can be found here.
EIT InnoEnergy has long been supporting CorPower Ocean – evaluating the concept both technically and economically at an early stage and then providing business support via the Highway® and now Boostway® services. 'The possibilities inherent in wave energy is what has driven the product development of CorPower – from an initial concept to the creation of a company that has successfully delivered first power to the grid earlier on this year, with the dry-testing of its half-scale prototype,"says Kenneth Johansson, InnoEnergy Scandinavia's CEO. "We are confident that CorPower has the technology to harvest the last great untapped source of cost-effective renewable energy.'
---
Catch up with the latest news from the EIT Community in the Newsroom.
Subscribe to the EIT Newsletter to get the best of the EIT Community's news in your inbox once each month.
Do you use social media? Follow us and get updates in your news feed.
EIT Community:
Subject Audience:
Main Photo: EIT InnoEnergy CorPower Ocean