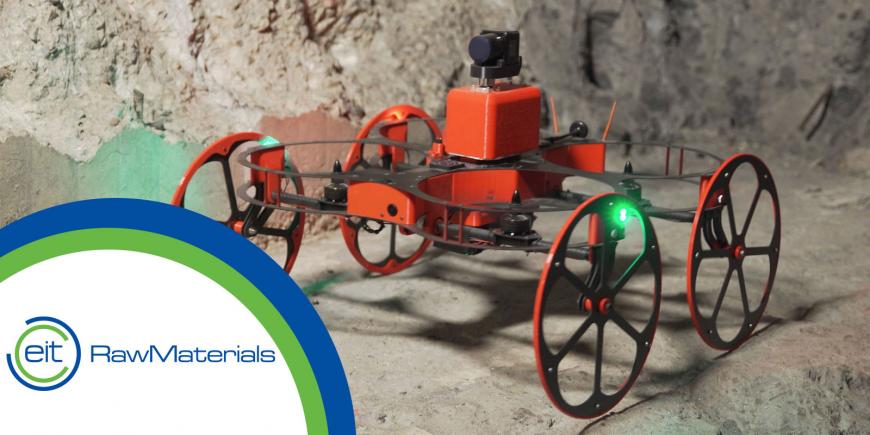 EIT RawMaterials: Inkonova secures first commercial order
Inkonova, start-up supported by EIT RawMaterials, secures its first commercial order for the Batonomous system with LKAB
LKAB is a high-tech international minerals group, world leading producer of processed iron ore products for steel making, and a growing supplier of mineral products for other industrial sectors. LKAB is a core industry partner of EIT RawMaterials.

The purchase order came after a prior demo of the system in late February this year. The demo was conducted in Gällivare in Northern Sweden, beyond the Arctic Circle. LKAB owns the biggest underground iron ore mine in the world, located in Kiruna. The service mission is scheduled for the first half of June 2018.
The mission aims to survey zones deemed difficult or impossible with the previous state of technology. The inclination, the terrain of the shaft, the danger of collapse and falling rocks, absence of light, GPS, vision and prior knowledge, all make it a challenge to survey and map these areas. Nevertheless, the lack of data from these zones cause weeks of delay, and multitude of errors, and thus millions in monetary loss. The Batonomous technology, along with other Inkonova's systems, specialize in enabling autonomous aerial robotics in spaces where no other survey platforms can be used, particularly in autonomous navigation where all infrastructure is absent, no prior map exists, and the environment has a challenge.
Inkonova's aerial robotics solutions has been since 2016 catering for the underground mining market in North America, South America, Africa and Europe with products such as the TILT Ranger, TILT Scout and most recently the Batonomous.
---
Catch up with the latest news from the EIT Community in the Newsroom.
Subscribe to the EIT Newsletter to get the best of the EIT Community's news in your inbox once each month.
Do you use social media? Follow us and get updates in your news feed.
EIT Community:
Subject Audience:
Main Photo: EIT RawMaterials Inkonova