EIT RawMaterials: Summer School 4L-ALLOYS
EIT RawMaterials is holding a summer school this week in Vicenza, Italy on the use of metals.
The use of light metal castings, particularly in the transport sector offers environmental advantages through savings of weight and ease of recycling. European light metal foundries are typically small or medium size enterprises, with a strong need of innovation for being competitive.
The 4L-Alloys School is addressed to professionals coming from European producers and users of cast, rolled and extruded Al-based components, as well as from the whole supply chain. The School will train these professionals at improving the sustainability of high-quality manufacturing of Al-based products, taking advantage of the potential of recycling and recycled alloys. Thanks to trainers from industrial companies, Academy, Technology Transfer Institutions, the summer school will offer an overview of this potential, emerging topics which are important both for industrial engineers (knowledge of innovative solutions and approaches) and for researchers (knowledge of the industrial requirements to be targeted by innovation).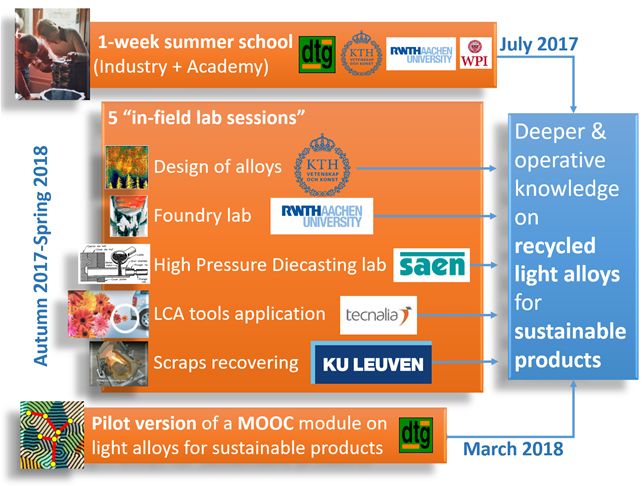 The 4L-Alloys School will be held in Vicenza, Italy,between 24 and 28 July 2017. It will be linked to 5 in-field lab sessions (scheduled from September 2017 to March 2018), allowing the opportunity of visiting plants and laboratories with special competence in areas such as alloys design, recycling, processing of recycled alloys, life cycle analyses.
4L-Alloys is a project funded by EIT RawMaterials.
Find all EIT RawMaterials events on their website.
---
Catch up with the latest news from the EIT Community in the Newsroom.
Subscribe to the EIT Newsletter to get the best of the EIT Community's news in your inbox once each month.
Do you use social media? Follow us and get updates in your news feed.
EIT Community:
Subject Audience:
Main Photo: EIT RawMaterials 4L Alloys