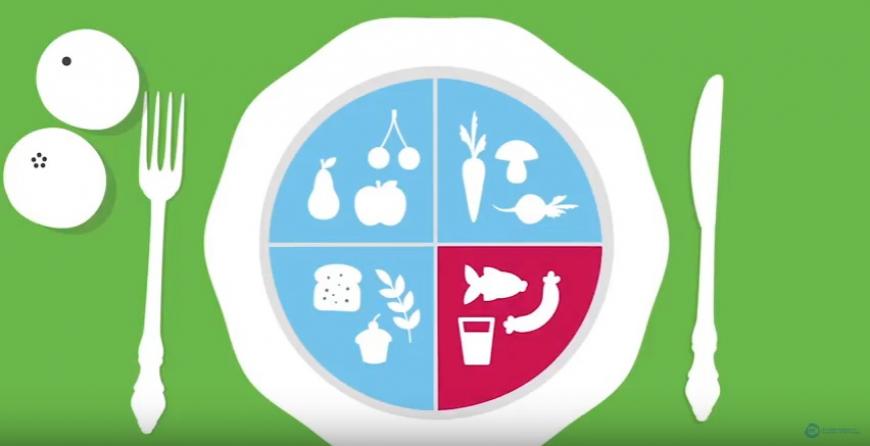 Two months on since joining the EIT Community, read an interview with EIT Food
The newest member of the EIT Community, EIT Food, joined in November 2016. On the occasion of their first visit to the EIT, below is a first interview we held to find out more about its consortium, what EIT Food hopes to achieve, and how it will go about it.
Learn more about EIT Food on their page on the EIT website. 
Congratulations on your designation as the latest EIT Community partner, EIT Food. What made you apply?
We applied because we have a strong belief that the food sector needs to be transformed and that this can only be achieved by reconnecting partners within the food sector and by giving the consumer a more central role. The main issues the food sector is facing are that it is complex, fragmented, slow to adopt new technologies, not attractive to new talent, and not resource efficient.
An effective food sector is needed to address major societal issues and challenges: feeding 9-10 billion people in 2050; 3 billion overweight people; 2 billion undernourished people; >30% of food wasted. We applied to be an EIT Community partner because we identified a number of leading players covering the entire food sector who share a joint vision and are very committed to collectively addressing the above food-sector issues.
Your consortium has 50 partners from 13 countries. How did you decide which partners to work with? 
We selected partners based on excellence, complementarity of capabilities, and willingness and commitment to contribute to our joint ambition and vision. Partners cover the entire food value chain as well as neighbouring sectors (for example, digital and equipment manufacturers); in this way we will create a strong pull towards the implementation of successful EIT Food projects which will catalyse the transformation of the food sector.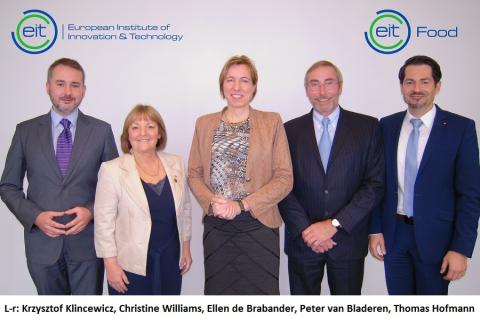 What are the prime objectives of EIT Food?
Our aim is to deliver a highly skilled food sector that works in partnership with the consumer to develop and give access to products, services and new technologies for a healthy lifestyle, complemented by a sustainable, circular bio-economy.
EIT Food has a vision of putting Europe at the centre of a global revolution in food innovation and production. How will you do this?
The key to transforming the food sector will be the reconnection of partners in the food industry. Doing so will bring new ideas and the sharing of capabilities that will allow us to address food sector issues in completely new ways. The food sector is still very traditional because partnerships usually only involve connections between two adjacent partners in the value chain, for example, working together with your suppliers or customers. In EIT Food, partners who cover the entire value chain and neighbouring sectors have now been united around a joint ambition of combating urgent issues. This has never happened before inside or outside Europe.
What do you see as the main challenges for EIT Food?
In essence we are a start-up with the complexity of a multi-national company; the key will be to build a strong foundation in tandem with the creation of calls and projects as soon as possible. We have the energy and capabilities to do so but need to manage our own ambitions!
Consumers have already dealt with a lot of information about their food, their health and nutrition – how will you help them make more informed and affordable nutrition choices?
We will support consumers to make healthy food choices in a number of ways. We will develop new approaches to increase the involvement of consumers in their own decisions on food and health - including through the provision of individualised services such as coaching and digital support. We will develop new products with healthier and clearer nutrition profiles, including customised products that fit individual needs and personal preferences. The consumer lies at the heart of our proposal and we believe it is crucial for consumers to become active change agents instead of passive receivers of information or products. We will develop and call for specific activities on increasing consumer involvement and interactive dialogue. Communication is the fourth pillar strengthening the EIT's knowledge triangle.
In what areas particularly do you feel the food sector is ready for innovation?
The main areas will be:
1) the transition of consumers from passive recipients to active stakeholders who provide input on the development and production of food and who understand their own specific nutrition and food needs
2) the development of a sustainable food chain in which fewer resources are used in food production and less food is wasted.
The European food sector is huge - can it be both economically competitive and sustainable? In what regard will EIT Food help achieve this?

Absolutely. This is not a choice but a prerequisite for the successful transformation of the food sector. Recent progress in technological developments combined with new partner collaborations (including technologies from outside the food sector such as data management and digital technologies) will also provide opportunities to innovate in sustainable and economically viable ways.
What practical steps do you plan to take to help new business start-ups?
Small and Medium Enterprises (SMEs) are a very important pillar of the agri-food sector and EIT Food has developed strategies to include a significant number of SMEs in various activities. EIT Food Co-location Centres (CLCs) are innovation centres that play an essential role here. Through these innovation centres, we are establishing networks with important key Food Clusters in Europe (capable of reaching 280 000 SMEs). The innovation centres will be responsible for building regional open-innovation communities within the network of Food Clusters to support, catalyse and accelerate the embedding of innovation in these SMEs.
One of the main challenges SMEs face is affordable access to targeted and meaningful education and training in their particular field. In response to this, EIT Food's Rotating Elevator Workshops and interactive Specialised Private Online Courses will be tailored to the demands of those partners and will provide excellent professional training combined with hands-on experience.
Furthermore, our approach will be that SMEs and start-ups participate – as equal partners – in each of EIT Food's Innovation programmes and projects.
EIT Food's Business Creation strategy covers the whole "life span" of early entrepreneurs. Key initiatives will include:
Innovation grants: each year we will reward innovators with Grants that will enable them to work on their ideas for a period of one year. This will be accompanied by introductory courses to business education.
EIT Food's Pan-European Accelerator, which will start in 2018 and leverages the resources and competences of our partner network to support promising new start-ups.
Equally important is the network EIT Food is providing for start-ups. We have already established RisingFoodStars, a formal club of 38 promising food start-ups who were selected from more than 180 start-ups. These start-ups will participate in all of EIT Food's innovation and education activities and have a structured mentoring and networking programme that will provide the entrepreneurs access to expertise, pilot production plants, lab space and insights into business needs from EIT Food partners.
How will you go about recruiting 10 000 students for the EIT Food training programmes?
We have an extensive partner network of leading academic institutions, research organisations and enterprises as well as a large number of national and EU partners. Through these we are going to advertise our exciting education opportunities. Moreover, recruitment will  be fostered through our regional innovation centres. We are certain that through this partner network we will be able to recruit bright students from a variety of backgrounds, including food and agricultural sciences, natural sciences, economics, social and environmental sciences, engineering and information sciences.
What has happened since your designation in November and what are your next steps?  

We are building the foundations (prepared the legal structure, prepared the budget, built a website, worked out research/innovation/education/communication roadmaps, submitted our Start-up Grant Agreement (SUGA) plan) and are in the process of recruiting a permanent leadership team. In December 2016 we organised a partner meeting in Munich to share the 2017 agenda and prepare for the 2017 round of innovation calls. So, much has happened in a short time, and we are still only at the beginning. Our next milestone we look forward to is the Innovation Marketplace we are organising for our partners in February 2017, in Bilbao.
---
Catch up with the latest news from the EIT Community in the Newsroom.
Subscribe to the EIT Newsletter to get the best of the EIT Community's news in your inbox once each month.
EIT Community:
Main Photo: EIT Food