This section presents the measures, activities and solutions powered by the EIT Community, Europe's largest innovation ecosystem powering entrepreneurs and innovators, in response to the COVID-19 pandemic.
Innovation plays a key role in responding to the significant challenges posed by the COVID-19 crisis. The world we live in is changing dramatically with significant changes to our society, how we look at opportunities and how we respond to challenges.
The COVID-19 pandemic has significantly affected the EIT Community and, in particular, the unique support it provides across Europe to students, entrepreneurs and innovators dedicated to developing innovative solutions to global challenges. Under the EIT's coordination, the eight Knowledge and Innovation Communities (KICs) have mobilised their partnerships, are proactively responding in a strategic and operational manner to the short-term challenges resulting from COVID-19, and also looking ahead to the expected economic and social challenges to follow.
The EIT Community is responding with concrete activities and resources to support the global response to the pandemic and with solutions powered by innovators and organisations within its ecosystem. The EIT therefore launched the EIT Crisis Response Initiative as part of the EU's collective efforts to tackle the COVID-19 crisis.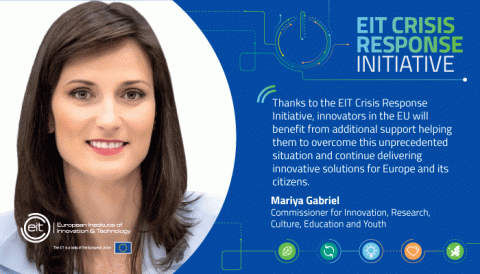 The EIT Governing Board decided to mobilise EUR 60 million of additional funding to innovators powering high-impact solutions that tackle this unprecedented social and economic challenge. The financing will allow the launch of new innovation projects to address the immediate crisis as part of the 'Pandemic Response Projects', and will support highly innovative start-ups, scale-ups and SMEs crucial to the economy's fast recovery to benefit from additional funding under the 'Venture Support Instrument'.
EIT Crisis Response Initiative EU Research and Innovation Response
The EIT Community's response focuses, on the one hand, on the most vulnerable beneficiary groups affected by the crisis, i.e. students, entrepreneurs (start-ups and SMEs) and innovators. On the other hand, a review and adjustment of focus of calls for activities for 2020 and 2021 is ongoing to include a shift towards more COVID-19 related measures with EIT Health as the key driver. EIT Health, in the immediate situation and as one of the leading health innovation communities in Europe, is centrally placed to support the response to the pandemic.
Watch the EIT's first online press briefing on Europe's innovation response
Other EIT Community activities in the pipeline cover the acceleration of bringing healthcare solution to the market that allow for remote screening and monitoring of patients by EIT Digital; the recovery of confidence in the urban mobility sector by EIT Urban Mobility as a way to counteract people returning to individual car traffic (e.g. projects to create solutions for the safe use of public transport); the mobilisation of 3-D printing and robotics by EIT RawMaterials to manufacture vital medical devices or test kits; as well as coordinated measures across EIT Manufacturing's network that will shorten manufacturing supply chains and relocate manufacturing production sites to Europe.
It is important to also acknowledged that innovation is a significant part of the solution. The world we live in is changing dramatically with significant changes to our society, how we look at opportunities and how we respond to challenges. The EIT Community stands ready to immediately respond to the crisis with concrete activities and resources to support the global response to the pandemic and with solutions powered by innovators and organisations within its ecosystem.
Below you can find a selection of ongoing EIT Community activities and resources to respond to the pandemic. You can find all activities here.
EIT InnoEnergy joins energy companies to alleviate the impact of COVID-19

The objective of this pioneering platform in Spain is to support start-ups in the development of projects, from the perspective of energy and in the fields of environmental sustainability, mobility, social impact, digitization, telecommunications and 4.0.
The initiative, promoted by Enagás, Red Eléctrica, CLH, Iberdrola, BP, EIT InnoEnergy and Acciona, is open for other companies and institutions to join in Spain.
EIT Digital: How European deeptech scale-ups help organisations deal with the pandemic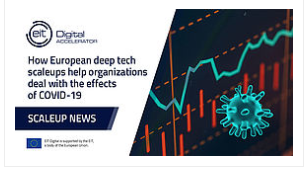 A number of deep tech scale-ups from EIT Digital's Accelerator programme have responded to the global challenges by offering their innovative solutions to support the affected sectors and ensure business continuity in this difficult period.
EIT Hea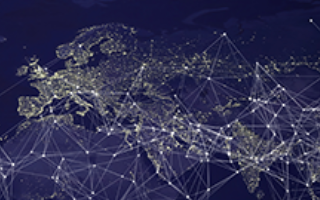 lth has launched a dedicated website, allowing people working in COVID-19 related research, product development or front-line healthcare roles to share their on the ground needs and solutions. The idea is to find out directly from the experts, what is needed right now in terms of resources in the fight against COVID-19, and what resources can be shared, to strengthen efforts collectively. Practically, this enables those working in the healthcare sector to post an 'offer' or an 'ask' request and find their 'match' with the supported of EIT Health's teams across Europe. Available here.
Discover solutions to the COVID-19 pandemic developed by EIT Community innovators: from partner organisations in our ecosystem to those powered by supported ventures to solutions from EIT Alumni. This includes innovative solutions tailored to support the affected sectors and ones helping to ensure business continuity in this difficult period. More solutions from the EIT Community can be found here.
EIT Digital: Anonymous COVID-19 contact tracing using physical tokens

Although there is strong momentum behind smartphone-based solutions, it also becomes apparent that they have several drawbacks. It is therefore wise to investigate alternatives. When looking at tracking and tracing in logistics, such an alternative might be anonymous COVID-19 contact tracing using physical tokens.
Such a system can avoid several of the key obstacles that smartphone apps face regarding security, privacy and technology. A system using physical tokens is easy to use, secure, anonymous, and can use standard technology avoiding lock-in. Therefore, researchers, innovators, entrepreneurs, industry players and policymakers are invited to contribute to the option of an anonymous COVID-19 contact tracing system using physical tokens.
EIT RawMaterials mobilises to address unprecedented health situation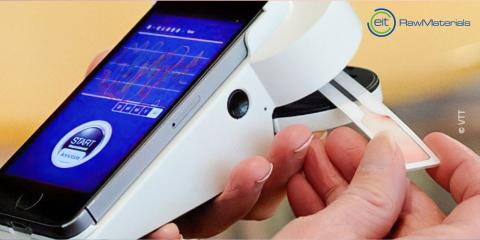 EIT RawMaterials partner VTT is working on a new testing method based on detection of viral antigens for the COVID-19 virus together with the joint vaccine research center of HUS and the University of Helsinki – new test would enable fast and early diagnosis. The goal of the rapid test is to provide healthcare professionals with an accurate, fast, and resource-efficient method to detect coronavirus infections early. The development of the rapid test is carried out by VTT together with MeVac – Meilahti Vaccine Research Center. The project is also actively seeking Finnish companies to join cooperation.
Repurposing a medical device that could potentially improve lung function in COVID-19

Vitafon wanted to offer their medical device to clinical research centres to investigate any possible benefits it may provide to patients with COVID-19. To facilitate this, EIT Health introduced Vitafon to University Hospital Centre Sisters of Charity, Zagreb, Croatia and both organisations are now investigating the value of proceeding with a clinical trial to evaluate the effects of the device in COVID-19 patients.
Cognitive City to fight COVID-19
EIT Climate-KIC's partner, Exaptive, with the support of Bill and Melinda Gates Foundation, has developed a Cognitive City to share knowledge and connect experts to stop the spread of the COVID-19 virus and accelerate the development of a vaccine. Within only the first few days, the community grew exponentially.
Find more information on the EU's research and innovation response
---