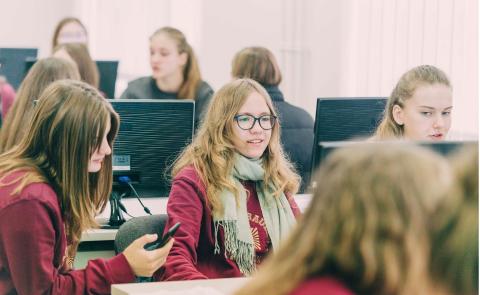 The EIT supports the European Commission's Digital Education Action Plan that promotes high-quality, accessible and inclusive education and training in the digital age.
In 2019 and 2020, the EIT's contribution focused mainly on digital and entrepreneurial skills training for girls. This was implemented through a series of digital and entrepreneurship workshops across Europe for girls and young women. Over 2000 young women aged between 12 and 18 took part in 81 inspirational leadership and digital and entrepreneurship workshops organised in the following 16 EIT RIS countries: Albania, Bulgaria, Croatia, Cyprus, Georgia, Greece, Italy, Lithuania, Poland, Malta, Montenegro, North Macedonia, Romania, Serbia, Spain and Turkey. In line with the aims of the Digital Education Action Plan, the workshops encouraged young girls to participate in STEM education with increased interest in entrepreneurship and working in the technology sector.
From 2021 onwards, the EIT contributes to the updated Digital Education Action Plan by encouraging women's participation in STEM education (science, technology, engineering and mathematics) and by helping to establish a European Digital Education Hub through hackathon events.

Girls Go Circular
The Girls Go Circular project supports Action 13 of the European Commission's Digital Education Action Plan by encouraging women participation in STEM and empowers schoolgirls in European countries defined as modest and moderate innovators (according to the European Innovation Scoreboard) to become future leaders and entrepreneurs.
It's great to see there are a lot of girls interested in blockchains or high-performance computing or artificial intelligence. Now, we need to have more project-oriented initiatives — to show girls that we are not just here to listen to them and to show that we are concerned but involve them in the solution.

Mariya Gabriel, European Commissioner for Innovation, Research, Culture, Education and Youth
It originates from the urgency to close the gender gap when it comes to the number of women active in the digital and entrepreneurship sector in the EU. In 2020, over 1 000 girls took part in the project's pilot phase. In 2021, 8 000 schoolgirls aged 14-18 will participate in an online training, encompassing individual work as well as group activities and leadership challenges. The students will not only use digital media as a platform to study, work and develop ideas, but also as a means to train their leadership skills. Themes like food, fashion and the use and disposal of technological appliances will be the cornerstones of this learning, empowering girls to become part of the solution to the current sustainability challenge.
Learn more about Gils Go Circular
Skills for the Future
Girls Go Circular project is part of the Skills for the Future initiative, a groundbreaking secondary education programme, fostering the next generation of entrepreneurs, including young female students, in Europe; empowering them with the insights, skills and confidence to innovate solutions to the numerous and complex challenges related to climate change, the food system, and a sustainable supply of minerals and metals.
Learn more about Skills for the Future
The EIT also contributes to the Digital Education Action Plan through gaining a better understanding of key digital trends that are affecting and transforming education and training systems and stimulating a debate at European level on the future of education with engaging Member States in sharing forward-looking ideas for future policy development.
DigiEduHack
DigiEduHack is an EIT initiative helping to implement the European Commission's Digital Education Action Plan. It breaks continental barriers by connecting around 50 educational institutions worldwide to solve some of the most pressing global challenges in digital education. DigiEduHack, a project led by EIT Climate-KIC, organised over 100 hackathons in 2019 and 2020, resulting in 400 ideas that can be applied to solve educational challenges. By supporting the agile development of policy and practice and by engaging stakeholders in user-driven innovation through the Digital Education Hackathon, the DigiEduHack and its hackathons continue as will their contribution to the implementation of the Digital Education Action Plan from 2021 onwards.