The EIT Regional Innovation Scheme (EIT RIS) is designed for modest and moderate innovators countries (according to the European Innovation Scoreboard), and where EIT Knowledge and Innovation Communities have few or no partners. Strategically, the scheme is an additional offer to these countries to facilitate their engagement with the EIT Community.
Countries eligible to take part in the EIT RIS under Horizon 2020:
Note that an update on EIT RIS eligibility under Horizon Europe will be published soon.
What are the EIT RIS objectives?
Widen participation in EIT Community activities by engaging players from countries that have lower participation in these countries. Sharing good practice, experience and know-how emerging from EIT Community activities with local innovation ecosystems. Offer tailor-made services to address identified innovation gaps. Ultimately, the EIT will contribute to boosting innovation in EIT RIS countries by strengthening linkages among key innovation actors.
Where can you find your EIT Hub?
How is the EIT RIS implemented?
EIT Knowledge and Innovation Communities engage local organisations to serve as EIT Hubs in EIT RIS countries and regions. Local organisations are selected through an open competitive selection process, and are designated to function as an EIT Hub for a specific EIT Knowledge and Innovation Community. The primary role of the EIT Hub is to ensure the visibility of the EIT Community and raise awareness of activities and cooperation opportunities for local players representing education, business and research areas. EIT Hubs also liaise with the relevant national, regional and local authorities and facilitate the sharing of EIT Innovation Community expertise with them. To date there are more than 60 EIT Hubs in 18 EIT RIS countries representing EIT Knowledge and Innovation Community.
The EIT RIS Guidance Notes detailing the implementation approach and rules:
EIT Regional Innovation Scheme (EIT RIS) Implementation Guidance Note 2018-2020
How is the EIT RIS funded?
The EIT grants funds to each EIT Knowledge and Innovation Community for EIT RIS implementation. Each community uses these funds in line with its strategy and designs its activities accordingly. Activities under EIT RIS include education programmes, business acceleration services and Knowledge Triangle Integration mentoring.
Who can participate?
Each EIT Knowledge and Innovation Community cooperates with local innovators – individuals such as students, researchers, entrepreneurs, and organisations such as SMEs, universities, research labs, regions, NGOs and cities. The EIT's communities involve the local players in education, business creation and acceleration activities, as well as innovation-driven research.
More information about EIT Innovation Communities' RIS activities can be found here: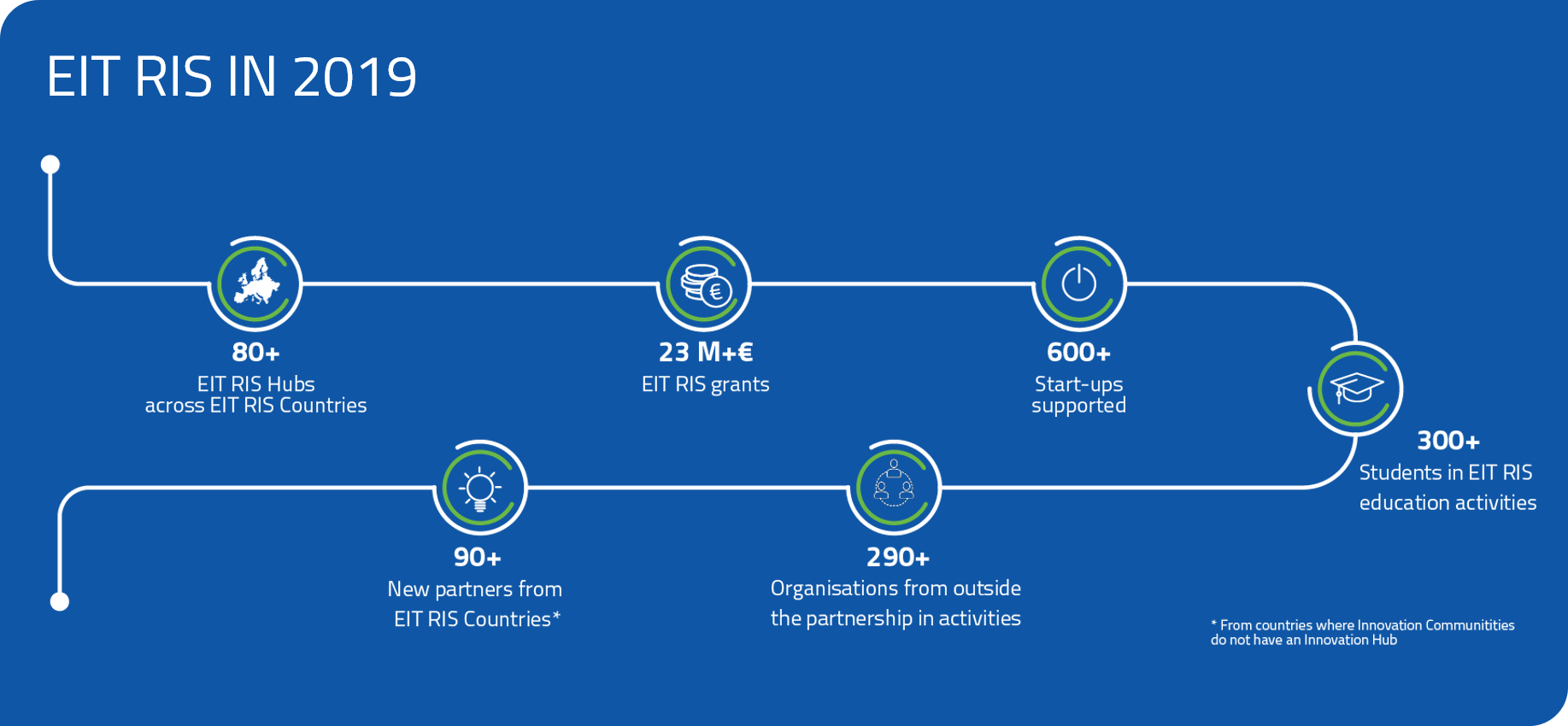 EIT RIS Innovation in action:
Below, a few example of EIT RIS activities delivered by the EIT Community
Success stories
Fejuice and Hydrustent are examples of start-ups based in EIT RIS countries that took advantage of the entrepreneurship programmes available, taking them to greater success. Read more success stories here.
EIT RIS contacts
Download the EIT RIS logo here.