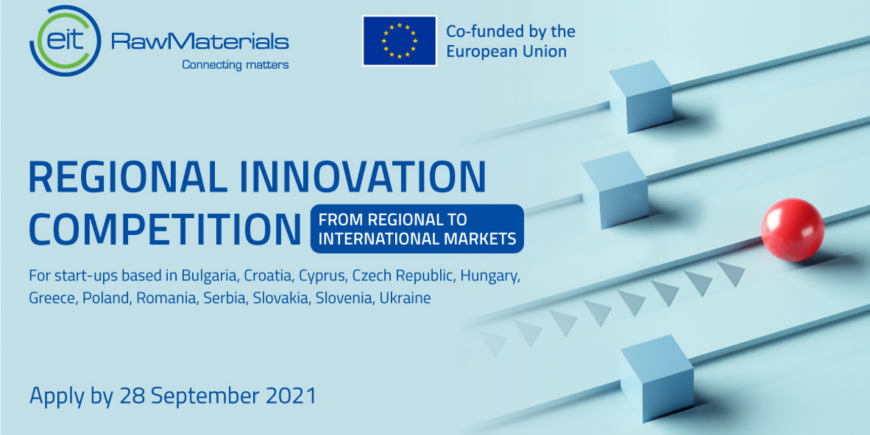 Is your start-up an innovation champion in the region with sustainable solutions for the raw materials sector? Join the Regional Innovation Competition 2021 to grow your business and reach international markets!
Connect, grow your business and win EUR 5000!
The competition is open for innovators from RIS countries: Bulgaria, Croatia, Cyprus, Czech Republic, Hungary, Greece, Poland, Romania, Serbia, Slovakia, Slovenia, Ukraine.
The Regional Innovation Competition is one of the EIT RawMaterials business creation instruments dedicated to supporting start-ups from RIS countries.
Regional Innovation Competition 2021 aims to provide established start-ups in RIS region with support to:
connect with local EIT RawMaterials RIS incubators

connect with local and pan-European ecosystems and markets

provide with dedicated coaching opportunities

prepare for entering EIT RawMaterials business creation and support offerings

realise their business
Regional Innovation Competition is an innovation programme with workshops, coaching vouchers, local support with RIS Incubators closing with a final pitching competition and prize awards. The competition is divided into three phases.
Phase 1: Submission of ideas
To participate in the Regional Innovation Competition 2021, the applicants must present a full application on the predetermined online form. Submission deadline: 28 September 2021, 17:00 CET.
The best start-ups will be selected to go to the next phase.
Phase 2: Workshops and coaching vouchers
The applicants selected in Phase 1 will be invited to participate in Phase 2. In Phase 2, selected start-ups will participate in 2 online workshops, will receive 3-5 hourly vouchers for coaching and connection with local EIT RawMaterials RIS Incubators for support. Phase 2 will be between October to December 2021 (actual dates will be announced in due course of the programme.)
Phase 3: Final pitching
In Phase 3, selected start-ups will be invited to compete at the Final Pitching event. The start-ups will pitch their idea in front of a Jury, composed of the EIT RawMaterials team and external evaluators.

The TOP 3 start-ups selected from the Jury will be awarded:

1st prize: EUR 5000
2nd prize: EUR 3000
3rd prize: EUR 2000
Thematic scope
Exploration: Exploration and raw materials resource assessment
Mining: Mining in challenging environments
Resource Efficiency: Increased resource efficiency in mineral and metallurgical processes
Recycling: Recycling and material chain optimisation for End-of-Life products
Substitution: Substitution of critical and toxic materials in products and for optimised performance
Circular Economy: Design of products and services for the circular economy
In the Regional Innovation Competition 2021, EIT RawMaterials seeks companies developing solutions for:
Sustainable Discovery and Supply of primary and secondary resources (innovative solutions based for example on artificial intelligence, machine learning, virtual reality etc.) for securing and processing strategic mineral resources in a sustainable and safe way and with a social license to operate.

Sustainable Materials for Future Mobility (materials for electrification such as batteries, fuel cells, magnets; materials for lightweight design including steels, non-ferrous alloys, composites, multimaterials).

Raw Materials and Circular Societies (new circular business models such as reuse, repair, remanufacturing, sharing economy).
Application process
Key dates:
Deadline for submitting applications: 28 September 2021 at 17:00 CET

Selection of start-ups and notification of acceptance/rejection: during October 2021

Workshops and coaching vouchers: between October and December 2021

Final Award Ceremony: December 2021 (exact date to be communicated in due course)
Eligibility criteria
The following entities may apply:
SMEs (according to the European Commission's definitions) having innovation projects relevant to the prize topics defined above

Start-up or spin-off companies at least registered at the time of the application
The EIT RawMaterials Regional Innovation Competition 2021 is open to any legal entity established in the following selected RIS countries: Bulgaria, Croatia, Cyprus, Czech Republic, Hungary, Greece, Poland, Romania, Serbia, Slovakia, Slovenia, Ukraine.
For more information
Don't hesitate to get in touch with Antonis Politis, Business Development Manager at EIT RawMaterials.