INNOVEIT Brussels: EIT Summit - watch our live stream!
Image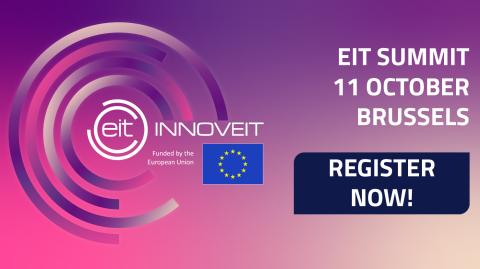 See INNOVEIT WEEKS come together with the culminating event, the EIT Summit – you don't want to miss this full-fledged event where EIT's main pillars and ecosystem will be on display. Stay tuned as the Institute announces a new flagship programme set to rock the innovation landscape in Europe!
The EIT Summit will feature high-level round table discussions with Members of the European Parliament, European Commissioners such as Mariya Gabriel, Commissioner for Innovation, Research, Culture, Education and Youth, Unicorn CEOs like Antoine Hubert of EIT Climate-KIC supported Ynsect, as well as members of the EIT Governing Board, Nektarios Tavernarakis, Nora Khaldi and Martina Larkin with many more exciting speakers to be announced!
The event will discuss lessons from the EIT's experience over the last 10 years in building a strong and resilient innovation ecosystem as well as the challenges and opportunities facing innovation in Europe today. The EIT Summit will also be a celebration of the 2022 EIT Awards, which promote innovation and encourage entrepreneurs by highlighting the most disruptive ventures, pioneering graduates and women leaders from the EIT community, inspiring role models for change!
This event is part of the INNOVEIT WEEKS event series, for more information please visit: innoveit.eu. 
Registration is now closed, but don't worry, you can still join us online! 
Watch our live stream!