EIT Digital announced the launch of the EIT Digital Challenge – the annual Europe-wide call for the most innovative startups in digital technology ready to scale up and enter the EIT Digital Accelerator.
Joined at the launch by successful teams from previous challenges, Willem Jonker emphasised the importance of fostering digital innovation across borders to position Europe as a leader in the global digital transformation.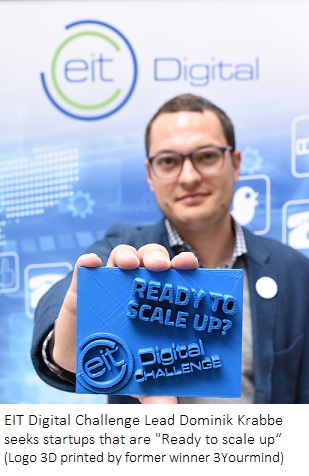 "Eighty per cent of European startups plan to internationalize their business, but only about half of them actually take this step. If Europe's goal is to lead digital transformation worldwide, innovation must be enabled to expand across borders. We want to identify and support those thriving European startups who are ready to enter new markets and start their journey to becoming international brands," explained Dominik Krabbe, EIT Digital Challenge Lead
"However, European startups face a number of barriers including the highly fragmented European market and investor landscape. It is crucial that we actively help startups to ensure European innovation leads the way globally. Through our Accelerator, we support early stage scaleups to gain access to new markets and new customers, as well as providing access to finance by leveraging our pan-European investor network," Willem Jonker, CEO EIT Digital, added.
Joerg Land, CEO of Sonormed, was a 2014 Challenge winner with the innovative Tinnitracks solution, a digital therapy for tinnitus sufferers. He commented: "There are an estimated 70 million tinnitus sufferers in Europe alone. We were honoured to get a chance both to work with a partner like EIT Digital who supported us with market insights and contacts, and to join the amazing EIT Digital network. The EIT Digital Accelerator has helped us to refine our strategy for the market entry in the Netherlands and to our launch there."
Tinnitracks was joined at the launch by 3YourMind, a Berlin-based company providing intelligent 3D printing services to industry and architecture and Konux, whose sensor technology allows for complete digitalization of manual measurements and comprehensive sensor data tracking and analytics.
The EIT Digital Accelerator comprises a team of around 40 experienced business developers and finance experts operating from 13 cities across Europe as well as a hub in San Francisco. Since 2012, they have supported a total of 233 startups to access new markets and helped them raise more than €67 million in investment to date. At present, more than 120 early scaleups from across the continent are part of the Accelerator.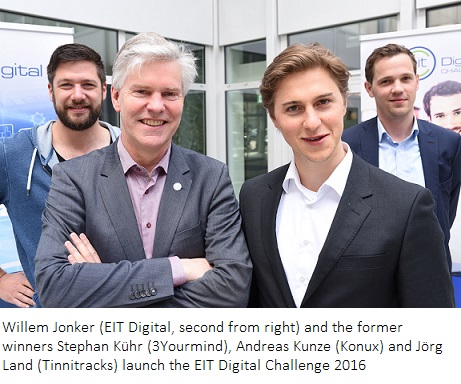 To identify the next wave of top European startups and help them scale up, EIT Digital has launched its third annual pan-European startup contest; the EIT Digital Challenge. Starting on May 18, 2016, EU-based startups can apply with their innovative digital technologies in one of the following five categories: Digital Industry, Digital Cities, Digital Wellbeing, Digital Infrastructure and Digital Finance.
They are competing for a unique prize package: the three best teams in each category will get access to EIT Digital's pan-European innovation network with more than 130 partners that bring together Europe's leading corporations, SMEs, startups, universities and research institutes in the field of digital technology. They will also have the chance to join the EIT Digital Accelerator for a full year. The winners in each category will additionally receive €50,000 in cash.
The deadline for applications is July 15, 2016. For more information and the application form, go to www.challenge.eitdigital.eu
Year after year, EIT Digital-supported scaleups are making an impact in our four areas of focus. Previous scaleups that have worked with the Accelerator include:
Konux (Digital Industry) has developed smart sensor solutions to digitalize manual measurements. The Deutsche Bahn uses their technology for predictive rail maintenance that leads to 25 per cent cost reduction in this sector. In April 2016, Konux secured a $7.5 million investment.
VULOG (Digital Cities) is the world leader in new generation car sharing technology. VULOG offers end-to-end solutions enabling mobility operators to launch large-scale car sharing services. With ten years of expertise, VULOG delivers premium car sharing services in Europe and North America. It recently raised €8.4 million of growth financing and has positioned itself as a leader in a market that is forecast to expand to over 600,000 vehicles worldwide and 30 million users.
Tinnitracks (Digital Wellbeing) provides a digital health solution to treat tinnitus by listening to individually filtered music. So far, three German health insurers cover the costs for Tinnitracks. With support from the EIT Digital Accelerator, the app has now launched in the Netherlands and plans to expand to the U.S.
Sentryo (Digital Infrastructure) offers an operational security capacity to prevent, detect and respond to cyber attacks targeting the Industrial Internet. The startup recently raised €2 million, expanded to Germany and plans to expand with EIT Digital's help to the rest of Europe.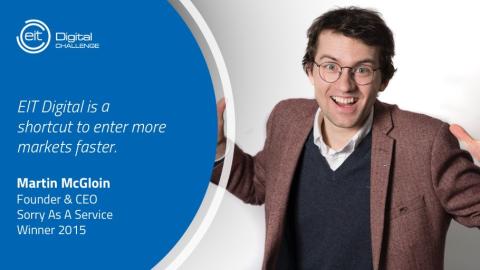 About EIT Digital
EIT Digital is a leading European digital innovation and entrepreneurial education organisation driving Europe's digital transformation.
EIT Digital delivers breakthrough digital innovations to the market and breeds entrepreneurial talent for economic growth and improved quality of life in Europe. It does this by mobilising a pan-European ecosystem of over 130 top European corporations, SMEs, start-ups, universities and research institutes.
As a Knowledge and Innovation Community of the European Institute of Innovation and Technology, EIT Digital is focused on entrepreneurship and is at the forefront of integrating education, research and business by bringing together students, researchers, engineers, business developers and entrepreneurs. This is done in our pan-European network of Co-Location Centres in Berlin, Eindhoven, Helsinki, London, Paris, Stockholm, Trento, as well as in Budapest and Madrid.
EIT Digital invests in strategic areas to accelerate the market uptake of research-based digital technologies focusing on Europe's strategic, societal challenges: Digital Industry, Digital Cities, Digital Wellbeing and Digital Infrastructure.
EIT Digital breeds T-shaped entrepreneurial digital talent focused on innovation through a blended Education Strategy that includes a Master School, Doctoral School and Professional School.