Commissioner Vassiliou met students at EIT ICT Labs Helsinki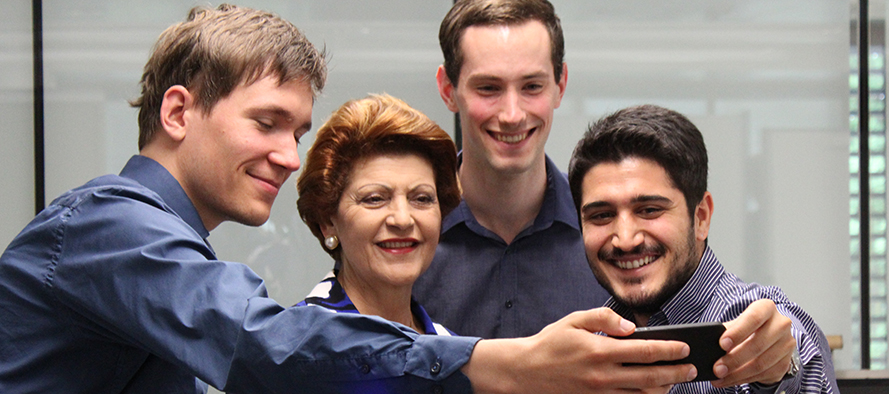 Commissioner Androulla Vassiliou visited the Helsinki Co-location Centre on Thursday 12 June where she met with Aalto University and EIT ICT Labs representatives as well as our Master and Doctoral students.
Commissioner Vassiliou, responsible for Education, Culture, Multilingualism and Youth in the European Union, was especially interested in learning more about EIT ICT Labs' Master and Doctoral Schools as well as alumni relations.
Commissioner discussed with master students Simon Burg, Martijn Roo and Berkay Taskin on their experiences and learnings. The EIT ICT Labs Master School students are currently doing their internship or summer job at start-up 720 degrees and are seated at the Helsinki Co-location Centre. Doctoral students Gautam Raj Moktan and Sanja Scepanovic briefly described their studies. Dr. Jari Saarinen from start-up GIM introduced Madame Vassiliou to their robot that normally moves around the CLC and talks to passersby, but obviously today was too tired to wake up and say good morning to the Commissioner.
Provost Ilkka Niemelä from Aalto University talked about Aalto's entrepreneurial education and spirit and Tiina Tuulos from Design Factory showed concrete examples on co-operative design projects. Marko Turpeinen presented EIT ICT Labs and the Helsinki Node. Head of Nokia Research Center Hannu Kauppinen praised the environment of the Open Innovation House and the physical proximity to both partners Aalto University and EIT ICT Labs.