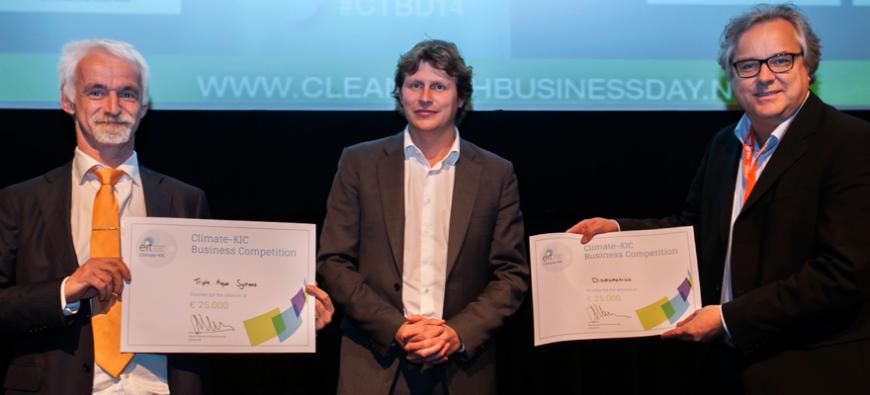 Climate-KIC links CleanTech SME entrepreneurs to European climate experts
On 9 December, during the CleanTech BusinessDay held at the WTC in Rotterdam, Disdrometrics and Triple Aqua were announced as the winners of the Climate-KIC Business Competition. This marked the first time that Climate-KIC, the most important EU initiative for climate innovation, organized this competition for the SME sector. Eight SME entrepreneurs, selected beforehand, presented their innovative ideas to an expert jury, which included Albert Fischer from Yellow & Blue and Damien van der Bijl from InnovationQuarter. According to the jury, the winners are not only extremely passionate and driven but also have concrete business goals and an opportunity to access a global market
Chris Mooiweer, the director of Climate-KIC Nederland, presented the winners with an innovation voucher worth € 25,000, which will enable them to purchase expertise and consultancy services from one or more of Climate-KIC's partners.
Rain meter
Disdrometrics gave a fascinating presentation of their innovative and low-maintenance rain meter. The importance of this device is that it makes it possible to predict where and how much rain will fall. By making precise estimates and processing data digitally, it makes it possible to prevent the flooding of basements, streets and viaducts as well as larger areas.
The winning of the voucher is very important for Disdrometrics, as it will enable them to work together with Climate-KIC partners to build a small but powerful solar collector to supply the rain meter with electricity.
Heat pump
Triple Aqua has developed an environmentally friendly heat pump for cooling and heating buildings. The methods presently used for heating buildings are responsible for an enormous amount of CO2 emissions, and the heat pumps used until now contain the hazardous F-gas. Triple Aqua's sophisticated system is actually CO2 neutral when powered by green electricity.
The voucher from Climate-KIC will be used by Triple Aqua to take the final step. The pump is ready to be installed, but the final remaining requirement is for the energy label to be validated. Triple Aqua can now have this done, completely independently, by one of Climate-KIC's partners.
Exploring new paths via the Climate-KIC community
Climate-KIC explores new paths via the extensive European Community of scientists, students, multinationals, startups, and government bodies. The best way to encourage the innovation needed to have a real impact in terms of global climate and at the same time provide business benefits is to connect the various parties with each other and encourage shared investment.
Chris Mooiweer: "For several years now, we have had a successful programme in place aimed at bringing startups to the market more quickly. Although the market for the SME sector is new for us, the type of programme we used for startups also works very well for the highly specialized SME entrepreneurs in the CleanTech market. Today, we were happy to receive a great many positive responses. I'm already looking forward to the next edition of the Business Competition in 2015 so that we will be able to roll out more collective climate innovations on a global level."
In 2015, Climate-KIC will once again organize a Business Competition. If you are interested, simply go to www.climate-kic.org and click on For Entrepreneurs.