Last weekend, over 170 EIT students and alumni descended upon six European cities to develop business ideas and new start-ups. A winning team was selected from each location.
Between 2 to 4 December the annual EIT Alumni Start-up Days were held in six European innovation hubs: Barcelona, Berlin, Eindhoven, Lisbon, Paris and Stockholm. The event lasted an impressive 54 hours, with students working around the clock to create innovative new projects designed to combat Europe's societal challenges.
Teams were formed in each location following an opening pitching session where innovative and disruptive ideas in tackling societal issues could be shared among all attendees.
On the final day, teams in each location pitched their projects to a jury composed of investors, entrepreneurs and mentors. A winning project was then chosen for each location.
Over the weekend, with the help and support of onsite mentors, the business model and value proposition of each team's idea were put to the test. Throughout Saturday and Sunday, the Alumni received invaluable feedback and advice from local mentors on how best to prepare their idea for real-world application and long-term success.
Alongside access to mentoring and expertise, our locations also received support in the form of a rich array of hardware, software and prizes from companies and start-ups within the local innovation system.
Once again, we must thank the dedicated support of the KIC Alumni associations for the strong lead role they played in bringing the event together.
To view a photo album from the event please click here.
The winning projects: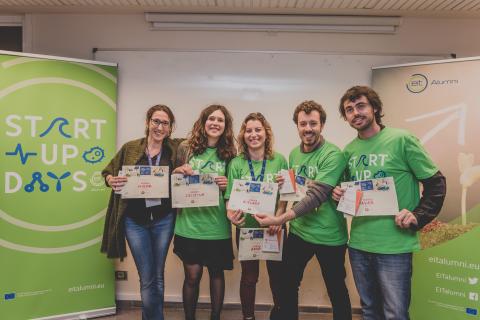 Aircare (Barcelona) - "Upgrade the Environment"
aqUVa (Berlin) - "Where light meets water"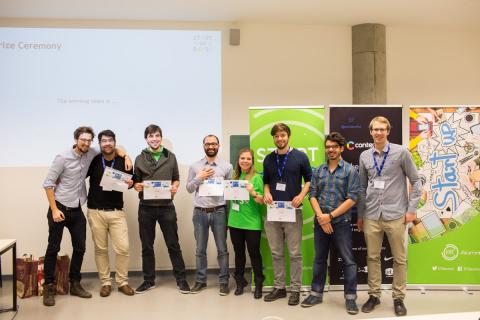 aqUVa supplies communities in developing countries with permanent access to clean drinking water. After having only just met at the EIT Alumni Start-up Days, they came up with the innovative idea of what is essentially a plug and play purification unit which uses OV light and PV technology (offgrid) via existing distribution networks. They have already created a twitter and website which they designed during the Start-up Days weekend. See more here: aquva.de/wordpress/
FloraVision (Eindhoven)
FloraVision detects orchid diseases through an automated inspection of greenhouses using deep learning and computer vision. It is no coincidence that this concept was formed in Eindhoven and is also highly applicable to the Dutch market! The team looked to target the market of orchid flowers and utilised computer vision technology to inspect and prevent diseases in plants before they spread. This project could not only reduce the loss of plants but is also economic as automation will add significant economies of scale to what is currently a human driven activity.
LettuceGrow (Lisbon)
The goal of LETTUCEGROW is to bring fresh local produce from small farmers to consumers. This will allow consumers to get fresh products directly from the farmers, thereby reducing costs and increasing customer satisfaction. Currently the Portugese countryside has little influx of wealth as a result of low imports and exports. LETTUCEGROW want to address this issue by bringing money back into the countryside and fresher produce into the cities, offering a cheaper and organic option which benefits the local economy as a whole.
Appero (Paris)

Appero allows customers in restaurants or bars to order their drinks via their mobile phone, thereby reducing queuing times when ordering a drink. This not only benefits the customer but also the company as the bartender can deliver more drinks per hour. He only has to check the cellphone of the customer and deliver the drink. It's a win win situation all round!
AI Talk (Stockholm)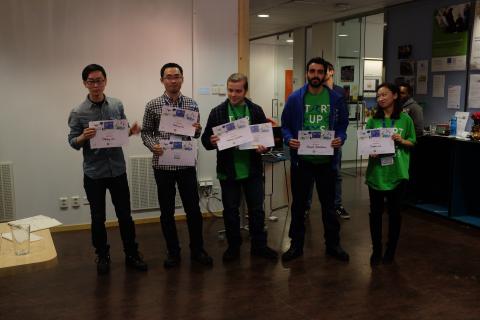 The winning idea from Stockholm uses AI to translate messages composed in foreign languages into the one which is most relevant to the user, thereby solving an issue which is growing as a result of an ever more connected world.
Catch up with the latest news from the EIT Community in the Newsroom.
Subscribe to the EIT Newsletter to get the best of the EIT Community's news in your inbox once each month.