EIT Boosts Deep Tech Training In Higher Education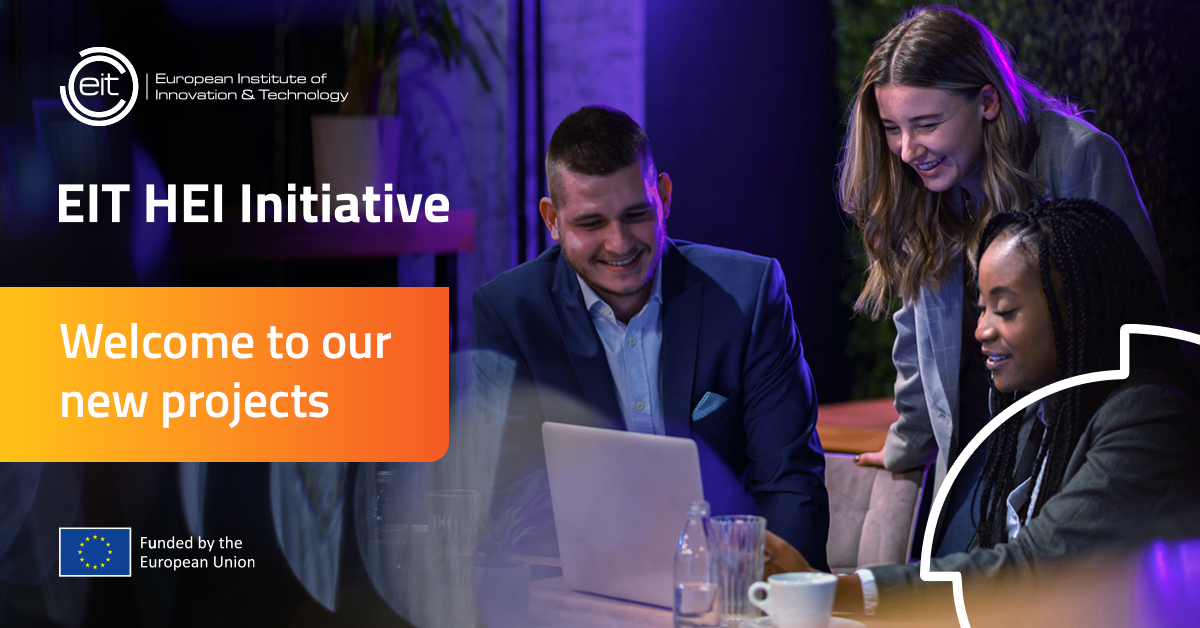 The European Institute of Innovation and Technology (EIT) is pleased to announce the 16 winning consortia of this year's EIT HEI Initiative.
Nearly 180 organisations from higher education institutions (HEI), business and civil society from 38 countries will benefit from up to EUR 12 million of funding to support their innovation capacity, with a particular focus on deep tech.
Deep Tech innovations are indispensable in creating solutions to the most pressing global challenges facing Europe. The EIT HEI Initiative is committed to working together with universities and partners to boost knowledge in Deep Tech fields such as artificial intelligence, machine learning, and cleantech to power new technologies for a brighter Europe. Through the EIT HEI Initiative, partners will have access to Europe's largest innovation ecosystem and enhance the quality of their entrepreneurial education programmes, further developing the talent pool of European deep tech innovators.
Since being established, the EIT HEI Initiative has granted over EUR 55 million to support 260 HEIs and 100 non-academic organisations across Europe. These organisations have trained over 39 000 students, academic and non-academic staff on innovation and entrepreneurship and have supported over 900 start-ups and scale-ups.
Fostering, attracting and retaining deep tech talents is crucial for Europe to complete the green and digital transitions. This will allow us to harness a new wave of innovation in line with the New European Innovation Agenda. With hundreds of project partners across Europe and beyond, the European Institute of Innovation and Technology and its HEI Initiative can help ensure that Europe plays a centre-stage role in the global innovation ecosystem.

Margaritis Schinas, European Commission Vice-President
We are delighted to welcome these new deep tech projects, and we are excited to see how these HEIs will broaden their horizons and become regional engines of entrepreneurship and innovation. We congratulate the selected consortia on their ambitious proposals, and we are looking forward to seeing their ambitious plans come to fruition.

Nektarios Tavernarakis, Chair of the EIT Governing Board
A total of 48 consortia representing over 510 organisations from across Europe applied for this year's call, which closed in February 2023. As a result, 16 projects, involving 100 HEIs and 79 non-academic organisations (companies, research centres, public authorities and associations), will benefit from maximum funding of EUR 750 000 each. With an even distribution of academic and non-academic organisations, the EIT HEI Initiative is determined to achieve its goal of creating synergies between industry and higher education institutions to boost innovation and entrepreneurship in Europe.
Some of the organisations involved in the selected projects include Graz University of Technology (Austria), Innovation Centre Banja Luka (Bosnia and Herzegovina), Aarhus University (Denmark), and venture capital firm, Building Global Innovators (Portugal). More details on the selected projects can be found here.
Since 2021, EIT HEI Initiative projects have delivered creative and original approaches to innovation and entrepreneurial capacity-building in higher education. The links established between HEIs and companies, research and public bodies have led to enhanced ecosystems in which HEIs act as hubs that create systematic impact and drive innovation around Europe. Some projects have even teamed up to launch their own initiatives. For example, the OASIS and PROMETHEUS projects have signed a memorandum of understanding to participate in collaborative teaching, training, mentoring, research, and other entrepreneurship support activities.
The selected EIT HEI Initiative projects announced today, directly support the Deep Tech Talent Initiative, EIT's new flagship programme that will train 1 million deep tech talents by 2025.