Two EIT ICT Labs Master School first years' students, studying at partner university Eindhoven University of Technology (TU/e), took up the challenge to deliver a business solution to an EIT ICT Labs action line as an assignment on top of their Master School study program.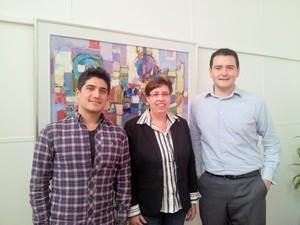 What makes it special is the fact that this action is the first example of how students and business developers in EIT ICT Labs work together in the triangle of Education, Business and Research. On initiative of these students a business solution was realised in collaboration with Jean Gelissen, action line leader of Health and Wellbeing, and Henny de Vos, business developer dedicated to this action line.
Student-Business Developer Collaboration
Frederick Ayala and Berkay Taskin, two Master School students, registered for a certificate program at TU/e called Certificate on Technology Entrepreneurship (CTE) that was offered by the Brabant Center of Entrepreneurship, an organisation related to the TU/e. In order to obtain the certificate at the end, participants needed to attend 3 lectures, 6 business skill development sessions and write a business plan. The project for the CTE course was all about setting up a business plan. They say: "For the business plan, we thought that EIT ICT Labs might already have a business idea that we can work on; particularly related to Health & Wellbeing and Smart Spaces that are our areas of interests. Therefore we contacted Jean Gelissen, of EIT ICT Labs' action line Health & Wellbeing, to ask him about a business idea that has a mix of both fields. That is how we were introduced to the Virtual Social Gym activity and Henny de Vos as Business Developer." The students presented the Virtual Social Gym (VSG) idea as a possible project and the CTE Committee accepted their proposal and assigned two experienced coaches named Justinus Slakhorst and Cor Scholten, former employees of Philips.
Great opportunity
The EIT ICT Labs Master School is a 2 year program with intensive courses related to Innovation management and Entrepreneurship. Why then register for the Certificate on Technology Entrepreneurship? Was that not overkill? Both students argue: "This actually was a great chance to apply our knowledge and skills to a real project by working with business developers who are highly experienced in Innovation and business creation. Working within EIT ICT Labs and specifically the action line Health & Wellbeing, brought a more realistic flavor of entrepreneurship and innovation, as well as problem solving and decision making when developing a business idea."
Recommendation to fellow students, business developers and action lines
This type of assignment executed in the knowledge triangle of Education, Research and Business is a recommendation to follow up, according Frederick and Berkay. They state: 'We definitely recommend this experience to our fellow students. Since there are many stakeholders from EIT ICT Labs working on business plan development, the process was challenging and interesting in terms of balancing expectations and managing feedbacks from different perspectives."
Additionally, EIT ICT Labs has many interesting projects within its action lines that could be appealing for students in general. It is also a great chance for students to increase their professional network. Our experience is at the same time an appeal to the Business Developers in EIT ICT Labs. There are numerous high quality universities and students within EIT ICT Labs. Therefore, it is also a great chance for the Business Developers to work on high-tech business ideas with students that have knowledge in both new technologies and Innovation & Entrepreneurship.
Win-Win
Frederick and Berkay share the opinion that this case is a clear win-win situation for all stakeholders: 'The action lines for instance can benefit from the diversified knowledge inside the organization to develop their own initiatives and business ideas. With this, they validate and accelerate the time to market of the possible business plans. Moreover, it is very beneficial for the action lines to get as well valuable feedback on their projects by the experienced coaches of the CTE program. Additionally we would like to mention that we got the second place among 11 business plans, which also represents the high quality of our business plan. Finally, it is a great marketing channel for EIT ICT Labs on the university campuses. Because it shows that EIT ICT Labs is working with their own Master School students, like we are, and that they help us to develop our skills."
Thank you Frederick and Berkay. Good luck and success in the second year of the EIT ICT labs Master School program in respectively Budapest and Helsinki.
For further details please write to: else.embregts@eitictlabs.eu