The equity investment is part of a larger funding package targeting EUR 45 million to take EIT InnoEnergy-supported CorPower's wave energy technology through commercial scale demonstration until 2023
Midroc New Technology and Almi Invest's Greentech fund joined EIT InnoEnergy and a group of private investors in a EUR 2.3 million equity funding round. Following the successful verification of the C3 Wave Energy Converter (WEC) at the European Marine Energy Centre in Orkney, CorPower Ocean is currently working together with industrial partners to develop the first commercial scale machines. This round of equity funding will now be combined with previously secured project funding consisting of EUR 8.5 million from the Swedish Energy Agency and EUR 2.3 million from OCEANERA-NET co-fund.
Markus Hökfelt, Fund manager at Almi Invest Greentech said: 'Ocean energy is an important renewable energy source that can complement solar and wind power in a green energy mix. We believe that CorPower's technology and team have great potential to master the very challenging conditions of the oceans.'
Göran Linder, CEO at Midroc New Technology commented: 'Our philosophy is to invest into groundbreaking technologies with inherent capacities to facilitate the shift towards sustainable energy production. We believe that the CorPower technology can play an important role in this transition.'
---
---
Patrik Möller, CEO and co-founder at CorPower Ocean stated: 'We are very pleased to add new shareholders with relevant industrial experience who share our big vision for ocean energy. CorPower has worked hard to demonstrate our technology step-by-step since 2012, and we are now looking forward taking the next step to commercial scale machines with a strengthened team.'
Ingvar Eriksson, Business Creation Officer at EIT InnoEnergy Scandinavia pointed out: 'Wave power is a huge untapped resource for renewable energy production and an excellent complement to other types of renewable energy production. We have believed in CorPower's technical solution and ability to create a disruptive break through and invested in the company right from the beginning.'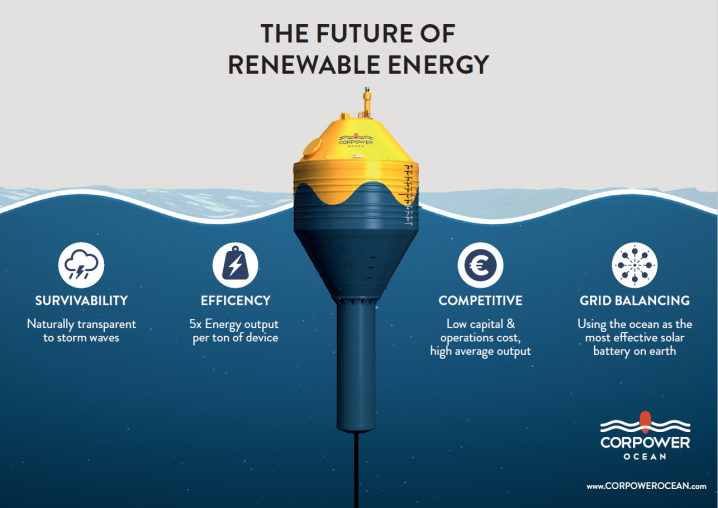 A group of private investors including Claes Eriksson, former Polhem prize winner and founder of several successful technology start-ups also participated in the funding round. This announcement represents a first closing or a larger equity round, where a second closing is planned this year in connection with additional public funding.