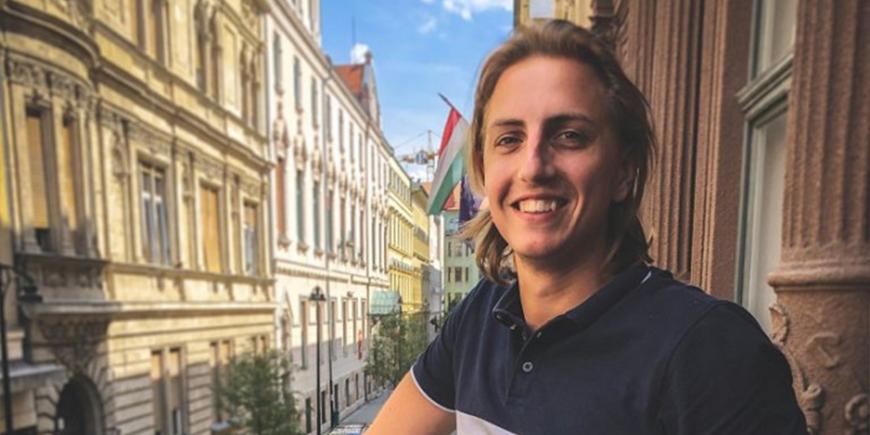 EIT InnoEnergy Master School student, Bence Rónai, just finished up an exhilarating two-year thesis project – earning a very high mark.
It's time to celebrate and reflect on the hard work that has gotten him here. Read the interview with Bence to learn about his successful thesis collaboration with the COMPILE Project, bringing a holistic energy solution to one of their pilot sites – the Slovenian village of Luče.
Finding the right thesis topic
During the European Utility Week 2019 in Paris, Bence became acquainted with the COMPILE project and Laboratory of Energy Policy researcher, Mr Edin Lakić from the faculty of Engineering, University of Ljubljana.
"I was already really interested in the future possibilities of microgrids and energy communities, so I kept in touch with Edin even after the event. After a few conversations and a change of emails, I was lucky enough to join the LEST team and start working on this exciting topic!"
The COMPILE Project
COMPILE aims for a holistic approach in creating energy islands for decarbonisation of energy supply, including community building and providing environmental and socioeconomic benefits for all.
Bence shares, "Trying to find a solution that is beneficial for every involved stakeholder in Luče, based on real consumption and generation data, is what makes this project more than just a school experiment. It felt like the perfect project for my thesis since I wanted to do something 'real', something that is a bit more than conceptual research."
Thesis successfully defended
Bence's thesis "Assessment of self-consumption strategies for prosumers and energy communities in local energy systems" is based on a straightforward idea: Households with photovoltaic systems (solar panels) on their roof usually generate more electricity at any given time than they actually can utilise. From an economic perspective, they can save money if they share their locally generated green energy with their neighbours. If there are more households with solar panels on their roof in a particular village or block, they can create an energy community and manage their energy demand together. Compile Project and the village of Luče offered the perfect place to test out Bence's thesis idea. And with excellent results – showing that when the community model was applied, the total amount of savings was double that of the individual cases!
Combining a love of travel with studying
After his bachelor's degree, this Hungarian native wanted to learn more about renewables and sustainability as a whole. Bence explains how he chose the EIT InnoEnergy Master School:
"I love travelling, so the Master's in Renewable Energy programme seemed like a great fit, both topic and travel-wise. I have spent my first year in Lisbon; then I chose UPC as my second university in Barcelona. It was my greatest decision so far, an incredible journey that I was lucky to share with amazing people from all over the world. There was a great community feeling, and I'm sure that in the near future, we are going to have this big, international network of successful friends. I also think the programme prepares us for the future, with many extracurricular activities to improve our technical knowledge, soft skills, and learn more about different sectors of the industry – all while travelling around Europe, where the most advances in these fields are being made."
Life after thesis
And what about life after thesis? Bence smiles and says, 'I feel kind of relieved and happy that I have finished this master course, but at the same time, I am already looking forward to next challenges and new experiences that are waiting for me. It was a pleasure to work with the Slovenian team of COMPILE and I hope to continue our fruitful collaboration to further develop this project or other related researches. There's no time to lay back now; there's a lot to do in the renewable sector. Creating communities and thinking big can bring a lot of benefits for everyone. We should move towards shared and community services instead of concentrating on personal use cases. This is true for renewable energy and a lot of other areas!"