EIT Manufacturing and EFFRA together for the the future Europe's industry - Updates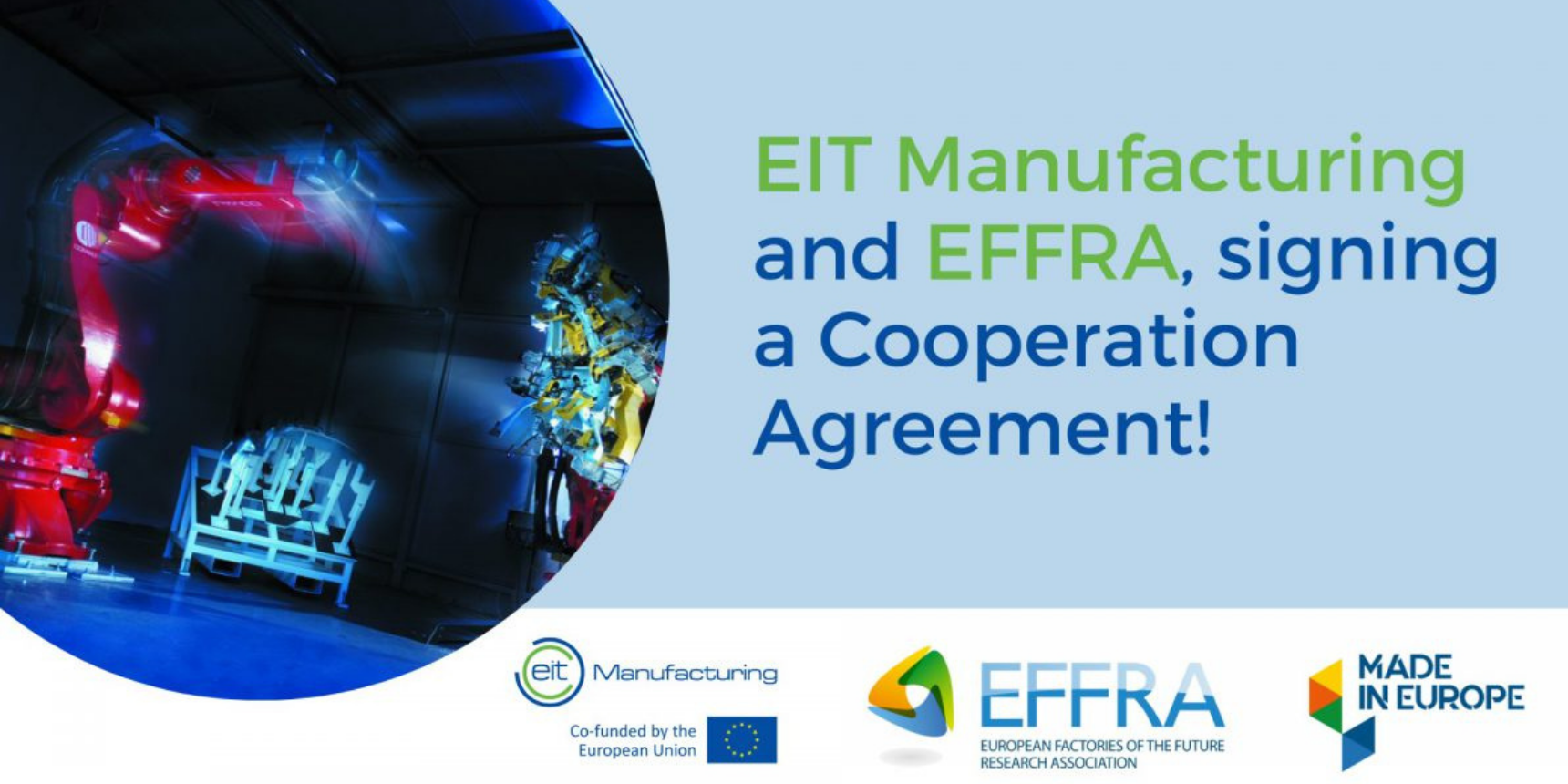 As a first step, they are launching a joint call to identify the most promising Factories of the Future -projects. The two organisations will also sign a formal collaboration agreement on October 27 at a high-level event in Brussels.
The objectives of these joint efforts are:
To create and promote a global competitive and sustainable manufacturing
To develop new and innovative production technologies.
To drive the transition to a climate-neutral and sustainable circular economy, as well as to follow the path to a more digital future.
"A milestone agreement for Europe's industry"
Klaus Beetz, EIT Manufacturing CEO, and Konstantinos Georgoulias, Director European Affairs and RIS are convinced that the new collaboration agreement is a significant milestone for Europe's industry.
"Europe has always been the home of industry and a pioneer in industrial innovation – research and innovation are key drivers behind this success, ensuring the global competitiveness, sustainability and growth of European Manufacturing", 

Klaus Beetz, Chief Executive Officer of EIT Manufacturing.

"This collaboration signals a milestone achievement. Stakeholders from two important Horizon Europe initiatives will work together for amplifying the impact of Research and Innovation activities to the industry and for strengthening European manufacturing in total. Having Europe as the global reference for manufacturing innovation is critical for a strong European industry and ensuring the future prosperity of Europe",

Konstantinos Georgoulias, Director of Regional Innovation Scheme & EU Affairs of EIT Manufacturing ASBL.
About EFFRA
EFFRA is a European industry-driven non-profit association that aims to boost investments in industrial research so as to increase productivity in European manufacturing. EFFRA promotes the development of new and innovative production technologies through a public-private partnership with the European Union entitled "Factories of the Future".
Latest updates
On 27 October, The European Factories of the Future Research Association (EFFRA) and EIT Manufacturing have signed a cooperation agreement to support the Eurepean industry from research to market application.
Why a cooperation agreement?
The cooperation agreement will enable a future synergies between the 'Made in Europe' (Pillar 2) Programme and EIT Manufacturing (Pillar 3) accelerating the potential for market exploitation of research and innovation activities, while maximising their economic and societal impact.
The first results of the cooperation is already visible in the form of the joint INNOVATE TOGETHER call. The activities chosen through this call will will start on the 1st of January 2022, focuses on innovation activities to accelerate the market deployment in Europe.
Read more in the Press Release.
"This collaboration agreement is the first step in cooperation among the two Pillars of Horizon Europe; among the applied research and the innovation pillar. The next challenge ahead of us, in this quest to make the innovation in manufacturing led by Europe, is to make Europe a role model for a green and sustainable manufacturing."

Klaus Beetz, Eit Manufacturing Chief Executive Officer (Ceo)
"The collaboration with other EU initiatives is one of the highest priorities of EIT Manufacturing. The collaboration between EFFRA and EIT Manufacturing introduces synergies addressing all cornerstones of the Knowledge Triangle, namely innovation, education and business creation. In order to demonstrate quick results, we started with a practical and concrete pilot, namely the Call for Proposals for innovation activities "Innovate together", which aims to support exploitable results tested and demonstrated in an industrial environment and accelerate their market deployment." 

Dimitris Mavrikios, Eit Manufacturing Chief Operations Officer (Coo)
"With the current initiative we aim to accelerate the market uptake of exciting modern technologies and solutions coming out of the Factories of Future and Made in Europe Programmes. In the near future, we will also deploy initiatives to upskill/reskill the manufacturing workforce in order to fully exploit the potential of these technologies." 

Konstantinos Georgoulias, Eit Manufacturing Director of Regional Innovation Scheme (Ris) and Eu Affairs