European Commission Vice-President, Jyrki Katainen, meets EIT innovators in Budapest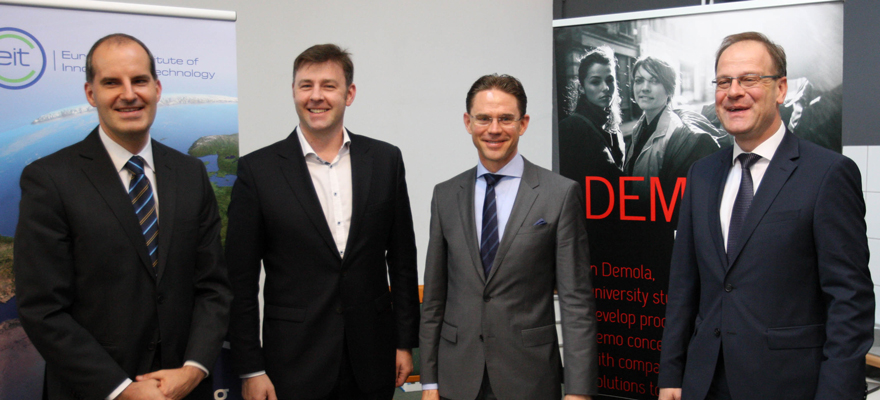 Today Jyrki Katainen, European Commission Vice-President responsible for Jobs, Growth, Investment and Competitiveness, and Tibor Navracsics, European Commissioner for Education, Culture, Youth and Sport met EIT entrepreneurs and innovators at Demola in Budapest. "If someone is interested in the future of Europe, one needs to see what the EIT and Demola Budapest are. This is exactly the future of Europe" said Jyrki Katainen, Vice-President of the European Commission.
"What has been missing so far was the spirit of entrepreneurship and this is what the EIT is doing. The EIT is bringing entrepreneurship inside universities. This is a very good and important direction." added the Vice-President.
"The EIT has an amazing role in changing mind-sets because it really brings people together – fully integrating business, research and higher education." added Tibor Navracsics, European Commissioner for Education, Culture, Youth and Sport.
Dr Gábor Péceli, Rector of the Budapest Technical University, highlighted that the EIT KICs educational programmes unite theory and practice, combining technical courses with the necessary entrepreneurial skills tailored to the needs of the labour market and society. Roland Jakab, Managing Director of Ericsson Hungary added that the EIT graduates, employed by Ericsson, bring a unique mind-set and skills that are difficult to find.
In summary, Martin Kern, the EIT Interim Director, stated: "As seen today, we create an environment for creative thoughts, where business, education and research can effectively cooperate to enable world-class innovation for Europe".