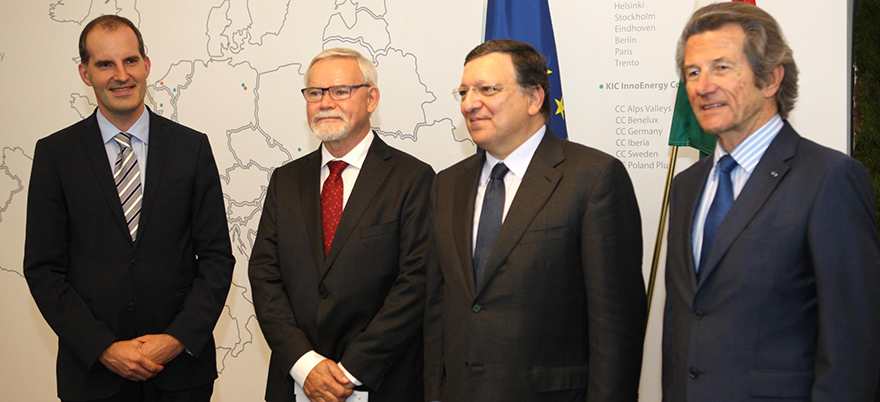 Today, European Commission President José Manuel Barroso and his delegation visited the EIT Headquarters in Budapest, Hungary. President Barroso met with Peter Olesen (Chairman of the EIT Governing Board), Bruno Revellin-Falcoz (Member of the EIT Governing Board and Executive Committee) and Martin Kern (EIT Interim Director). The exchange of views focused on the EIT's progress, its priorities for the future and the Institute's contributions to Horizon2020, the EU's new seven year Research and Innovation programme.
President Barroso welcomed an update on the EIT's achievements, especially via its Knowledge and Innovation Communities (KICs) on Climate Change, ICT and Energy. "The EIT was set up to boost innovation in the European Union and I am impressed with these initial results and the Institue's potential to increase competitiveness and job creation. I look forward to seeing the EIT and its KICs continue to grow and contribute to the realisation of the Innovation Union goals." he said.
To date, the EIT's three first KICs bring together more than 500 leading partners from business, research and higher education from all over Europe; for the first time fully integrating the three sides of the knowledge triangle through their activities. Since 2010, the KICs have incubated more than 450 business ideas and created 75 innovative start-ups. 165 knowledge transfers and adoptions have taken place and 61 new products and services have been launched. The first 215 students have graduated with EIT labelled degree programmes. At the end of this year, the EIT will select two new KICs in the fields of Raw Materials and Innovation for Healthy Living and Active Ageing further enlarging the EIT Community.
"Investing in innovation and entrepreneurship is key to creating more sustainable growth and skilled jobs in Europe and I am delighted that the European Commission, under the leadership of President Barroso, has supported the development of the EIT and the negotiations for the EIT's 8 fold budget increase for the 2014 to 2020 period." said Peter Olesen, Chairman of the EIT Governing Board.
President Barroso was also introduced to the team working at the EIT Headquarters including the EIT's new Interim Director Martin Kern.