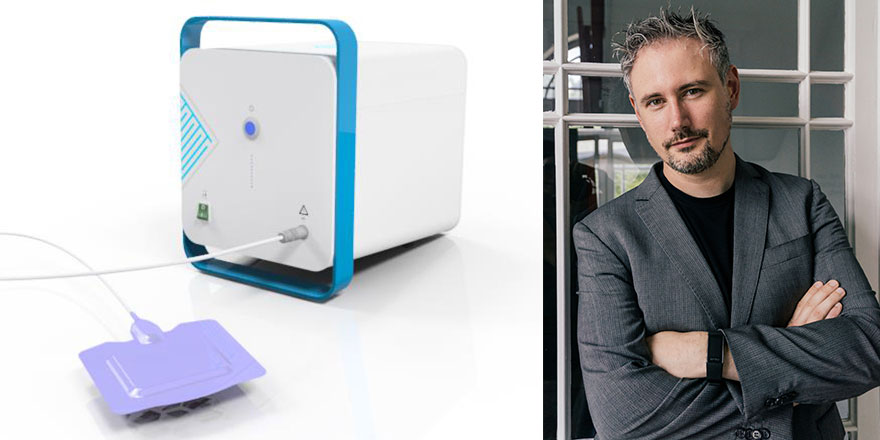 EIT Audience Award winner Carsten Mahrenholz cold plasma technology developed by his start-up, ColdPlasmatech, is creating waves around the world.
Wound care is one of those issues that is easily overlooked, with the grim consequences making it tempting to turn the other cheek. It's estimated, however, that over two million people currently live with a chronic wound in Europe, with around 350 000 of those wounds remaining unresolved after a year or more. What's more, with chronic conditions such as diabetes on the rise across the western world, coupled with ageing populations, it is likely to be an issue that only grows in importance.
We started talking to stakeholders, nurses, physicians and people who have buying power in healthcare, and they basically told us what we should do, and we listened and did what they told us.

Carsten Mahrenholz, co-founder and CEO ColdPlasmatech
The company is partnering with big multinationals for production support, and a partnership with Dell EMC is also helping to flesh out the IT infrastructure at the company. This helped get live production set up by the end of 2017, with the first live patches produced near the end of December. Ideally, they want to create a 'pull market', whereby customers come to them because of the strong need they have. As with so many start-ups, however, scaling internationally remains a key challenge.
EIT Community support
This is a process that the EIT helps out with, not least because EIT Health consists of healthcare start-ups from across Europe. This provides a fertile environment for sharing knowledge and experience, not only of operating a healthcare start-up, but also of operating in various territories. It's a mutual support network that has seen weekly conversations occur to share knowledge and advice.
This is especially vital for Europe as the continent aims to better promote the science and technology that is taking place across the EU, and therefore compete with Asia and North America in terms of innovation.
We in Europe have so many good people and great technologies, we have top-notch entrepreneurs, and this is a pretty good basis to grow from and build a strong network to allow us to stand toe to toe with the technologies coming out of Silicon Valley.

Carsten Mahrenholz, co-founder and CEO ColdPlasmatech
It creates a mutually beneficial relationship between start-ups such as ColdPlasmatech and the EIT. With the pan-European network provided by the EIT, it makes it so much easier to market and promote technologies and start-ups across Europe.
Want to know more about ColdPlasmatech?
Look at our ColdPlasmatech factsheet Read our success story ColdPlasmatech