Sustainable energy options for Europe, provided by EIT InnoEnergy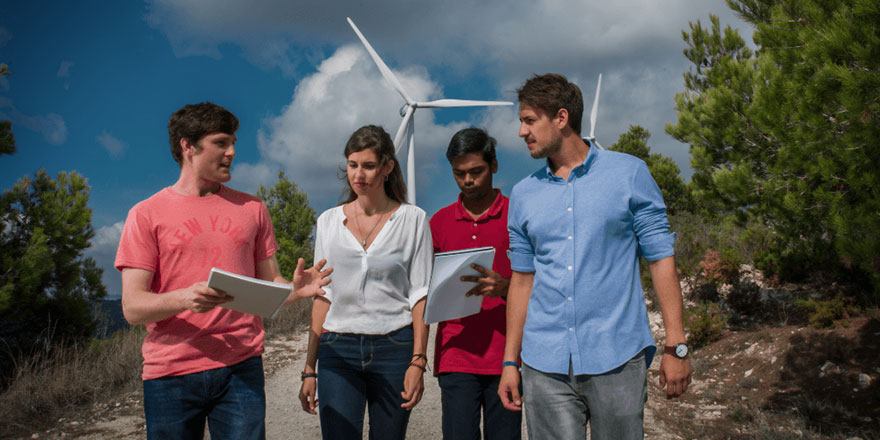 Five ways in which EIT InnoEnergy connects you with the best energy career opportunities in Europe
Game Changing Impact Challenges
Organised by EIT InnoEnergy's Career Centre during the European Utility Week, the GCIC connects students with real-life energy projects of major European Energy Companies. This event is an excellent way for students to utilise their skills, expertise and creativity – to compete and come up with innovative, sustainable solutions for current challenges in the energy industry. 
The GCIC offers participants great matchmaking opportunities with industry leaders (such as Vattenfall and McKinsey in 2019) and a unique opportunity to extend their network.
Master School Connect
This annual event is the perfect opportunity to build a network with other EIT InnoEnergy Master students and alumni, as well as industrial partners. This April, participants gathered together for two days of motivation and networking in Stockholm. EIT InnoEnergy's Career Centre also plays a role in this event by connecting students with companies such as Power2U, Stora Enso, Seaborg Technologies, LEDSafari, SwedFund and many more. 
EIT InnoEnergy Master School graduates are doing big things. Four of them have been recognised as part of the prestigious list Forbes 30 under 30. This is a great event to connect with them and gain inspiration from their success.
Exclusive access to internship opportunities
Take advantage of unrivalled opportunities to work with cutting-edge companies in fields such as energy storage, energy efficiency, smart and efficient buildings, renewable energies, energy from chemical fuels, and more. Our expert career team will support you in identifying just the right opportunity for you based on your needs and interests. 
Through the EIT InnoEnergy CommUnity platform, you have privileged access to exciting jobs, internships, mentoring, thesis opportunities as well as some of the most innovative and cutting-edge industry projects out there! You will also stay on top of the latest industry news, events and updates from the organisations that are leading the charge in the global energy transition.
Innovation and Entrepreneurship Journey
Each of EIT InnoEnergy Master's programmes features an Innovation & Entrepreneurship Journey, where students develop entrepreneurial skills by learning at top business schools and by developing real-life projects. This journey helps students explore the market, opportunities, techniques and tools to create a prototype – so they can plan and present an actual business model. It also encourages students that want to take their idea to the next level – business creation.
Sidewalk
If your ambition is to become an entrepreneur, the Sidewalk programme can help grow your business idea into a successful company.  Benefit from the experience of over 230+ EIT InnoEnergy supported start-ups and access to 400+ industry partners as you develop your innovative idea. 
A team of specialists is there to mentor you during those vital early steps – from market research and developing a business plan, on up to creating a prototype and even gaining access to funding. The EIT InnoEnergy innovation ecosystem is there to help you get to market faster and avoid common start-up pitfalls – so you can turn your dream of being an entrepreneur into a reality!