Image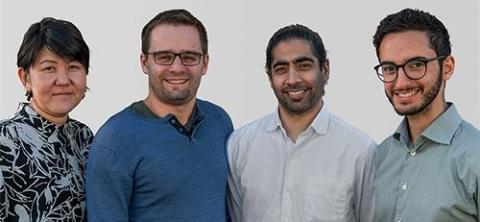 Graduates from the Clinical Innovation Fellowship and co-founders of ZoundMedical
In 2019, the team participated in the Clinical Innovation Fellowships programme, a joint initiative of RISE Research Institutes of Sweden, the Royal Institute of Technology, Karolinska Institutet, and EIT Health. With this programme, they worked closely with patients, nurses and doctors.
ZoundWave was born after they took part in the programme. The idea was to accelerate the diabetic wound healing and prevent amputations, by using "low intensity vibration". They developed a user-friendly medical device that improves blood circulation, promotes angiogenesis, stimulates growth factors and thus speeding up the wound healing, shortening treatment time and costs.
In the same year, they made it to the Swedish Venture Cup IDEA competition and were awarded with EUR 5000. They have received EUR 8000 support from EIT Health to finalize their patent application and the design of the Quality Management System for CE Mark. They also received support from the Swedish innovation agency ALMI, with EUR 5000 funding for prototype development.