Update: The Business Booster 2020 will run online on 4-5 November | Register now
Image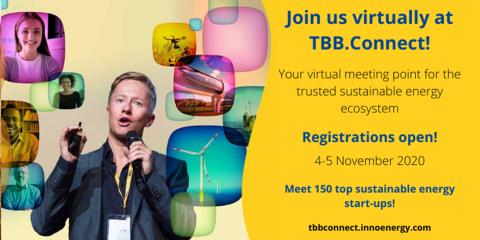 The Business Booster (TBB) is an annual two-day international networking event that this year will run online and it will bring 150+ sustainable energy technologies under one virtual roof.
TBB brings together 1 000+ attendees from over 40 countries, consisting of start-ups, energy industry representatives, financial communities, policy makers and regulators. 
Currently, certain circumstances can be outside of our control. Therefore, EIT InnoEnergy has extended its cancellation policy, enabling you to register risk free for TBB.2020.
What's in it for me?
Industry
Discover cutting edge technological solutions to enhance your product portfolio.
Detect new opportunities and business models for your company.
Save time, innovations are segmented by market, helping you find the right solution for your business.
Find partnership opportunities.
Visit our live product demonstrations.
Pitch your challenges to the most innovative start-ups across Europe.
Increase your brand awareness by exhibiting in the Open Innovation area.
Investors
More than 150 investment opportunities in cleantech, prequalified and enhanced by EIT InnoEnergy.
Access a mix of early stage and mature start-ups.
Gain first hand exposure to the technologies at the live demonstrations.
Meet key regulators, other investors and Europe's leading energy industry players.
Find growth opportunities for your existing portfolio.
Policy makers
Discover innovative solutions prequalified and enhanced by  EIT InnoEnergy.
Meet key energy regulators.
Meet Europe's leading energy industry players and investors.
Start-ups
Access the trusted EIT InnoEnergy ecosystem.
Grow your sales by meeting key decision makers in the energy industry.
Reinforce the international possibilities for your start-up.
Connect with top European venture capitalists to raise funds.
Develop partnerships with other innovative start-ups.
Meet public players looking to implement innovative solutions.
Meet energy regulators and get funding opportunities with public investors.
Register today
For more information on the agenda, speakers, exhibitors, what to expect and how to register please visit the dedicated event page at the link below: