EIT Health UK-Ireland Entrepreneurs: Selio Medical, Headstart/Proof-of-Concept Winner 2017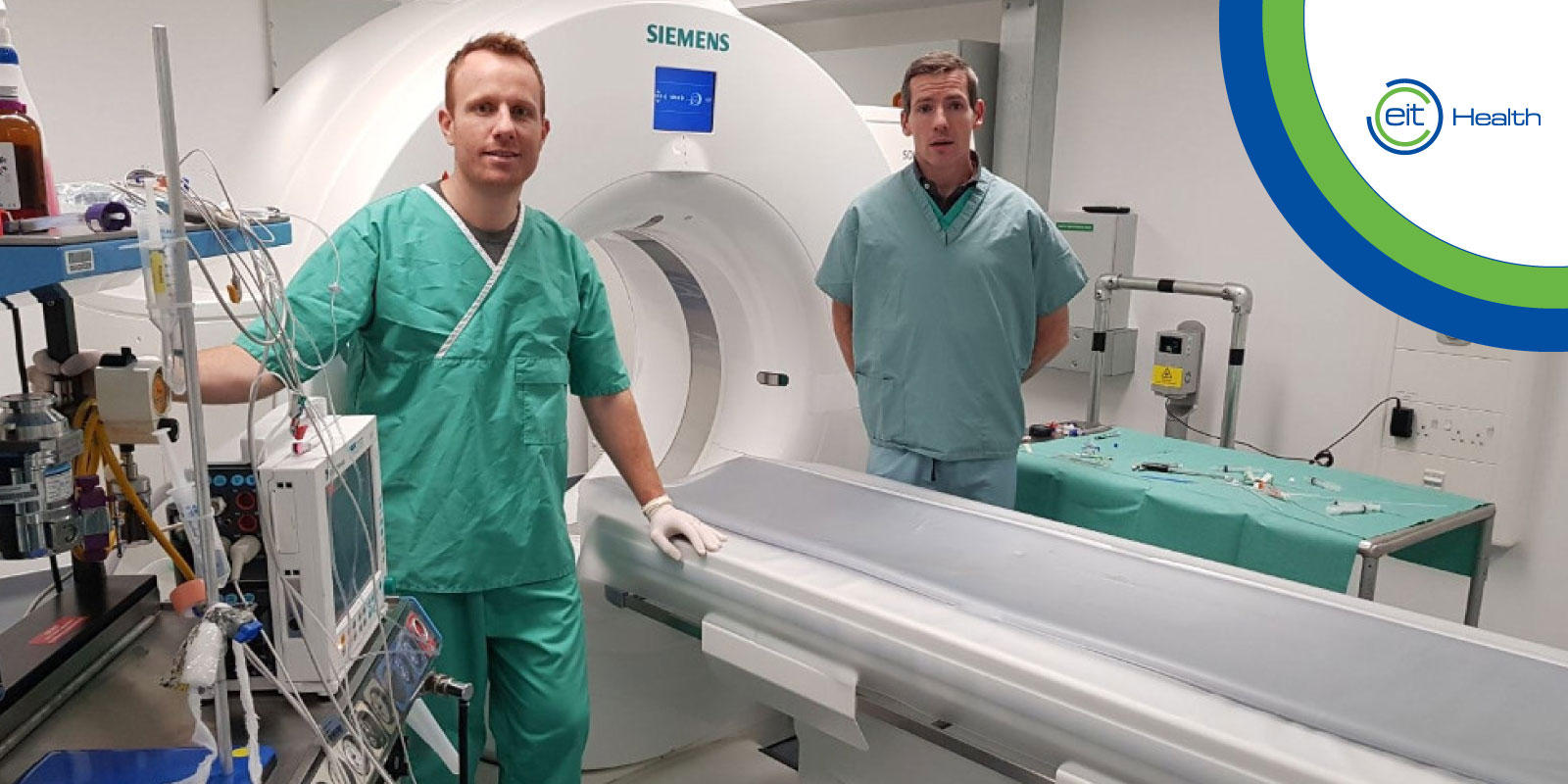 Meet the UK-Ireland Entrepreneurs: Selio Medical, Headstart/Proof-of-Concept Winner 2017
Since receiving the Headstart/Proof-of-Concept Award in July 2017, Selio Medical have had an exciting – and occasionally glamorous – few months. Fresh from their success in Oxford, founders Colm McGarvey and Garrett Ryan were off to San Jose, California where they reached the MedTech Innovator Finals. Out of 600 initial applications, they made it to the final four, and were awarded a further USD 25 000.
Back in Ireland, Selio has continued at pace with their device developement and Colm and Garrett have spent the last few months putting this funding to good use. Selio is working hard to improve patient quality of care by preventing a common hospital complication and reducing expensive hospital admissions with a unique technology that can prevent pneumothorax during lung biopsy.
A collapsed lung (pneumothorax) occurs during a significant number of biopsies, when the lung biopsy needle pierces the lung allowing air to escape into the chest cavity. This dangerous side-effect occurs in a surprising number of cases (33%), substantially increasing the cost of care as a simple outpatient procedure leads to hospitalisation for invasive treatment.
The impact Selio's technology could have is significant, both on health and healthcare expenditure. Existing interventions focus on deploying an adhesive or plug in the biopsy needle path after the biopsy: Selio's smart-needle technology is preventative, circumventing this painful and costly concern. With over one million lung biopsy procedures carried out globally per annum, this new device could prevent over 350 000 cases of lung collapse annually.
Selio Medical founders Colm McGarvey and Garrett Ryan met during the BioInnovate Ireland Fellowship Programme. Supported by EIT Health's Campus Pillar, BioInnovate follows the Identify, Invent, Implement Model developed by Stanford Biodesign. While in BioInnovate, Selio's founders identified the high-risk of lung collapse during biopsy, invented the smart-needle technology, and from there have taken a path towards commercialisation to implement their solutio.
In early 2017, having secured an Enterprise Ireland commercialisation fund to take their business to the next level, Selio applied to the EIT Health Accelerator. They participated in the UK-Ireland Health Innovation Training Day in in Oxford University in July 2017, receiving world-class training from pitch coaches, IP and reimbursement experts, and investors. Following on from this, Selio was one of seven successful winners at the Headstart/Proof-of-Concept finals.
Since their success in the Headstart and MetTech Innovator awards, Selio has been concentrating on generating further pre-clinical data for the efficacy of the device. They've completed four further pre-clinical studies, with very positive results.The device has two functions: a smart delivery system which allows the clinician to remotely access the lung, and to then deliver an air tight seal. Using the data from the pre-clinical studies they refined the design and procedure for this smart-delivery system, determined the optimal material characteristics for the sealant to work, and have filed further patents as a result. They are already beginning to look globally, seeking advice from regulatory consultants in the US, and now have a clear path through FDA and CE mark approval.
Selio hopes its technology will be available within three years, and aim to have the device manufactured here in Ireland. 'There is a wealth of med tech R&D expertise available in Ireland together with a very supportive start-up community,' said Colm McGarvey. '[tweetable]We are delighted to have received such tremendous support from EIT[/tweetable]. We will shortly be recruiting two further technical roles as we accelerate our device commercialisation.'
Selio is keen to draw on the EIT Health network as they continue to test and develop their solution, and welcomes input from Partners who can help with further pre-clinical studies and with input on reimbursement strategies in Europe.
Download the 'Our Entrepreneurs' brochure for more information on Selio and the other UK-Ireland winners of the EIT Health Accelerator.
---
Catch up with the latest news from the EIT Community in the Newsroom.
Subscribe to the EIT Newsletter to get the best of the EIT Community's news in your inbox once each month.
Do you use social media? Follow us and get updates in your news feed.