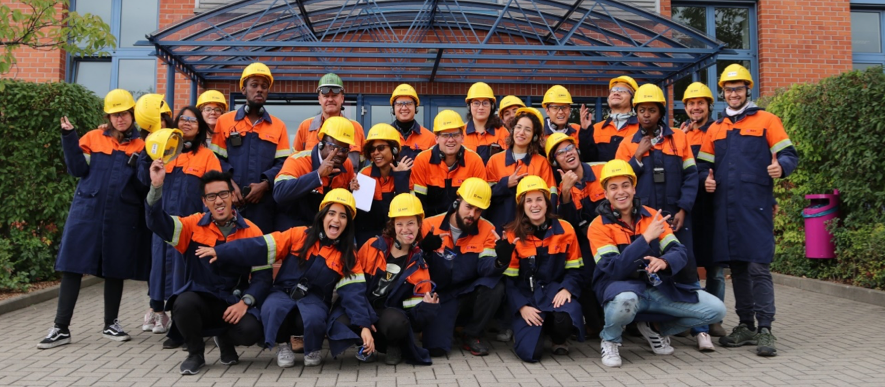 EIT-labelled Master Programme for Innovators of the Future
SINReM (International Master of Science in Sustainable and Innovative Natural Resource Management) is a unique Master's programme that aims to educate a new era of professionals. In the two-year course, students are taken through the entire value chain of raw materials and introduced to the sustainability challenges of the circular economy.
Learning how to mine raw materials sustainably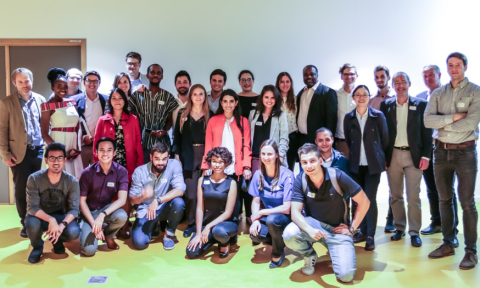 Students learn to develop technologies to recover and extract precious metals and raw materials from waste streams, design new technologies to mine materials sustainably and close recycling loops. Furthermore, the SINReM programme develops students' entrepreneurial skills. Alongside managerial-based modules, students must combine their scientific and industrial knowledge to design feasible business plans for their newly developed technologies. Graduates are uniquely qualified to work in the raw materials industry, continue their studies, or create their own start-up companies. By studying the entire process chain and subsequently specialising in a selected area, successful students graduate as desirable 'T-shaped' professionals.
Demonstrating strong international collaboration between business and education
The Master's programme is not only international from the perspective of its diverse cohort, but also in the sense that students live and study in three different countries throughout the course. SINReM connects large-scale industry partners like BASF, Sandvik, Umicore and VITO contributing to the programme in the form of lectures, seminars, internships, and thesis topics, as well as three main university partners, such as Technical University Bergakademie Freiberg, Ghent University and Uppsala University.
SINReM has always had a strong focus on international collaboration between the academic and non-academic sectors. The SINReM Master programme has greatly benefited from the EIT Innovation Community's knowledge integration model. The current core non-academic partners have identified the need for a new generation of well-educated and ambitious top-level young professionals to support their global activities. More non-academic partners have joined the consortium as the number of students increases. Within the programme, industry partners influence the curriculum, as well as offer students exposure to the industry at various levels, i.e. in the form of internships, thesis supervision, excursions, and meetings with professionals and executives.
In the first-year students move between all three partner universities, which has significant advantages for networking and social cohesion. After studying the scientific and entrepreneurial fundamentals of the entire process chain in the first year, students can choose between three majors in their second year:
Ghent University: gain a deep understanding of resource recovery from waste streams, sustainable materials, and sustainable technologies.
Uppsala University: increase skills and knowledge in novel geo-resource exploration technologies.
TU Freiberg: receive extensive insights into sustainable chemical and biotechnological raw materials and recycling processes.
Promoting innovative thinking and practical learning
To promote and develop innovative thinking and practical learning, students work with real-life case studies during problem-based learning exercises. The programme also includes extensive hands-on experimental work and industrial excursions. There are many extra-curricular activities available to the students, including EIT RawMaterials Innovation Community events, language learning opportunities as well as the membership in the EIT RawMaterials Alumni and Erasmus Mundus organisations.
Interaction with the professional industrial sector occurs via cooperation with the non-academic partners in thesis research, mandatory internships, lectures, and seminars. The SINReM programme also provides complementary skills training in innovation management, entrepreneurship, and business development. Graduates obtain the joint degree 'International Master of Science in Sustainable and Innovative Natural Resource Management' (120 ECTS) jointly awarded by Ghent University, Uppsala University and TU Bergakademie Freiberg.
After receiving a mix of theoretical and practical courses in three leading European universities about the various aspects of the raw material value chain, I could say that SINReM successfully moulded me into a T-shaped professional. Being an EIT-labelled Programme, SINReM also provided me access to valuable activities of the EIT RawMaterials such as conferences and workshops about the technical and entrepreneurial facets of innovations within this field.

Erwin Alcasid, SINReM student, 2018 cohort, Chemical Engineer, Philippines
The new generation of well-educated and ambitious top-level young professionals
SINReM covers the entire value chain with a particular focus on the circular economy to raise awareness of materials scarcity and sustainable use. With the added value of the EIT and EIT RawMaterials label, the study programme was able to be established and developed. To fully embrace the educational objectives and strategies of the EIT and EIT RawMaterials, specifically to raise the next generation of T-shaped professionals, multi-disciplinary knowledge and skills are required for broadly trained and highly qualified scientists and engineers. Increased cooperation across academic disciplines, industrial sectors, and regions is encouraged to foster the effective and efficient use of European (and global) resources.
Holistic view on circular economy
The young scientists and engineers in this programme now have a better understanding of processing and production methods, technology management, policymaking, as well as interpersonal and cross-cultural relationships. Furthermore, a holistic view on the process and value chain and circular economy equips them with a broader understanding of the implications of their research and technologies. This will bring true innovation to the raw materials sector and help them to communicate their work to diverse stakeholders.
In 2017, the first year of recruitment, 317 applicants started the online process, and 54 applications were submitted. The first cohort consisted of five EU students (two male and three female).
Well-balanced gender distribution
In the academic year 2018, SINReM had attracted the worldwide attention of 2 688 applicants, resulting in 700 completed applications, 300 of which met SINReM requirements. Ultimately, 23 selected students from 18 different countries enrolled with a well-balanced distribution of female (11) and male (12) students.
For the current academic year 2019, 541 out of 1 355 applications were submitted. After careful selection according to revised criteria, 27 students (15 female and 12 male representing 21 nationalities) are expected to enrol. In August/September 2019, five new graduates of the EIT-labelled Master programme SINReM are expected. In summer 2020, 23 students will graduate from the SINReM programme.
Explore more about the SINReM - EIT-labelled Master Programme